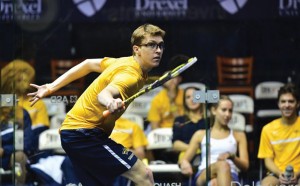 The No. 9 ranked Drexel University men's squash team was defeated by the No.1 Trinity College Bantams in their 2016 home opener at the Kline & Specter Squash Center. The Drexel men hold a 7-3 record, while the Bantams remain undefeated at 4-0. The final score of the contest was 9-0.
Atticus Kelly, Bransten Ming, Luke Willemse, Mark Kauf, Nat Fry and Joey Gingold were all swept by their opponents in the two, three, five, seven, eight and nine spots, respectively.
Omar El Atmas in the first slot and Noel Solomon in the sixth slot suffered losses in four games.
Junior Michael Thompson put in a solid performance for the Dragons in a five game battle with Trinity's Affeeq Ismail, which unfortunately ended in a loss after Thompson led in the match 2-1.
The men will now focus on preparing for No. 7 Dartmouth College. They will travel to Hanover, New Hampshire to face the Big Green Jan. 16.