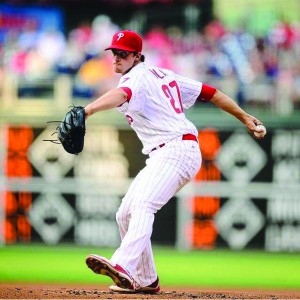 For the first time in about three years, Philadelphia Phillies fans had a reason to be excited about their ball club.
July 21, the Phillies' 2014 first-round draft pick, Aaron Nola, made his MLB debut against the Tampa Bay Rays. Nola pitched an exceptional game, especially under the pressure of getting his first career start in the big leagues and a glaring lack of run support.
In a lost season such as this one, fans might have hoped the Phillies would put extra effort into their offense so to give their rookie pitcher one fewer thing to worry about. Instead, it was more of the same. Nola received the Cole Hamels treatment.
In a way, it was almost darkly humorous to watch Nola pitch well as the offense struggled to even get a hit. Yet Nola still performed well; it was like watching the future attempting to push the present out of the way.
In nine innings, the Phillies could only muster up four hits. One of those hits was even recorded by Nola himself.
Not only did he have a great first start on the mound, but he is sporting a better batting average than most of the Phillies hitters.
On a more serious note, Nola pitched six innings, scattering five hits and striking out six batters while walking just one. He gave up one home run to the Rays' pitcher, but otherwise looked locked in.
He showed he could pitch in jams, only allowing that one run to come across and stifling any attempt the Rays made to build a larger lead. At the end of the day, Nola was sporting a stellar 1.50 earned run average, but also an unfortunate 0-1 record.
Nola's impressive start was able to do something for Phillies fans, however, which has not hap-pened in most likely three years.
The Phillies became interesting again.
People wanted to come to the game, and for more reason than to just get out of their houses. There was an energy in Citizens Bank Park which has been lacking for a few years now.
Fans are excited as they are beginning to see the future push the present out of the way. Ryan Howard and Chase Utley, two of the Phillies' oldest stars, are no longer playing their worn trades every day. Instead we are seeing young players, like Cesar Hernandez play second base and Darin Ruf take to first base.
These aren't the most exciting players to watch play, but the point here is that the past and the present are becoming memories and the future is arriving. Nola's performance offers fans hope, and even restores their passion again for Phillies baseball.
The Phillies have a long road ahead of them to rebuild and put a championship caliber team to-gether, but the road has finally started to be paved. There is no doubt that this season, and proba-bly the next three to five seasons, will be difficult to enjoy, but what matters is that the process has begun.
As of right now, fans can get excited every four or five games to watch Nola take the mound. Considering the state of the franchise at the beginning of the season, any excitement is good ex-citement.