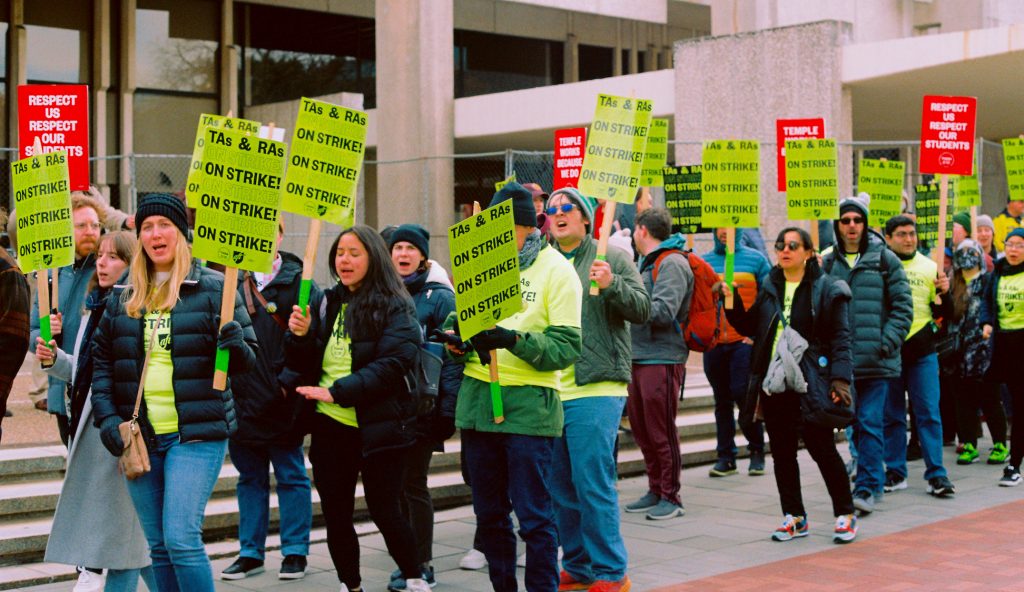 In November of 2022 the Temple University Graduate Students' Association authorized a strike for the first time in their 26-year history. Citing poor average pay, exorbitant healthcare costs for dependents, an abysmal parental leave policy and substandard working conditions. The Association voted to strike with a 99 percent majority after a year of negotiations with administration ground to a standstill. The strike officially began on Jan. 31.
On Feb. 8, Temple administration made public their decision to cancel tuition remission for striking graduate students, a move that will force many of these students to owe up to $20,000 to the university, due Mar. 9. It was reported Feb. 9 that Temple administration had begun canceling graduate students' healthcare policies.
In the email sent out to striking graduate students, which was made public on Twitter by Ph.D. candidate Madison Ingram, the explanation given by Temple was short, shallow and intimidating. By only citing "participation in the TUGSA strike" as the reason for cancellation, the university appears to be abandoning negotiation, using their power to force a favorable result.
The Triangle Editorial board stands with the Temple University Graduate Student Association in their right to a liveable wage, affordable healthcare and longer parental leave. The graduate students employed as teaching assistants are vital to the institution as a whole and function as a space for radical possibility. The Triangle Editorial board values practicing education as an exercise of freedom. The repeal of tuition remission by Temple University exposes the administration's disregard for the diverse student body it has served for many decades.
Graduate student teaching and research assistants, as both students and employees, occupy a unique, vital position in higher education. When one of the largest universities in Philadelphia chooses to treat them with such little decency, it sends a message to its employees and students. It says that the institution does not care for you, that it thinks your time is cheap and that your well-being is less important than the work you produce.
We strongly disagree.
The Triangle Editorial Board