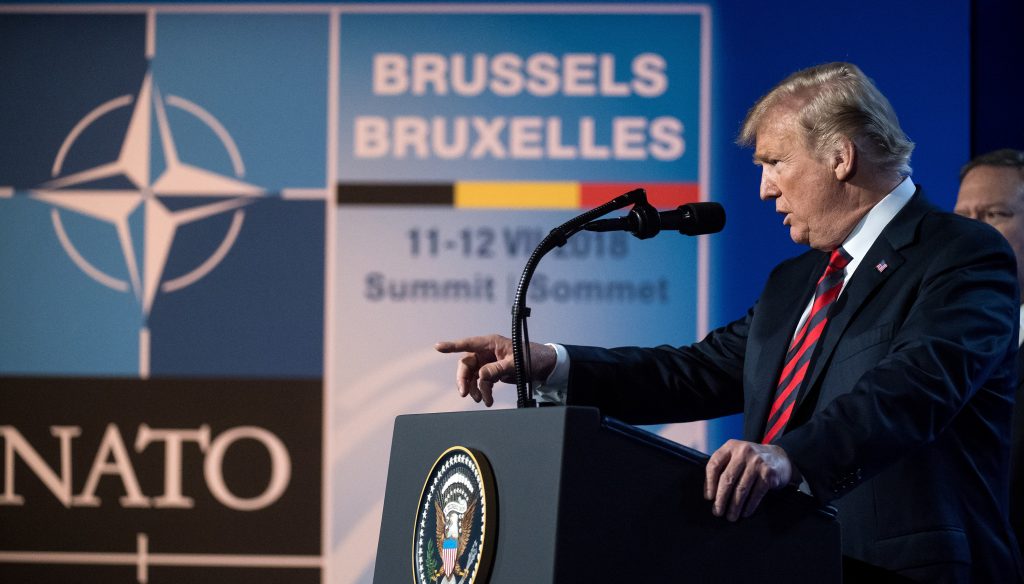 Despite the Senate's approved motion 97-2 expressing support for the North Atlantic Treaty Organization alliance, President Donald Trump came out guns blazing at the bilateral breakfast July 11. Secretary General Jens Stoltenberg opened the floor with an amiable discussion about increased ally investing and dealings with countries outside NATO, but immediately Donald Trump pressed issues with German energy spending, with Russia and with most NATO countries not living up to the agreed upon 2 percent national gross domestic product spending on military. It is wrong for the countries not to spend what is required from NATO, and President Trump headed straight for the roots.
At the breakfast, Trump remarked about how Germany has just invested in an $11 billion gas and oil pipeline deal with Russia; the same country that many countries that are a part of NATO want protection from.
"So we're supposed to protect you against Russia, but they're paying billions of dollars to Russia, and I think that's very inappropriate," Trump said.
He also touched on the fact that Germany pays 1.2 percent of their GDP ($55.2 billion) on military spending, much lower than the NATO agreed-upon percentage, while the United States foots the bill of $686 billion (3.6% of their GDP). Trump thinks it unfair for most countries (24 of the 29 NATO countries), especially ones dealing with the perceived enemy, not to live  up to their end of the bargain while United States taxpayers are footing the bill.
How can the United States be expected to pay for everyone's defense? NATO is an alliance among many countries and when the absolute majority of countries do not live up to the accords, it is downright egregious. What would happen if the United States disbanded the military? Russia and China are the two leading military giants with the UK coming very far behind in fourth. The strength of all NATO countries combined, with the United States taken out, does not amount to half of the United States', Russia's or China's military power. It does not bode well for the world if the United States stops protecting its allies, and the allies need to start to be self sufficient. This was the attitude Trump held at the breakfast and for the rest of the day.
In Belgium, President Trump reaffirmed his position that all countries need to pay their fair share of the bargain. As seen with the past year, countries are gradually rising their spending on military.
"It's also because of your leadership, because of your carried message" said Stoltenberg to Trump.
Countries are on track to have their military spending at 2 percent by 2024, but this is not enough for Trump. Evidently he demanded on Twitter that the countries pay 2 percent of GDP before 2025, even going so far as to calling on countries to follow the United States' example and go to 4 percent GDP. It's clear that Trump is influencing all the countries of NATO to hold their own and there are no signs of him easing the pressure.
"Now we're very happy and have a very, very powerful, very, very strong NATO — much stronger than it was two days ago" Trump said after the summit.
"I think I probably can, but that is unnecessary. They have stepped up today like they never stepped up before" President Trump remarked on being asked about his stance on NATO and if he can personally pull the United States out of it.
Trump has garnered much criticism during his presidency, but his dealings with NATO are nigh flawless. He is not only strengthening NATO but also ensuring that our allies are able to be relied upon. The president is exercising tough love with the allies of this country because that is what they, and we, need at the moment. By using his brute nature, the like never before seen in politics, President Trump is making sure that the United States comes first while protecting the people of this great country.