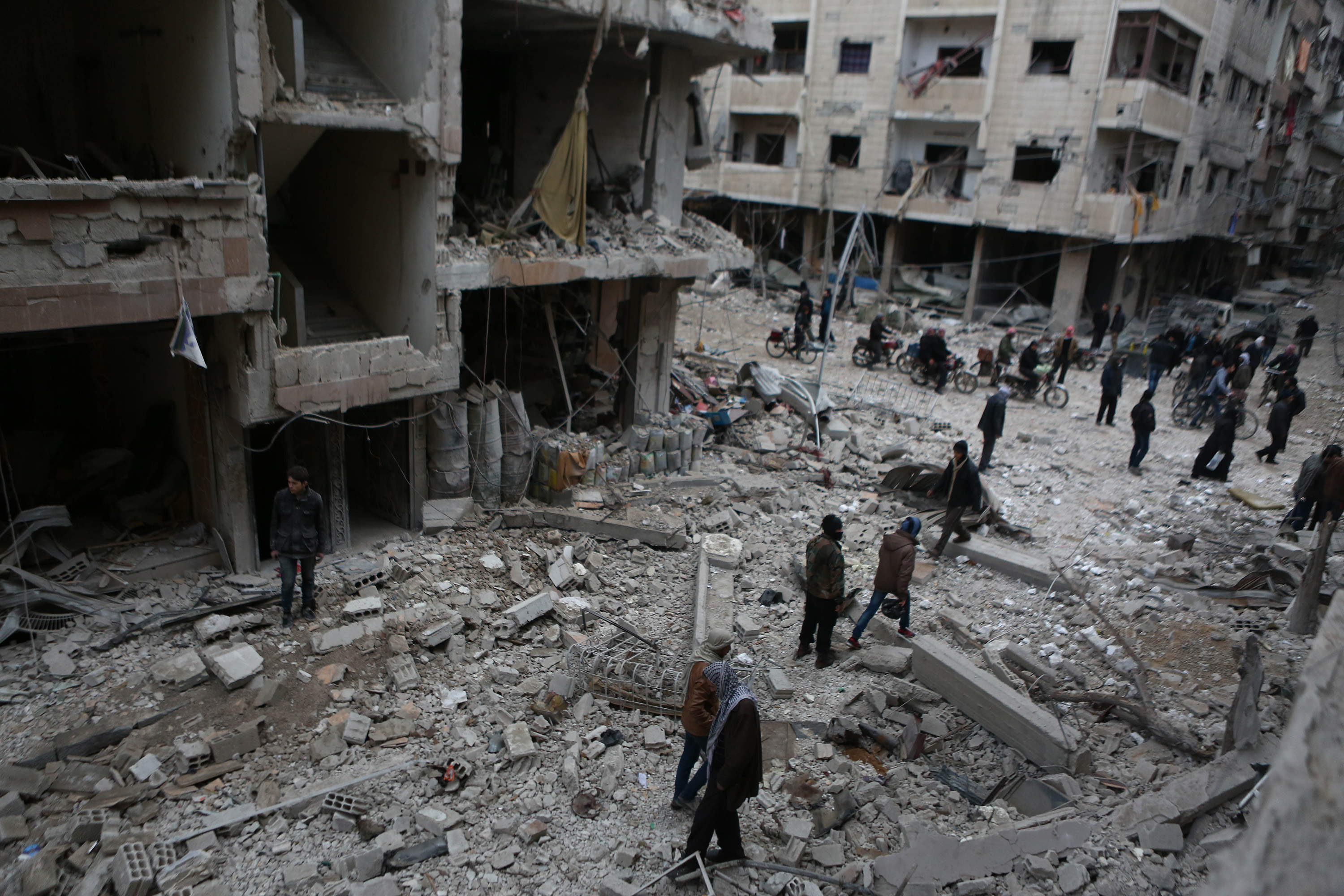 "He always told me he wants to die and go to heaven because there is food there. He's only a child, enough is enough, God."
These are the words of a mother in an overfilled, under-resourced hospital, sitting by the bedside of her critically injured young son.
Most Americans probably remember the viral image that surfaced in August of 2016: a young boy sitting — straight through our screens and into our hearts. Through one image, average American people were faced with just a glimpse of the horrors the citizens of Aleppo were facing at the time, six years into an atrocious civil war.
In the spring of 2011, Syrians joined first Tunisia, then Egypt, Lebanon, Bahrain and Morocco in revolting against authoritarian regimes. Over the next seven years, President Bashar al-Assad began massacring his own people to maintain power in the face of rebel forces. There are far too many players, motives and complications in the conflict to give a detailed picture: Russia's Kremlin has supported Assad through chemical warfare, endless drone bombings, and more, while rebel forces have tangled with ISIS, which the U.S. attempted to slay. Civilian casualties now total more than 465,000 people and over twelve million have been displaced.
This war is one we are intimately familiar with. Laymen around the world, and in the U.S. mainland especially, have never been so immersed in a conflict that is six thousand miles away. All the way back in December of 2010, we can remember the first tweets of the Arab Spring, which sparked protests for constitutional changes in Damascus, the nation's capital.
The news cycle has captured the conflict over the years: human-interest stories of refugees on the move, where Western reporters have come perilously close to danger to immerse themselves in the story. With each hospital bombing, each debate over Obama's drone policies and each conversation about international border policies, we have become more and more numb to the atrocities right under our noses. It took the pale, shaken face of that young boy to jolt many towards empathy.
The conflict in the war-torn city of Aleppo just escalated during the holiday season. The city was being obliterated. By early winter, 200,000 civilians were surrounded and trapped, already considered casualties of war. Yet they were tweeting, facetiming and recording. They were saying goodbye to the entire world — for they knew they would die.
The mother of a seven-year-old girl posted: "Last message — under heavy bombardments now, can't be alive anymore. When we die, keep talking for 200,000 still inside."
Three days before Christmas, the Syrian government officially announced that it had regained the territory from rebel strongholds.
It is baffling how little attention we can pay to this humanitarian crisis until the victims themselves are forced to shove it in our faces. They must record their own fear, pain and death to earn Western attention.
With each sudden stream of consciousness brought on by social media, there is a buzz. Everyone is reminded how much pain the Syrians continue to endure. Yet, just as suddenly as it comes, the awareness soon fades.
We thought we could never forget the desperate pleas of Aleppo, yet on Feb. 18, Russian war planes and Assad's forces began an offensive chemical attack on the Eastern Ghouta region, just 10 kilometers away from Damascus. This area of three towns is home to about 400,000 civilians, half of whom are children under the age of 18. In just ten days, more than 550 civilians have been brutally killed. The United Nations, European Union and NATO have called for ceasefires to allow for humanitarian aid — yet, they are all ostensibly ignored, despite Russia allegedly ordering a second ceasefire command, lasting for just a five-hour window.
A resident told Al Jazeera early Wednesday morning: "There have been no evacuations whatsoever – not medical, not humanitarian, nothing," as the bombings continue to hit towns just as hard.
Syrians have faced medical and food shortages for the past eight years. The overflowing hospitals without medicine are a bleak normalcy now, even as more and more patients arrive with clear symptoms of chlorine attacks. Children, the ones who survive, are admitted with concrete dust in their lungs. On the streets, large groups have moved underground, turning empty basements and dugouts into bunkers, without toilets or mattresses. The words of diplomacy mean nothing in reality.
Syria will continue obliterating its citizens to quell rebellious forces, with the full support of Russian resources. International communities must continue to sanction Assad with hopes of stripping him of all power eventually. It may seem like, as Americans, there is not much we can do.
We can, however, speak up.
We must be charged with anger and hurt and sadness by these despicable crimes against humanity, outside of a social media post that cuts us to the core every few months. We cannot forget the people who were once part of a thriving and advanced society. We must stay painfully aware of the ongoing terrors. We must speak out for open borders. We must confront xenophobia at its root by voting for leaders who will place humanitarian values above economic quotas. Never before has an entire world been so painfully aware of years and years of genocide.
We cannot sit idly by anymore.