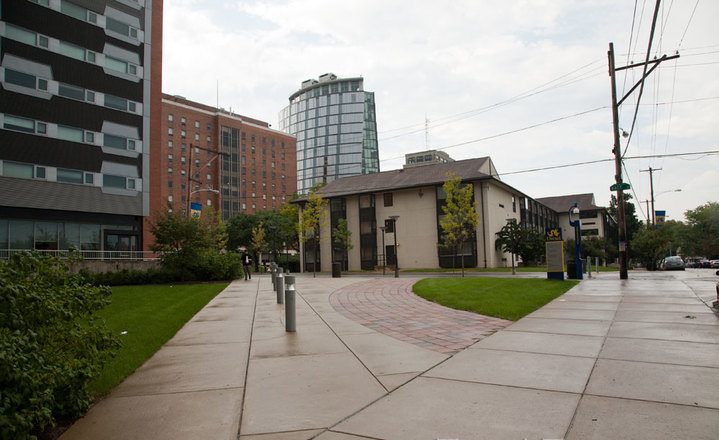 After having lived in Kelly Hall for almost a year, the switch to The Summit at University City has been a major change after the freshmen dorm life to which I had become so accustomed. Living in Summit these past weeks has made me realize that there were a lot of things about Kelly Hall that weren't all that great, but over time I became almost oblivious to them.
One of the first, and probably most prominent, thing  I really didn't like about Kelly Hall was how tricky it was to get the most out of the rooms. The design of the rooms was pretty tight for two people to live in, especially if you made the mistake of bringing too much stuff on move-in day. The beds, desks and closets took up what little space there already was, and in order to make the most of the space you needed to do some serious moving of the furniture, such as lining the closets and desks up against the walls perfectly and stacking the beds on top of each other, which wasn't exactly an easy task for the average freshman duo.
In Summit's case, the rooms are much more spacious and this was something that I took note of almost instantaneously. The common area of my suite alone is bigger than the entire room I had back in Kelly Hall, and the two-person bedroom is also much bigger. It comes with a complete bathroom which is incredible to me after having gotten so used to leaving my room in Kelly Hall and walking down a hallway at night just so I could use the restroom. Now, this is admittedly a small gripe considering the fact that I was no longer annoyed by it after a few weeks, but the initial frustration was almost maddening.
However, to be fair, Kelly Hall did serve its purpose as a freshmen dorm. Obviously, I would have loved to live in a place like Summit where I have so much more freedom, but I do think Kelly Hall was just enough to get me through those first three terms. I'm obviously not the spokesperson for all of the freshmen, but I would've had too much freedom for my own good if I had actually lived in a place like Summit to begin with. There also would have been next to no feeling of progression in going from a freshmen to a sophomore if I had started off in a dorm as nice as Summit. Kelly Hall is overall a good dorm, but it leaves plenty to be desired which is in my opinion a good thing — once I moved into Summit I was able to really appreciate a lot of the things that Kelly Hall didn't provide me with.
While I do very much enjoy what Summit has to offer, part of me does sorely miss one aspect of Kelly Hall, and that is community. On move-in day, I met most, if not all of the people on my floor in Kelly Hall and that led to us developing a very good community over the next ten months. Summit is very different in that I haven't met even half of the people on my floor. And while this is somewhat unfortunate, there are still good community events held frequently, so it's not as if there is a lack of effort being made to form a community.
Placement wise, I somewhat prefer Summit mainly because it's closer to almost everything, even though the time it takes me to get to places from Summit isn't all that different from Kelly Hall. Being so close to Northside Dining Terrace was something that I very much took for granted during freshman year. It would've been nice to have had the ability to go straight to the Northside Dining Terrace from Kelly Hall without having to go outside, but that was something I could ultimately live without.
I really enjoyed my time in Kelly Hall despite some of the flaws that it had and I'm curious to see what these next couple of months in Summit will bring. Hopefully it won't consist of fire alarm drills and flooded toilets like Kelly Hall, but this is college, so it's always good to hope for the best but plan for the worst.