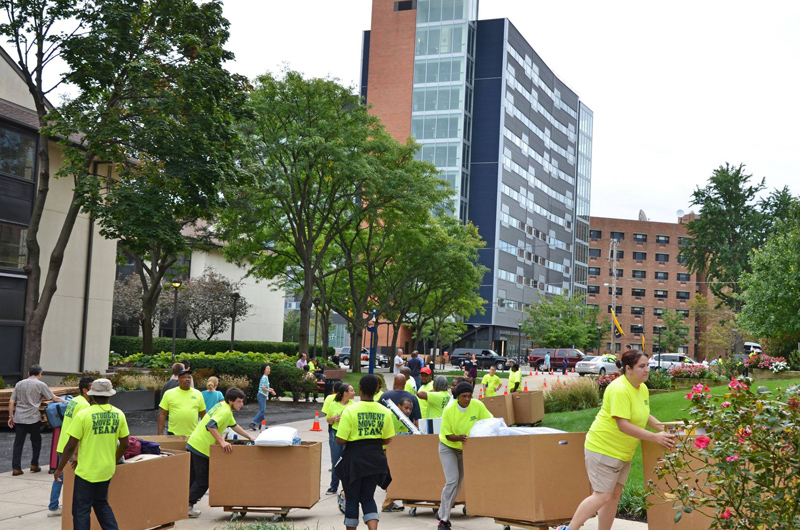 It's summer, and regardless of the bunch of folks having fun at the beach or interning at companies, there are those of us who are here to help make the transition to college for the incoming freshmen a bit easier.
The most frequent question I'm asked by prospective students is "how do I make friends at college?" Unfazed by this, I realized that the answers to this may seem apparent, but I believe that once these new students understand the answers to that query more, they would have a much better time adjusting to college life. As a sophomore I have learned what it truly takes to make good friends during one's first year of college.
One of the easiest ways to make friends is by talking with people on the floor of your dorm. Believe it or not, that's your new "family" for the next year, so it's better you get to know each other earlier on. As you move in and settle down, go knock on your neighbor's door with your roommate! Get to know whoever's in there, and then ask if they'd like to follow you along down the hall, knocking on the next room's door, and then the next. With this ripple effect, most people, if not everyone on the floor, would have met and talked to each other in just the first day! You could also plan on going to lunch as a floor, if your RA hasn't already done that.
Another way you can get to know people is through clubs and organizations on campus. There's lots of awesome organizations to join (like the Triangle), and everyone is welcoming. You could also join a sports team, or perhaps just join in on a random volleyball game at Buckley Green. All it takes is a sign up or a "hey, can I join you?"
You could also talk to people in your different classes. Apart from the occasional group project where you'd have to communicate or you're going to be frustrated throughout the class, you can talk to your classmates about whatever you're learning in class. You could ask anyone or any group of people if they'd be interested in studying together during those weeks right before midterms or finals. Obviously you can study with anyone if you take the same class, because you don't need to be in the exact same section.
There's a lot of other ways and places to meet people, such as at the dining halls, parties or workshops held in different departments. As incoming freshmen, you will have the opportunity to do these not only throughout the school year, but also during Welcome Week, which is full of a bunch of activities for you all to be a part of together.
Making friends in college shouldn't be a problem that you'd try so hard to solve, but it should be merely a way of living during your time here at college.