WKDU-FM, Drexel University's student-operated radio station, was awarded both College Radio Station of the Year and Biggest Champion of the Local Scene at the College Music Journal Music Marathon Oct. 20 in New York City.
This is the second consecutive time that WKDU has won the Station of the Year award at the CMJ event. Last year the Drexel station, which broadcasts from the basement of the Creese Student Center, shared the award with CJLO of Montreal.
The CMJ Music Marathon is an annual weeklong event consisting of concerts, panels and guest speakers. WKDU was represented by students with executive positions, music director Paul Brown and other students involved with the station. The students were awarded the two honors during CMJ's College Day Oct. 20.
Brown recalled the group's reaction to hearing the news.
"When they announced that we been voted Station of the Year, it was pure chaos. Chairs were flipped, people were knocked over like dominoes — it was a frightening moment for everyone in that room, if I remember correctly," he said.
The stations competing for CMJ's College Day were nominated by music promoters, record labels, artists and other radio stations. Only the few stations with the most overall nominations were invited to attend the official ceremony, held at the Kimmel Center at New York University.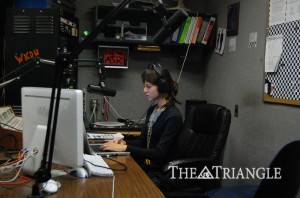 "As it turned out, enough people nominated us that we were on the ballot for two categories," Brown said.
WKDU is currently celebrating its 40th year of operation and has previously been recognized by The Wall Street Journal as one of the nation's top 10 college radio stations.
Jake Cooley, WKDU general manager and a junior business administration major at Drexel, described his excitement for the station's two awards.
"Station of the Year is the highest honor at CMJ, and it shows that all the time and effort we put into WKDU has paid off," he said. "It means so much to me to know that people appreciate what we do and enjoy it as much as we do."
He continued, "The Champion of the Local Scene award is indicative of our commitment to promoting new and interesting acts around Drexel and the greater Philadelphia area. I don't think we could have gotten one award without the other."
Victor Fiore, a sophomore biology major and radio host at WKDU, was especially proud of winning Champion of the Local Scene.
"We pride ourselves on finding amazing local talent and giving them an opportunity to be heard on a larger spectrum than they might have been able to achieve by themselves."
Fiore hosts a show titled "Your Morning Latte" Tuesday mornings from 9:30 to 11:30 a.m.
"I try to play a mix of music that covers a lot of different genres," he said.
Brown said that each disc jockey's unique musical taste is what makes WKDU so special.
"Depending on when you listen, you could hear punk, reggae, electronica, classical — just about any other genre you can imagine, not to mention our film talk show. The variety of our programming makes for a consistently interesting and often educational listening experience," he said.
Brown expressed his gratitude to everyone who continues to make WKDU a success.
"Looking at the infrastructure of WKDU and how it functions, the students and alumni who put in the hours every week to help with everything that needs to be done."
He added, "WKDU has such a proud and rich history that it is an enormous honor to be able to add to that with this award. We are all so grateful and proud to be a part of WKDU, and we hope to see it celebrate its 80th anniversary down the road."
For more information about WKDU, visit wkdu.org or tune in at 91.7 FM.