Fall 2013 welcomed the opening of two major developments, Gerri C. LeBow Hall and Chestnut Square. As is typical with Drexel, plenty of construction projects are continuing during the winter 2014 term and began during the break.
Software engineering major Halima Olapade explained that it is difficult to get to the Korman Center from her residence hall because of the construction. She said, "Now that [Drexel has] the sidewalk closed, it's really irritating."
Pre-junior chemistry major Maxx Suchowicki remarked, "At this point, I think [the administration] should change Drexel's slogan to 'some assembly required.'"
Still, there are signs of improvement. Robert Francis, vice president of University Facilities, said, "The walkways around LeBow are being finished at this point. The next phase will begin this spring."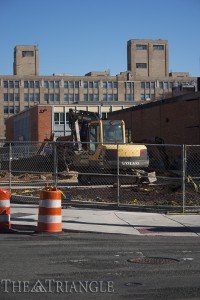 Another bustling location is at 34th Street and Lancaster Avenue. American Campus Communities, the same company that created Chestnut Square, is building a new apartment complex at that location. It broke ground in fall 2013 and the combination residential and retail area should be completed by September 2015.
Nesbitt Hall is also experiencing changes. Formerly housing the Antoinette Westphal College of Media Arts & Design, the School of Public Health is slated to move into Nesbitt Hall by Jan. 17.
"[I]t will be occupied [by the School of Public Health] on the second to seventh floors by Friday," Francis said. According to the school's blog, the ground floor will begin renovations in April 2014.
While it is not the property of Drexel, students may notice that the park connecting the University of Pennsylvania and Drexel at 33rd and Chestnut streets is looking different.
"[The University of Pennsylvania is building] a residential quadrangle on the park commonly known as Hillfield, about 350 beds," Francis said.
The Drexel University Dornsife Center for Neighborhood Partnerships is also making progress. In October 2012 Dana and David Dornsife donated $10 million to Drexel to build a community center at 35th and Spring Garden streets. The Dornsife Center's services will include a law clinic, tax services and GED preparation classes. Francis said it will be completed in April 2014.
Away from Drexel's Main Campus, work is also being done in the Center City campus. Francis said that Drexel is looking into expanding the 11th and Parrish streets clinic during this term.
With work continuing around Gerri C. Lebow Hall and Nesbitt Hall in the next quarter, 2014 is looking to be another busy year of construction for Drexel, with even more to come.