In an age of constant communication, university life means being overwhelmed in interactions with individuals on a daily basis. Every text, Snapchat, or email sent, every phone call made, every status posted serves as a reminder that humans are fundamentally social creatures, crafted and sewn in identity and ideology by their relationships. But unlike every other day of the year, on Valentine's Day things quiet down. People cut back on their contact with the outside world, settling in to appreciate one relationship above all the others; that with their significant other.
"It was a week after the big storm two years ago," James Parsons thought back to his first interaction with Amanda Kraft, a petite brunette with a warm smile.
"My flight was late coming back from California to Philadelphia and I walked into organic chemistry class and I saw Amanda and I thought, 'Man, she is really pretty. I've got to talk to her,'" he laughed, recalling how for months afterwards he made a special effort to talk to her around campus and racked his brain for excuses to chat.
In a lucky turn of events, James realized that he could to offer to drive Amanda home to North Carolina one weekend, where they both happened to live. Despite all odds, with an eight year age difference, the two found themselves dating a few months after. At 32 and 24, the couple has taken trips to Hawaii and California together, and have visited Oahu, Toronto, Niagara Falls, North Carolina, New York, Washington D.C., New Jersey, Delaware, Utah and Las Vegas. They also plan to travel to the Virgin Islands in June. James has had a long and richly colored past, having been employed as an army medic, a bartender and always working on several entrepreneurial concepts at any moment. Amanda, the youngest of her siblings, has always grown up hanging out with those older than her, so it felt natural, she explained, to begin seeing James more seriously.
And so, James, a biomechanical engineering major, and Amanda, a custom-design major studying neuroscience, have been happily dating and living together near Temple University for almost two years. They share two cats and several of their hobbies and interests coincide: they also participate in several clubs and activities together. They're both members of the Maya Literary Magazine and actively involved in Drexel's Philosophy Club.
Their unique relationship creates lots of opportunities for making crazy and fun memories.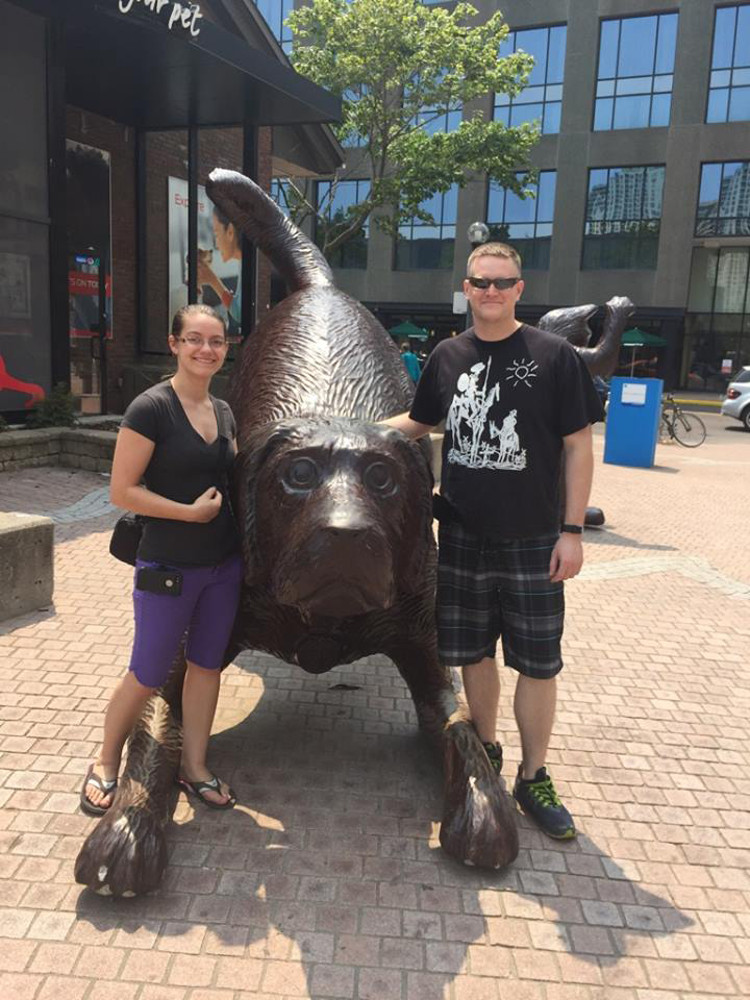 "Right before we started dating, we went for a walk and we walked up past the zoo and toward Fairmount Park, and right in the middle of the intersection there was a car that had broken down," Amanda started, earning an exaggerated grin from James as he sat beside her in the interview. She continued, "It had caused all this traffic and everybody was getting angry and honking. So James decides to impress me and go push that van. And so I just kind of followed him, a little bit awe-inspired, and watched him push the car across the intersection."
Across campus, chemical engineering major Phuong Nguyen's five-year relationship with her boyfriend Minh, who lives in Vietnam, faces a different hurdle–miles, rather than years.
"We were classmates in the same English class in ninth grade," Phuong shared. "Our first talk was about him having a crush on one of my friends. I thought, 'Wow, he really falls easily. Maybe I could flirt with him.'"
Minh was clearly very shy about telling Phuong about how he felt. "He passed me a card with a lollipop! I was polite at the time and I said thank you but I thought to myself, I hate strawberry lollipops." Phuong recalled, giggling at the memory.
"In the card he said, although we haven't known each other for a long time, I am starting to have some feelings for you. So it would be nice if we could talk more and, since you are really good at chemistry, please help me with chemistry!" Clearly her love of the science continued on. Later in their relationship, Phuong decided to come to Drexel as a chemistry major, eventually switching her studies to chemical engineering.
After a few false starts for Minh (such as accidentally lighting Phuong's hair on fire at a birthday party for a classmate), he finally got her attention by posting lyrics to a love song as a Facebook status. Although she was shocked to find out that Minh's post was in reference to her, the two started dating shortly afterwards.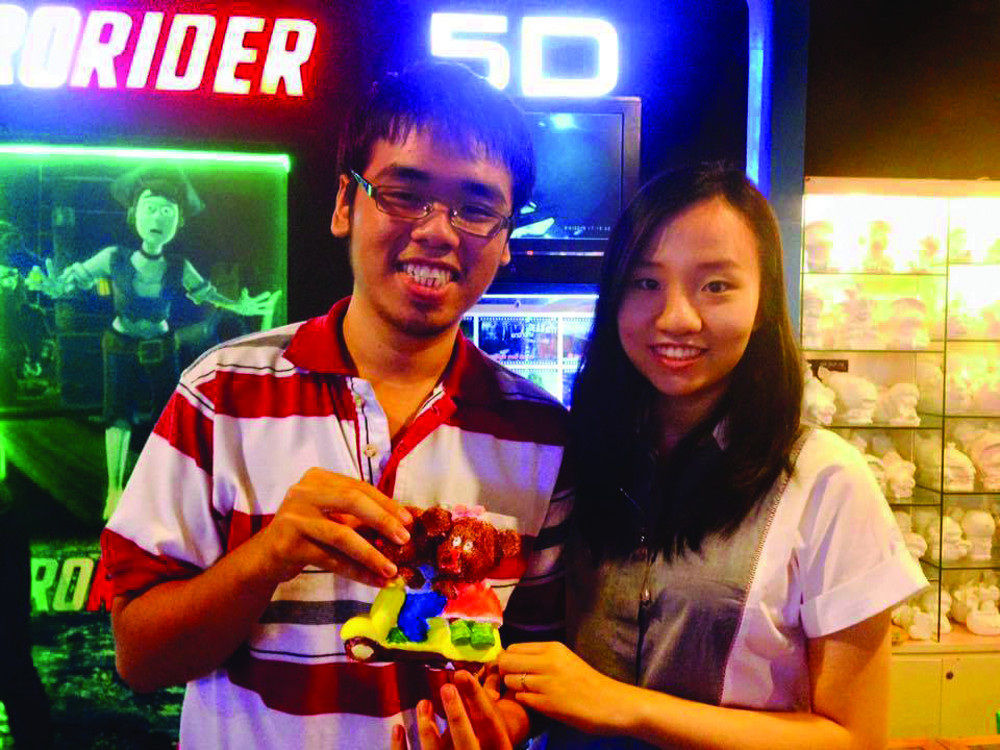 "It was my first love, first serious love … I said yes to him, but we made an agreement that we wouldn't want a lot of people to find out about us. My family is kind of a traditional Asian family and if my parents found out about me having a boyfriend at such a young age, they would kill me. So we had to keep everything in secret." This was especially difficult because the Minh's teacher was an ex-student of Phuong's father.
Getting into high school presented a challenge for the couple: they knew they could not attend the same school, and would be separated for the first time since the start of their relationship. Phuong convinced her parents to allow her to enroll in a school close to where Minh was studying, about 10 minutes away by motorbike. They would meet each week around lunchtime or to go out and get street food. "That was when I got really fat, just by going on dates and eating food!" Phuong joked. But still, everything was done in secret.
Then the two began another round of tests for college. Minh wanted to get into a school very close to Phuong's house so that they could be near one another and he got in, successfully, but Phuong decided to go to Drexel instead.
"The first year of a long distance relationship was really hard. It was really different from everything before … Since there is a 12-hour difference, when I'm in school, he is asleep, and when he is awake, I am going to bed," Phuong explained. She also talked about how difficult her first year at Drexel was, especially due to the quarter system. She was going crazy and didn't feel like she had much time to give to Minh.
"A few times we did come to the point of saying we would break up, but we just couldn't. There's some kind of bond between us, and it was already four years together last year, so it was really hard to say goodbye … So we managed to get through four years, and last summer I flew back to Vietnam to visit him. Last summer was also our official announcement to my mom!" Phuong exclaimed.
Now, their relationship is kept alive with video calls on Skype and lots of messages throughout the day. On the day of their fifth year anniversary, Phuong even created a stop-motion video for Minh and shared it with him over Facebook, continually trying to send her love across the miles in creative ways.
Love isn't just for the students on this campus; the faculty and staff are finding romance in their lives, too. Mark Andrews, who works as Mandell Theater's technical director, has been in a relationship with his partner, Derek Carnegie, for 10 years. The two were introduced by Andrew's roommate — and their first date? A romantic whim.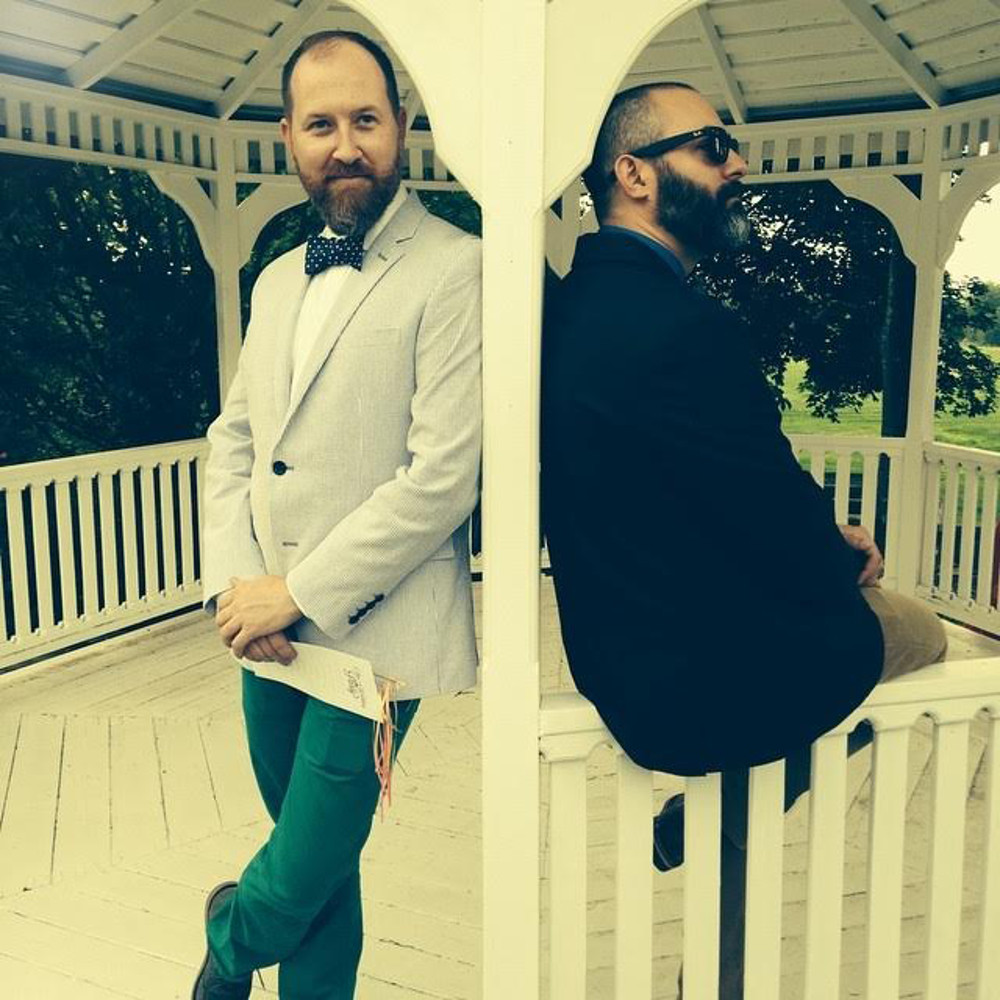 "It wasn't necessarily meant to be a date. During one of the snow storms, we escaped the house and explored the city in a way that we may not have before," Mark recalled. He says his favorite thing about their relationship is that it never seems to get old.
"There's still a lot of 'newness' to it," Mark explained. "Whether it be discovering taste differences or going somewhere for the first time and seeing how we both handle it."
Mark isn't the only leader in the Drexel community with a heartwarming love story. President John A. Fry claims he knew he was going to marry his wife, Cara, an art historian, from the very beginning. His favorite date with her was their first date, which he thinks back on fondly.
"It was a wonderful little French restaurant where we first got to know each other," he described, "I knew after [that] first date with my wife that I was going to marry her."
Romance is in the air among the students as well. In true Drexel fashion, Emily Turek and Seamus Kelly first met at the Handschumacher Dining Center. Three days later, they exchanged life stories in the ever-romantic Van Rensselaer skylounge. That night, which took place over a year ago this Valentine's Day, he knew that he couldn't let a girl like Emily slip through his fingers. The next six weeks consisted of many more dining hall meet-ups and furtive math class conversations, until one day she finally said yes.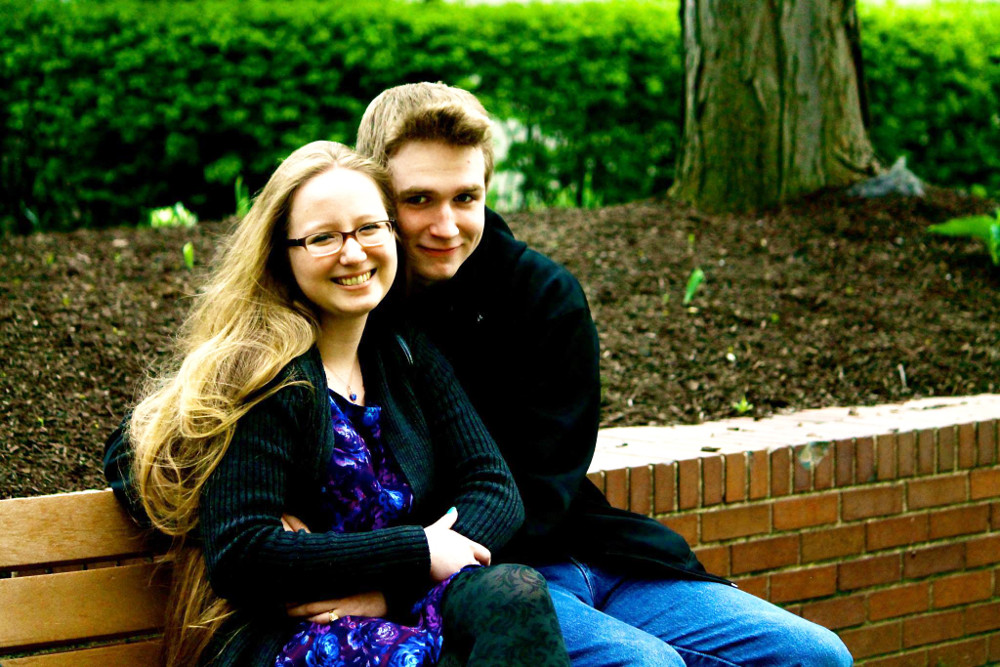 "He's very unmotivated, in general. So the fact that he actively pursued something every single day for like almost two months…" Emily trailed off fondly.
"She kept saying, 'I'm not sure about this.' And I kept saying, 'I am,'" Seamus recalled with a sentimental smile.
Halie Bury and Leah Meyers*, another Drexel student couple, met on Tinder, epitomizing the way couples meet in the new age of online love. After meeting in person, they soon started dating. When Leah invited Halie to her sorority's formal, Halie was nervous, "It was the first time that I'd been to something like that with a girl and I was pretty nervous, but she brought me flowers and was so beautiful in her dress. Once we got to the formal, I got to meet a lot of her friends and they told us how cute they thought we were. Then when we were dancing with all of her friends and I looked at her face and how happy she was, that was when I knew I'd fallen for her."
Leah felt equally as strongly about Halie shortly after they started dating. "I'm not the type of person that typically believed in love at first sight, but she was different. She had a kind of child-like curiosity about her and I was intrigued. I wanted to know her. I didn't know if she'd felt the same at first, but I could kind of see it from her eyes. I'd catch her looking at me out of the corner of my eye, and the way she looked at me told me everything," Leah said.
But the modern style in which they first met, through Tinder, has not impacted the rest of their dating style. The couple prefers talking in person over any other form of communication, although they do use Snapchat, and FaceTime to talk when they are not able to see each other.
It's clear that love today is more complex than ever. Changing ideas in our society, coupled with an influx of social media apps and websites, have made navigating relationships even more difficult. Modern love is making an impact in our world.
Halie has experienced this in her relationship with Leah: "I feel like modern love can mean many different things to different couples. To me it means the ability to love anyone you want, anywhere you want, without judgment or harassment. I think that the world is slowly becoming able to accept all kinds of love, and that's wonderful to see."
*Name has been changed.