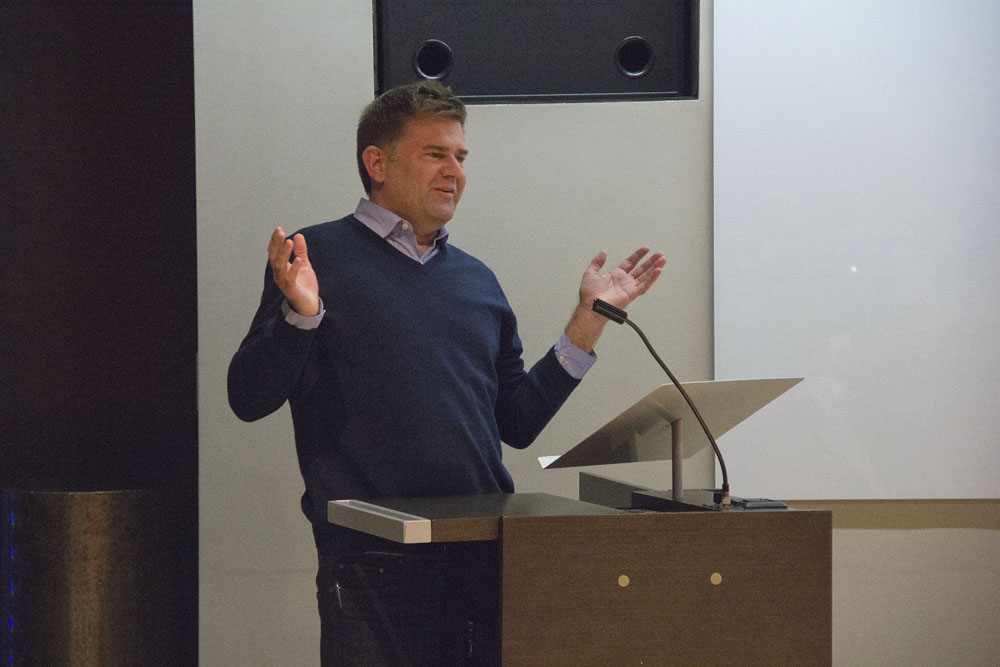 Dan Etheridge, a film and television producer best known for his work on the "Veronica Mars" series and subsequent movie, treated the Drexel community to a TV Night May 19 in the URBN Center AnnexThe event was part of his week-long residency as one of the University's 2014 Rankin Scholars in Residence.
Audience members were greeted with a handshake and personal introduction from Etheridge, who highlighted two shows he produced throughout his career — "Veronica Mars" and "Party Down."
The sparse audience, a large portion of which was already familiar with "Veronica Mars," was shown an extended version of the show's pilot episode, which featured an extra opening scene that the United Paramount Network, the show's original network, didn't feel set the right tone for the series.
"The network thought it was a high school show, and that viewers needed to understand it was a high school show," Etheridge explained. As a result, the opening scene became a shot of Veronica driving up to her high school, instead of revealing her unique side job as a private investigator.
Etheridge also offered an explanation for something that a few audience members noticed during the screening: despite his involvement with the first episode's production, his name does not appear in the credits.
"I helped [Rob Thomas] break the pilot script, and then I helped him break the season one mystery," Etheridge said of how he became involved with the show's production. "I just did it off the record." He did not become an official producer until the show was ordered by The CW.
"Veronica Mars" came to an end seven years ago, after a three-season run on UPN, which later became The CW. The show's ratings did not reflect its content's high popularity. In response to a question from Yvonne Leach, head of the Department of Cinema & Television, Etheridge admitted that the show ran three seasons longer than it probably should have, due to poor ratings from day one.
"UPN was beginning to decide that it might want to merge with The WB and become what is now The CW," Etheridge explained. "[UPN] got so wrapped up in becoming The CW that they weren't going to cancel their best-reviewed show."
Once The CW decided to pull the plug, Etheridge and Thomas, the show's creator and one of its executive producers, tried to end the series out of spite in order to make it difficult for the network to cancel the show.
"'Let's make an episode that demands a season four,' and they said 'No,'" Etheridge revealed of the thought process that went into making what many fans consider to be a disappointing ending.
A season four never happened, but the cult fan base's dedication and financial support led to the recent production of a crowd-funded movie, released in 2014.
"Clearly it needed, it wanted, another chapter," Etheridge said of the show's filmic continuation.
What fans may not know is that the last shot of the series as it aired and appears in the final cut of the episode was not how Thomas intended the show to end. Fans' last glimpse of Veronica was a crane shot of the modern Nancy Drew walking through the rain, a shot for which Etheridge was partly responsible.  Thomas, however, had had something different in mind.
"I actually screwed up the last shot of the series," Etheridge revealed. "[Thomas] had just seen this beautiful shot that followed on Kristen [Bell]'s face in a tight close-up, and that would be the end of maybe the series."
While the 2007 conclusion of Veronica Mars' saga disappointed devoted fans, a decreased episode order for the final season gave Etheridge, Thomas, John Enbom and Paul Rudd the opportunity to film a pilot episode for "Party Down," a comedy about struggling catering waiters that they had originally conceived several years prior. Etheridge selected an episode of this show to screen to the audience as well.
Creating the show, whose viewership also left something to be desired, was no easy feat; there was virtually no budget and the team had about four days to prepare every episode, initially with only 36 hours to edit the footage into a final cut. The style of the series was inspired by the original British version of "The Office,"which at the time provided a unique sense of humor with respect to other popular comedies.
"We did not want to be constrained by the things that single camera comedies often are, namely we didn't want shows to end with a win," Etheridge said. "It flirts so dangerously with having a happy ending."
While business transitions helped with the limited longevity of "Veronica Mars," they stunted the duration of "Party Down," which had only about 10,000 viewers by the end of its second season.
"On a Monday morning in January, we were going to meet to green-light two more seasons of the show," Etheridge said. "That Monday, they hired Chris Albrecht to be the new CEO of Starz. He came in that morning and said, 'You know, let's just put everything on hold so I can assess what is going on.' … He put it on hold and hold became eventually cancellation."
Even though Etheridge's two most notable projects cannot be called successes by television standards, he still has plenty of advice to give to budding filmmakers.
Among audience members were several students working toward degrees in media-related fields who can benefit from Etheridge's insight. One such attendee was Beth Bender, a sophomore film and video student who was not familiar with Etheridge's work.
"It's great to have people who are actually making things come and talk about their process and decisions," Bender said. "I'm excited for [Thursday's event]; it will be interesting to hear why they went with Kickstarter."
Bender was referring to an event May 22, which featured a screening of the crowd-funded "Veronica Mars" film, followed by another Q-and-A session.
Etheridge is currently working on a new series titled "iZombie," which he described as a show about "a zombie who solves crimes," although he admits that it is not his favorite description of the show.  "iZombie"is based on a comic book series and will go into production in August, with an anticipated premier in January on The CW.