Freshman dorms are always the most convenient places to study, although they can sometimes be prone to annoying roommates and distractions. While the WiFi at dorms isn't often reliable, Drexel has some of the fastest Ethernet in the country. It's well worth the $10 investment in an Ethernet cable from Amazon for those who don't already have one. Most dorms offer dedicated study spaces, which are both nearby and quiet places to work.
The W. W. Hagerty Library is most obvious spot on campus to study. The big con is that this space can get crowded quickly, especially during finals week. However, if you can find a spot, the quiet space on the lower level is often less crowded than the rest of the building, and the recently renovated Silent Area on the second floor has extremely comfortable seating. If focus is key, be sure to check these places first.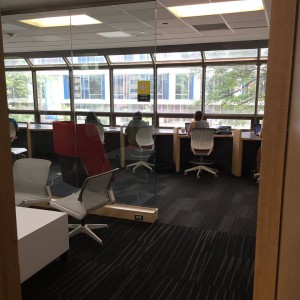 The cafe space (it once housed Drexel's Taco Bell is open all day, every day) has outlets and booths (it still smells a bit like tacos though).
The Library Learning Terrace is located below Race Hall, this study space offers multiple large tables for group work. Its proximity to the dorms is one of its best features. There are more than enough whiteboards in this space, but not often enough dry erase markers. If you're planning on using the space, be sure to bring a few of your own.
Main Building is open 24/7. It's the oldest building on Drexel's campus and home to many a lecture hall can easily double as a study space. There's something to be said about studying for fall term finals in the decorated lobby just before winter break. Bring a friend, or five! Most of the lecture halls and classrooms in Main are open at all hours. The whiteboards can make for an excellent place to brainstorm or study with a group.
For nice days, when outdoor studying seems like the only way to get work done, Drexel Park is a great option. It is one of the most relaxing places to study on campus. While there are no outlets, there is both WiFi and a beautiful view of the Philadelphia skyline. Plus, if WiFi isn't necessary, the Philadelphia Art Museum is only about a ten minute walk from Drexel Park and can be a beautiful place to study in the spring and summer months. The Schuylkill River Trail is also close by, with many spots for potential study and relaxation.