Twin sisters and Drexel students Gabriella and Sage Cifaloglio have both been selected as members of the Philadelphia Eagles cheerleading squad for the 2013 season. Sage, a junior business administration major, has already been on the cheerleading squad for one year, and this will mark the first year for Gabriella, a senior design and merchandising major. Both sisters are in the Phi Mu sorority and are former members of the Drexel Dance Team. They were among 38 women who were chosen April 24 to be part of this year's cheerleader roster.
The 2013 Eagles cheerleaders received their pom poms and uniforms April 30 during the first meeting with the squad, and their first official event took place May 8, when they shot photos in Cape May, N.J., for this year's Eagles calendar. The proceeds from the calendar sales will go to the Hurricane Sandy New Jersey Relief Fund.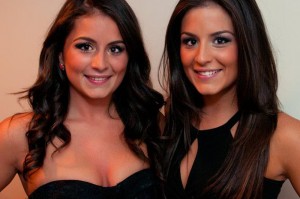 During the semifinal round of the selections, the prospective cheerleaders had to introduce themselves to an audience and a panel of judges, which included a select group of season ticket holders, along with performing a dance onstage in a group of three. Those who called the hotline number and made it to the finals had to participate in a "fitness" round, where they modeled a bathing suit and then went through a different round of interview questions, which was followed by another dance performance. Gabriella has an extensive background and experience with dancing, having had practice from the age of 7. She said that she considers her dance experience the biggest factor in her success as a cheerleader today.
Gabriella is still undecided about how big of a role cheerleading will play in her future. "For right now, it will probably just remain as a college job to me. But seeing all my friends on the squad and how much they love doing it, I am definitely keeping my options open to it being a possible career in the future."
Gabriella continued, "The NFL is not just about people's individual talents or skills but their showmanship ability and how well they can combine their talents with their ability to grab the audience's attention." When asked from where her inspiration to become a cheerleader originally came, Gabriella attributed this to her dancing and explained how dancing helped her prepare as a performer for cheerleading.
Understanding that she will be a role model for many younger girls who are aspiring cheerleaders, Gabriella offered her words of advice for girls who are interested in following her footsteps: "Always be yourself. Never try to be something or someone that you are not, and portray confidence in yourself; people will love you for who you really are. Above all, never forget that hard work can get anyone anywhere they want to go in life."
"A cheerleader really has to be able to be as friendly as possible, always displaying a positive attitude and mentality. They must be able to respect themselves as well as other people at all times, and most importantly, they must be able to represent. When I say represent, I do not mean necessarily to represent themselves by name but rather to represent the organization that they are working for and carry that image with a sense of pride," she said.
The cheerleaders will have rehearsals Tuesday and Wednesday nights starting in June. They will also be required to attend special appearances and will be at Lincoln Financial Field for eight hours during home games.