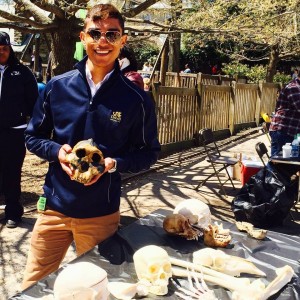 Douglas Whitmire is the president and founder of the Drexel Anthropological Association. He is a senior Anthropology student who also enjoys horticulture.
Triangle Talks: How would you define anthropology for someone who is unfamiliar with the discipline?
Douglas Whitmire: I would define anthropology as a holistic look at the intricacies of human existence. It's a discipline that provides a simultaneous objective, scientific analysis and a deeply personal interpretation of what it currently means to be human, and the historical and biological path that led us to our present state.
TT: What led you to the field of anthropology as a student?
DW: I was fascinated by the incredibly complex analysis of humanity that anthropology provided. My first anthropological course was Biological Anthropology. It provided an amazing foundation by which to study myself, my community and global populations as a systematic whole.
TT: Who has been your greatest anthropological influence?
DW: My first assigned text in anthropology was Tim White and Peter Folkens' work, "The Human Bone Manual." Tim White is the anthropologist behind the discovery of Australopithecus…in the first chapter, White states "Both knowing and not knowing are positions to be reached by scientifically defensible means. If we cannot know, we must settle for knowing why we cannot know."
TT: How has the program evolved since you began?
DW: During my time at Drexel, I was able to see the department become an independent entity. Since then, I've gotten to witness various faculty and staff facilitate unique opportunities to existing students while also building the integrity of the program for future students.
TT: If there was one thing that you would want non-anthropology majors to know about the program, what would it be?
DW: I'd want them to know how versatile and unique the program is. Anthropology encompasses such a broad spectrum of topics that there's a place for everyone. And for those that simply can't find time for another major, we also have the official departmental student organization, the Anthropological Association of Drexel University.