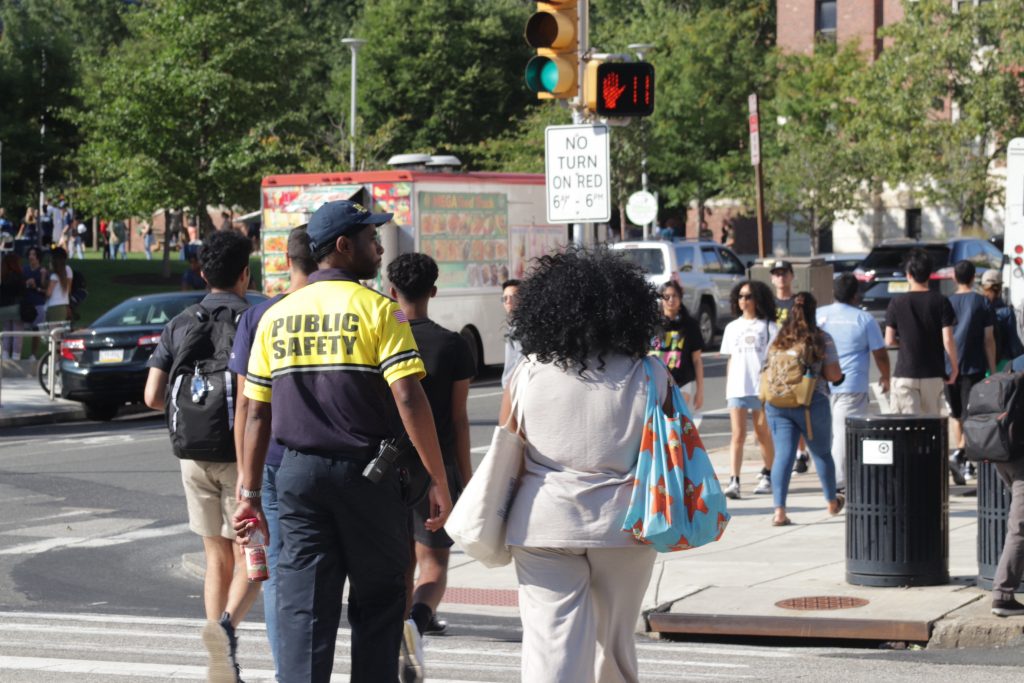 As a new (or returning) student, keeping up with Drexel University's schedule can be overwhelming. Many of you are also new to the city of Philadelphia. As you are adjusting to life on campus and navigating a big city, here are some tips for how to stay safe on and off campus.
Save all important public safety links and emergency contacts.
First, be sure to check out all of Drexel's links regarding safety information and save all the important emergency numbers on and off campus. Keep them somewhere handy on your phone, such as on the Notes app.
Drexel's Public Safety Website: https://drexel.edu/publicsafety/
Drexel's Public Safety phone number for all emergencies: 215.895.2222
Office Location: 3219 Arch Street, Philadelphia, PA 19104
Twitter: @DrexelDPS
In an interview with The Triangle, Community Relations Police Officer Kim McClay said she wants all students to know that "at any landline on the main campus, you can dial 2222 and it will go right through Public Safety's dispatcher. Available 24 hours, seven days a week, every day of the year, including when school's closed. Public Safety knows Drexel's buildings and will be able to quickly assist anyone in case of an emergency."
Report any suspicious activity.
"We encourage people to report any concerning activity, whether they observe it or are victims of a crime. It's a shared responsibility as part of the Drexel community," stated McClay.
You can use Drexel's Guardian App (more on that later), or directly call Public Safety at 2222.
Through the app, a student can text Public Safety's communication center to report a crime anonymously.
"We don't want to get students in trouble, we want them to be safe," added Community Relations Officer Thomas Cirone of the Drexel Police Department.
Utilize Drexel's free walking escort service.
When necessary, students have the option to call Public Safety to request a walking escort within patrol boundaries.
"Anyone at Drexel can get a walking escort. No reason is needed, and they are offered 24 hours, seven days a week," said Cirone. "They are open for anyone coming to University City, including parents flying in to visit."
Drexel Public Safety officers can escort students from 30th to 36th streets and Chestnut to Spring Garden streets. However, it is possible to get an escort from University City District Ambassadors by calling 215-387-3942. This free service is available through a partnership with Drexel Public Safety operates from 10:00 a.m. to 3:00 a.m., seven days a week. For more information, check out their website at: https://www.universitycity.org/walking-escorts.
Keep an eye out for Drexel Alerts.
Drexel Alert is an emergency notification system that allows public safety to send safety-related notifications through messages and emails to students to warn them about potential threats.
"When getting a Drexel Alert Notification, review it right away because it could potentially be something located right where you are, and if you check it later you won't be advised on staying clear. It's also important to confirm your cell phone number constantly to get the alerts as text messages for times when your email is unavailable," said Cirone.
Download apps that will serve as important resources.
Drexel Guardian/Rave Guardian (free): when registering with your Drexel email, this app grants public safety access to some important information about you in case of an emergency. This app includes an emergency GPS locator, a safety timer for you to request public safety or a fellow student to check on you at a specific time, a feature to add family and friends as guardians to communicate with them through the app and a one-touch dial emergency button to directly call safety officials for help.
Life 360 (free): an independent app that most Drexel students use to make sure they and their friends are safe when going out. This app allows you to add friends who also have the app and with both people's consent will give each other their exact GPS location with instructions on how to get to where they are, and their battery levels. You are also able to name specific places and get notified when your friend has gotten to that place.
"Keeping any app like this can be an asset," agreed McClay.
Citizen (free): also an independent app that notifies you of every safety-related incident in your city. This app will notify you of absolutely all incidents, including some that might not be important to you, which is why some people opt not to download this app.
SEPTA Transit Watch (free): "Similar to the guardian app, you can anonymously report any suspicious activity you observe or experience while using SEPTA's public transportation," suggested McClay.
Register lost property with Public Safety.
"In only 5 minutes, you can register any item under your name, at the Public Safety Office, whether it's a bicycle, a phone, or something else," said McClay, "If it gets lost or stolen and it comes up anywhere in the country, Public Safety will get a call and will notify you."
Victim services are available for those in need.
The Victim Services Coordinator Amy L. Spiller is a retired Philadelphia Police Officer. The role of the victim services coordinator is to provide resources and support to students or staff who have been victims of a crime, including sexual assault, domestic assault, robbery, theft and more.
Students can contact the victim services coordinator by phone at 215-895-6921 or through email [email protected].
Cirone informs The Triangle readers that "If you are a victim of a crime, the victim services coordinator can accompany you to court, help you apply for a restraining order, or simply talk over coffee with you."
Look into Drexel public safety prevention programs.
All of the following programs are offered for free at Drexel and can be scheduled for any group, club or team through this link.
"Safety is our Goal" is a 45 minute presentation, in person or via Zoom, any day or night, on how to react to homelessness, property safety, fire emergency services and victim services.
Given by Kim McClay and Thomas Cirone, "Public Safety and You," is an hour-long presentation that covers the programs that Drexel has to offer such as walking escorts, Drexel alert, de-escalation, safety tips, and active threat protocol.
Finally, the "(Safe) Self-Awareness for Everyone"" program, has a hands-on component with a self-protection training lesson and can be taken as often as you want. No fitness level is required.
9. Consider carrying a safety device on your Drexel lanyard.
Whether it is a small pepper spray, a whistle, an emergency alarm, or even one of the new panic button technologies, many students carry safety devices with them.
"It has value as long as you have it ready to use responsibly and it is not abused. If it makes people more alert, that's a good thing. I'm not saying it should be carried but it has value," McClay clarified.
10. Hold transactions in a safe place.
As McClay commented, "If you are going to buy or sell something, we urge you to do the transaction in the Public Safety office. If it is a legitimate sale or purchase, the person will meet you there. It can be at any time of the day or night. There's an officer stationed in the office at all times."