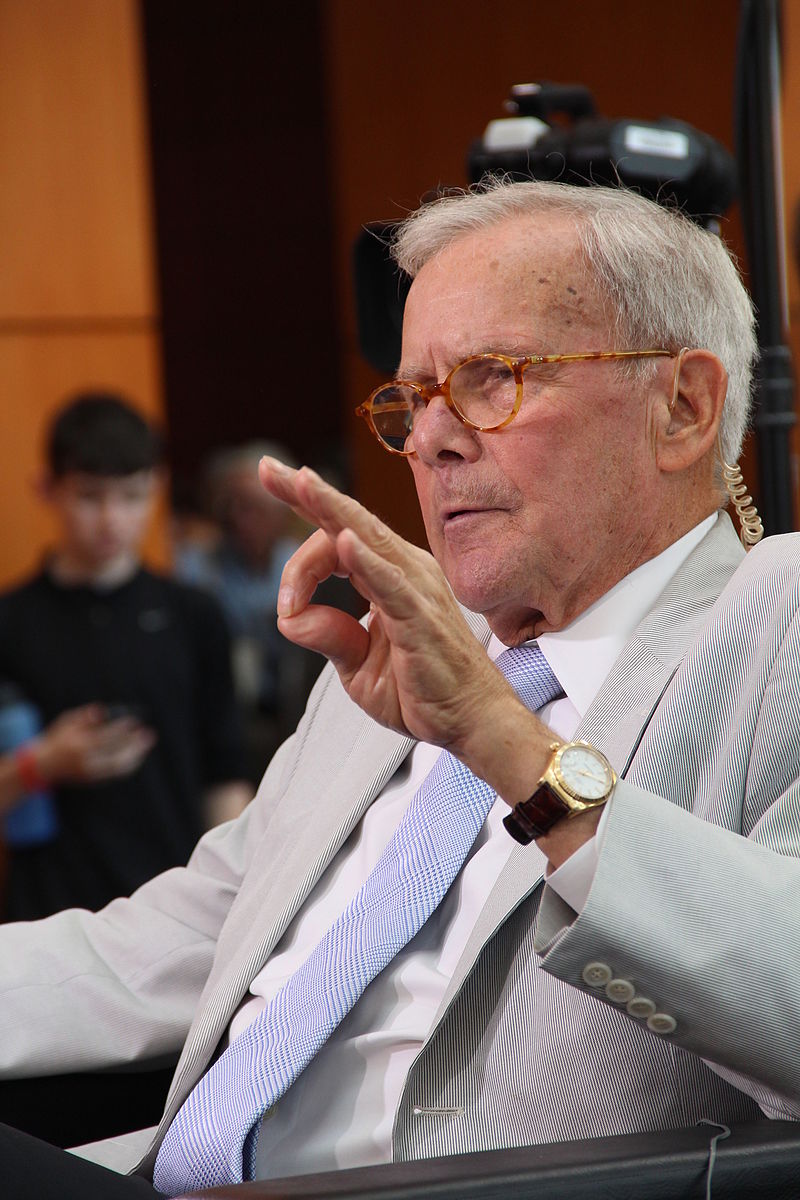 Long-time NBC broadcaster Tom Brokaw reflected on his 50-year career in journalism at Nesbitt Hall April 8.
Brokaw was interviewed by Karen Curry, a former colleague at NBC news and the executive director of Drexel University's Rudman Institute for Entertainment Industry Studies. The event was part of a series held by the institute.
After Curry's introduction to Brokaw, a video clip from the two-hour NBC special "Tom Brokaw: The First 50 Years" was shown.
Following the clip, Brokaw began to speak about his days at the University of Iowa. Specifically, he claimed that he performed poorly from the start of his secondary education.
"[I] skidded right off the rails, pretty quickly. I didn't flunk out, but I didn't distinguish myself, certainly, in the classroom," Brokaw said.
He explained that he didn't change these ways until he received a critical letter from a high school friend who would later become his wife, Meredith Auld. He explained that his wayward days served as a great learning experience about the ease of slipping off the path to success.
Moving on to commentary on current issues, Curry asked Brokaw if he remembers a time similar to the current national climate. Brokaw answered 1968.
"I thought the country was coming apart," Brokaw stated.
He explained that Lyndon Johnson decided not to run for reelection, more than 16,000 American lives were lost in Vietnam, Martin Luther King Jr. was assassinated, generational conflict was high, and racial discrimination was coming to a head.
"Those were terribly terribly trying times, and yet, the inherent strength of this country made it possible for us to get through that time and emerge from it even after Watergate, which was the greatest scandal in the history of the American presidency," Brokaw said.
Brokaw was direct with his message about the current climate.
"We're going to be okay," he said.
Brokaw then began a long reflection on Russia, beginning with the Soviet Union and his coverage of the Berlin Wall. He continued to talk about various meetings and interviews he had had with Vladimir Putin and other Russian officials.
He spoke about a friend who had recently passed away, the former Russian Ambassador to the United Nations Vitaly Churkin. Brokaw said that Churkin was extremely dismayed by the state of Russia under Vladimir Putin.
"Vitaly Churkin looked at me and said 'Tom, the Obama White House does not get Russia; they don't know how serious it is there now. And the fact is, that my president, Vladimir Putin' … is effectively a thief running thieves," Brokaw said.
"To hear that from the inside was really quite startling," Brokaw continued.
He recalled times interviewing Putin. Brokaw explained that Putin wasn't personable and that during casual dinners with news correspondents he would never crack a smile and was never forthcoming.
After talking about Russia, the floor was opened up for questions. Many students were in the audience, and one student in particular asked if Brokaw had any advice for young people today.
"I think this generation is the best educated, the most digital-friendly generation that any society has ever produced. We have more people in college now than we've ever had before. … And so far as we can tell, they have disconnected themselves from the institutions that most of us grew up with, institutions of government," Brokaw said.
He explained that this generation has created its own zones of power, and that while he doesn't blame this generation for its disinterest, it is critical that youth can bring their unique skill set to those institutions of government.
He went on to speak about his time covering difficult topics like 9/11 and the dangers of too much speculation in the news
For more information about the Rudman Institute and upcoming events, visit its website at http://www.drexel.edu/westphal/about/rudman-institute/.