"Today" show experts spoke to Drexel students Jan. 23 at the Bossone Research Center about their memorable experiences at the morning show, in order to celebrate the program's 60th anniversary.
The event consisted of a panel discussion followed by a reception where attendees could purchase signed copies of a book celebrating the show's success. The panel consisted of Jane Pauley, co-anchor of the show for more than 12 years; Steve Friedman, the executive producer from 1980 to 1987; and Stephen Battaglio, the business editor for TV Guide magazine and author of "From Yesterday to TODAY."
This gathering of familiar morning show names allowed both the panelists and audience to reminisce about some of the most memorable "Today" events. From the first broadcast on Jan. 14, 1952, to the death of John Lennon in 1980 to coverage of royal weddings in both 1981 and 2011, the show has flourished since its beginning.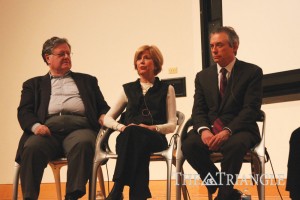 Friedman explained the four things necessary for each broadcast to accomplish in order to satisfy and maintain the audience.
"[One: We have to] tell you what happened between the time you went to bed and the time you went up. … Two: We have to give you something to talk about, make sure that when you leave the house you sound intelligent. … Three: We have to give you some news you can use in your daily life. And four: We have to give you something to smile about because mornings are tough," he said.
Since its inception in the early 1950s, "Today" has been a leader in morning broadcasting. Battaglio credits its success with simply being first. ABC's "Good Morning America" didn't debut until 25 years later when "Today" had already captured a large audience. The NBC show's viewers were dedicated and felt an honest connection to the show, and over the years, the show captured part of the essence of America via morning television.
"It's always been a reflection of the times in terms of how people spoke in the morning, how they presented themselves, reflecting the trends," Battaglio said.
During Pauley's decade as co-host, she represented women and helped change how television depicted pregnancy. She explained that she recently met a man who knew Fred Friendly, one of the visionaries in television, and heard that he spoke very highly of how she handled herself on "Today" during her pregnancy.
"Supposedly he had made the remark that Jane Pauley and Lucille Ball did more to convince America that pregnancy was a condition, not an illness," she said.
People were drawn to watch "Today" partly because of Pauley. She was the first baby boomer on the show, so she appealed to her generation. Her relatability made her perfect for the position, and her friendly relationships with her co-hosts contributed to the overall likeability of the show.
On the day John Lennon died, Pauley brought her own Beatles records on the set and showed them to viewers. She recalled how hard it was to hide her emotions when filming the segment.
"It really wasn't until the end of the program. At that point I just laid my head down on the desk and sobbed. … I remember saying that the moment he was dead, I put my youth in a box and shut [it]. It meant I was no longer young," Pauley said.
Battaglio further explained Pauley's appeal to audiences.
"[She] had a lot of emotion. It was a raw moment when Jane was being herself and talking about what [The Beatles] meant to her while growing up," he said.
Karen Curry, executive director of the Kal and Lucille Rudman Institute for Entertainment Industry Studies at Drexel, worked as a writer and segment producer at "Today" for 15 years and produced the 30th anniversary show for the program. She wanted to take this opportunity to bring some of her colleagues to Drexel as well as to celebrate this momentous anniversary. Kal Rudman, a special music contributor to "Today" in the 1980s, and his wife Lucille frequently fund programs for the institute that bears their names.
Curry eventually left the television field to work in education and was hired in 2010 as the executive director of the Rudman Institute at the Antoinette Westphal College of Media Arts and Design.
"For people who don't have the technical skills — if you don't shoot and edit and understand the web to a really high standard — it's going to be a really hard time for you. It's rough. It's fun, great, exciting, challenging, rough," she said.