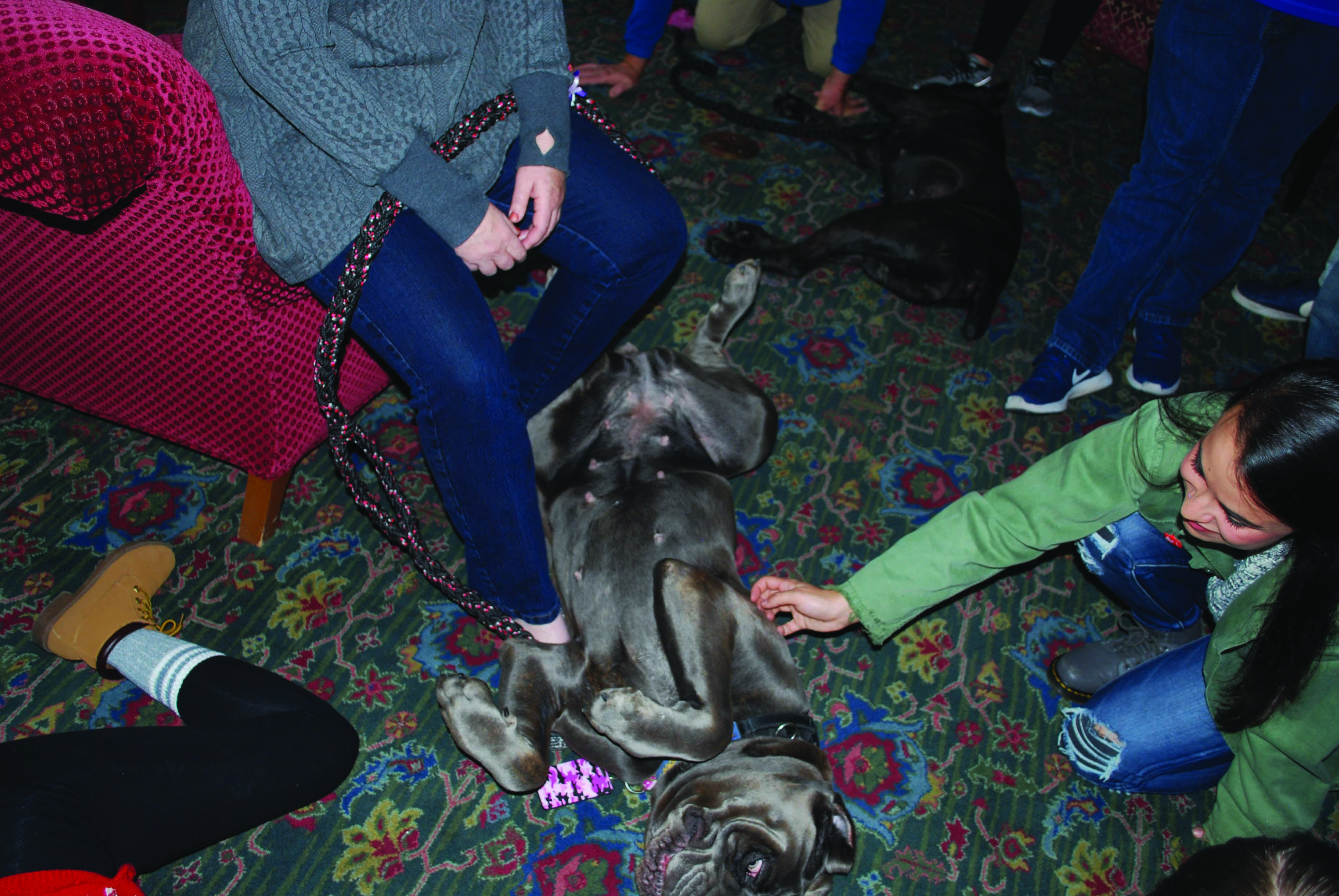 Drexel University's therapy dogs, Chai and Espresso, will be visiting both the University City and Center City campuses more often in the coming week to help students relax from the stress of finals.
Owners Chuck and Janine Erato host open hours, in which they can be found walking Chai and Espresso around campus. These times are posted on their Facebook, Instagram and Snapchat. The dogs are also available to come to class and campus-wide events at no charge.
Mother and daughter, Chai, five, and Espresso, three, are purebred Cani Corsi — a type of mastiff. Each of them weigh in at over 100 pounds. Registered with the university's recreation services, Chai and Espresso have quickly become favorites on campus. The duo spend approximately eight to ten hours per week on campus, including special events and open hours.
"You can see when they [students] are stressed, when they're upset, and they're petting the dog, you can see their body just start to kind of melt and relax a little bit," Janine Erato said.
Chai came to Drexel in June 2016 to take the place of Jersey, who previously held the title of Drexel therapy dog. Espresso joined her mom on campus soon after.
"Chai was already a therapy dog and then our kids started school here and found out that Jersey, who had the position before us, had left. [Drexel] needed someone to fill that vacancy. We came in, we interviewed, they loved the girls, and they loved us. It was a good fit," Erato said.
Chai and Espresso have quite the list of accomplishments. Janine Erato said Chai recently received the American Kennel Club Therapy Dog Excellence) title, completing 200 visits. Espresso is coming up on her 50-visit mark. Visiting students at Drexel is their main priority.
As official therapy dogs, both Chai and Espresso sport their own custom Drexel Therapy Dog collars and Dragon cards.
According to Erato, "it was very important to get them both IDs as well as collars so that they're readily identifiable to anybody that does not know that these are Drexel's therapy dogs."