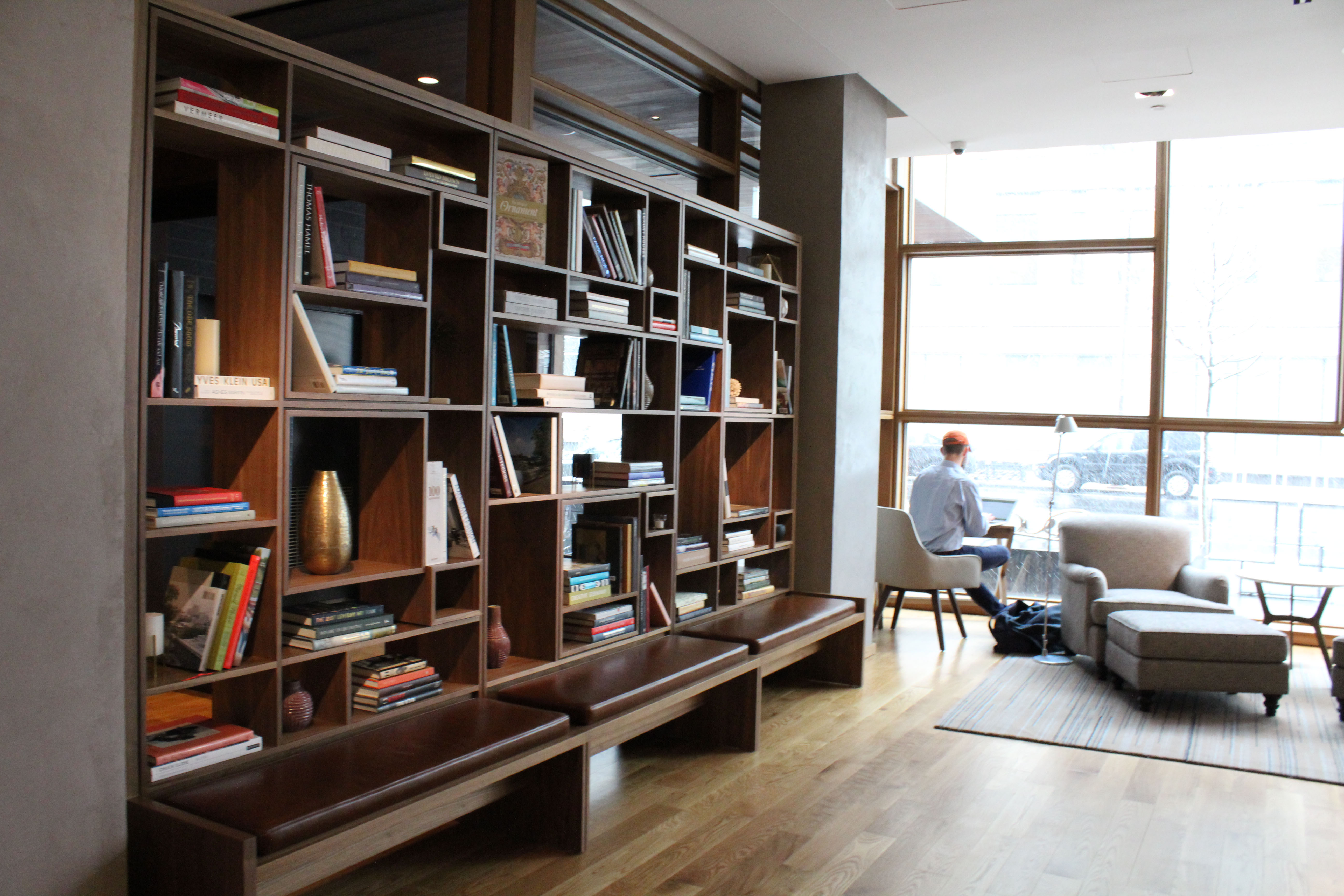 Paul McGowan said it all began in New Haven, Connecticut around 2010.
Drexel University president, John A. Fry had been in New England for his kids' squash tournaments and staying at The Study at Yale. One day he approached McGowan, the hotel's owner and developer, and asked what it would take to bring a similar hotel to Drexel's campus.
Seven years later, Drexel's very own "Study" now sits complete at the corner of 33rd and Chestnut streets. It officially opened March 1.
Among its many features are 212 rooms, a floor dedicated to conferences and meetings, an open, first-floor lobby and CO-OP — the hotel's in-house restaurant.
One of the biggest factors in The Study's arrival to campus was its address.
"Location is key to us," McGowan said. "Here, we have one of the most incredible locations you could ask for up and down the eastern seaboard."
He noted that the hotel is at the hub of a variety of centers for academia and health — the Children's Hospital of Pennsylvania, the Hospital of the University of Pennsylvania, the Science Center, the University of Pennsylvania and, of course, Drexel University.
The Study appeals to what McGowan called the upper-tier of the University market.
"Whether they're touring prospective students or families of students that are currently enrolled in the schools, visiting professors, dignitaries or speakers," McGowan said. "Anyone who's coming to a college environment."
According to John Wright, the hotel's Group Sales Manager, The Study's average room rate is $229 per night and up, depending on the time of year a guest visits and what is going on in the city. Nights at other nearby hotels, the Sheraton and the Inn at Penn, compare at averages of $156 and $239 per night.
McGowan said The Study attempts to set itself apart from its competition by providing a more intellectual, academic environment for guests to relax.
"Part of the reason we call it The Study and not a hotel is for that very reason," he said, further explaining that a "study" is an older term that might refer to a place in someone's house reserved for quiet reflection and relaxation — a place where one can think.
"We have an abundance of reading material. It's about reading and reflecting and relaxing, you know. Put your feet up," he said.
McGowan said the building itself took strong cues from local Philadelphia architecture and that  many local trade workers and artisans — from blacksmiths, to glassblowers, to plaster companies — were enlisted during its construction.
The ground floor of the hotel features bookshelves and reading seats, a table from which guests can borrow newspapers — The New York Times, the Wall Street Journal and the Philadelphia Inquirer — and two rotating display cases featuring exhibits on loan from Philadelphia museums.
One centerpiece McGowan particularly likes in the hotel lobby is a large painting that hangs on the wall that separates The Study from CO-OP. It was done by Sam Messer, an assistant dean of Yale's School of Art. It features a large typewriter; a snippet of a quote by President Fry describing Drexel as "…creative, diverse, entrepreneurial, impatient, unpretentious and a little fearless"; and the Philadelphia skyline behind the words.
CO-OP seats 105 people. Lunch and dinner dishes range from $14 to $16 and $16 to $38, respectively.
McGowan described its menu as "new American cuisine with a heavy emphasis on regional flavors."
The name "CO-OP" was primarily inspired, McGowan said, by the neighborly spirit of Canadian agricultural and maritime cooperatives he remembered as a kid. Also Drexel was the first co-op University, so it fit.
The Study's second floor is a banquet and conference space with outdoor terraces, and its third floor features a large gym where guests can exercise on their own time or sign up for exercise classes like yoga.
Within the hotel there are 121 king rooms, 63 double rooms, 19 king study rooms and nine suites. Each room has a bed, a desk, leather chairs and ottomans, reading window nooks and its own bookcase.
McGowan commissioned the work of artists for The Study's interior design. Scattered across the hotel's 10 floors are 230 custom-made paintings by the Surrealist-influenced, Italian painter Carlo Trevisan. Trevisan's paintings go for anywhere from $97 to $539 per piece.
Neither The Study nor CO-OP has yet announced plans to bring in Drexel hospitality or food sciences students for co-op positions.
"Our human resources director is certainly reaching out," McGowan said.
He added that the resources director at The Study also has an open dialogue going with the university concerning internships for Drexel students as well as long term employment.