Hundreds of students from around the University turned out to watch the July 8 morning launch of the U.S. Space Shuttle Atlantis.
The craft, which took flight at 11:29 a.m. July 8, was a bittersweet one as it would be the last flight of the U.S. space shuttle program. Mission STS-135 also held a special place in the hearts of Drexel students as the commander of the flight, astronaut Christopher Ferguson, is a graduate of Drexel's College of Engineering, class of '84.
The college treated the assembled crowd to pizza and snacks as the live feed from the Kennedy Space Center was projected in the lobby of the Bossone Research Enterprise Center. Several local radio, television and newspaper reporters also attended to interview the students about the historic flight.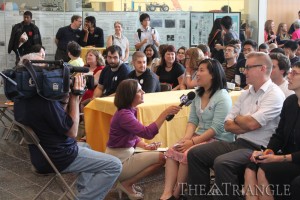 Commander Ferguson continued his involvement at Drexel after graduating in 1984, returning to Philadelphia many times to speak with students and stay involved with his alma mater.
During his planning for this flight, his third trip to space, Ferguson visited the University in March to meet with students who had been selected to design a special patch for the final mission. Students Jen Choy and Jeremy Bloom had their individual designs, "Spaceswan" and "Waves" respectively, picked as the winning patches, and the astronauts took the finished patches aboard STS-135. Oversized mock-ups of the patches were on display at during the launch party and stickers bearing the patch were passed out to the crowd.
Exclusive video from the event can be found at www.thetriangle.org.