Drexel University senior Ari Winkleman won first prize in an entrepreneurial competition that took place over 10 weeks during the summer and challenged young entrepreneurs to develop their own startup ideas in the realm of digital media.
The "Innovation Incubator" program, sponsored by Omnicom Group's OMD and General Electric, invited just 12 of 200 applicants to develop their ideas in offices in Manhattan. Competitors were provided a $10,000 stipend to participate in the "digital-media idea lab."
At the end of the 10 weeks, Winkleman competed against contestants from Massachusetts Institute of Technology, Harvard University, the University of Southern California and Stanford University as all finalists presented their project ideas to top executives, including GE Chief Marketing Officer Beth Comstock. After receiving positive feedback and placing first, Winkleman officially launched his project at Drexel Oct. 4.
The college-targeted website and smartphone app that won Winkleman the contest will also be debuting soon at numerous colleges across the U.S.Involvio combines components of Facebook, Twitter and Google, addressing one of the most frequently asked undergraduate questions: "What are we doing tonight?"
Winkleman said individual students as well as student groups and organizations will benefit from Involvio, which transplants the fundamentals of Facebook's event feature and gives it an easily navigational website of its own.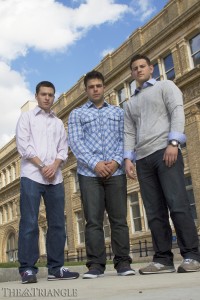 "You know those message boards with flyers tacked up and falling off all over campus?" Winkleman asked. "This puts an end to that mess."
Winkleman described how academia, sports, music, social networking and event planning are all organized components of Involvio's homepage, offering a solution to the obnoxious clutter of event invitations.
Senior product design major Jeremy Bloom explained how Involvio differs from some other social networking sites with event-planning components.
"The problem with Facebook is that you can't invite someone who isn't a friend to your event, [plus you get] bombarded with unwanted invitations," he said.
Registration on the site requires a school email address in order to keep out unwelcome promoters. It also requires students to sign in to their Facebook account, from which each and every event's basic information can be pulled. Actions on Facebook event pages are automatically updated to the subsequent Involvio page, and vice versa.
Involvio's smartphone app includes a map of all occurring events, displaying where one's friends are in a design similar to Foursquare. It pin points locations where current events are being held, using a color-coded system to show users how many of their friends are in attendance.
Winkleman's initial ideas for Involvio were developed as a freshman, after he created a website for LeBow College of Business students called LeBowTicker. He had faculty, staff and student organizations add their events to the website in order to organize them for the benefit of business students.
Last fall, Winkleman put together the team of students behind Involvio, including Drexel Finance Association President Rich Lavner.
"[Other social media sites] show you what they think you want to see … but you define your own identity, your own path, through this site," Winkleman said.
Users of Involvio have the ability to select particular groups to "watch" so that they show up on their page more often, see past events held by organizations and clubs, and target specific users in sending out event invitations by differentiating between majors, college, class year and friend groups.
In selecting Involvio as the "Incubator" winner, representatives from OMD said they felt the company was creating new ways for marketers to engage in targeted advertising. For more information about the site, visit involvio.com.