Drexel and professional entrepreneurs, instructors and investors gathered Nov. 7 and 8 at Behrakis Grand Hall in the Creese Student Center for a two-day celebration of entrepreneurship, networking and competition.
The Drexel Startup Fest, hosted by the Drexel University Charles D. Close School of Entrepreneurship for the fifth year in a row, featured activities including pitch competitions by Drexel students and staff, raffle prizes, several networking opportunities and keynote addresses by prominent entrepreneurs.
Day one of the event kicked off promptly at 3 p.m. similarly to previous years: with an entrepreneur expo. This was an opportunity for the student entrepreneurs to showcase their businesses or products. The setup of this portion of the event was similar to that of a college fair, where attendees could approach a variety of booths around the hall to learn about one of the student start-up companies. Likewise, participating dragons took it as a chance to better their businesses by receiving feedback from people.
Lindsey Smith, a Drexel sophomore who founded the mobile application Fashion Buddy, participated in the opportunity fair. The app, dubbed "the Tinder for clothes," allows people to post and rate photos of outfits they or other users want to wear. For instance, if you are unsure about which two outfits to choose from, the app creates a poll that lets others decide which outfit is better.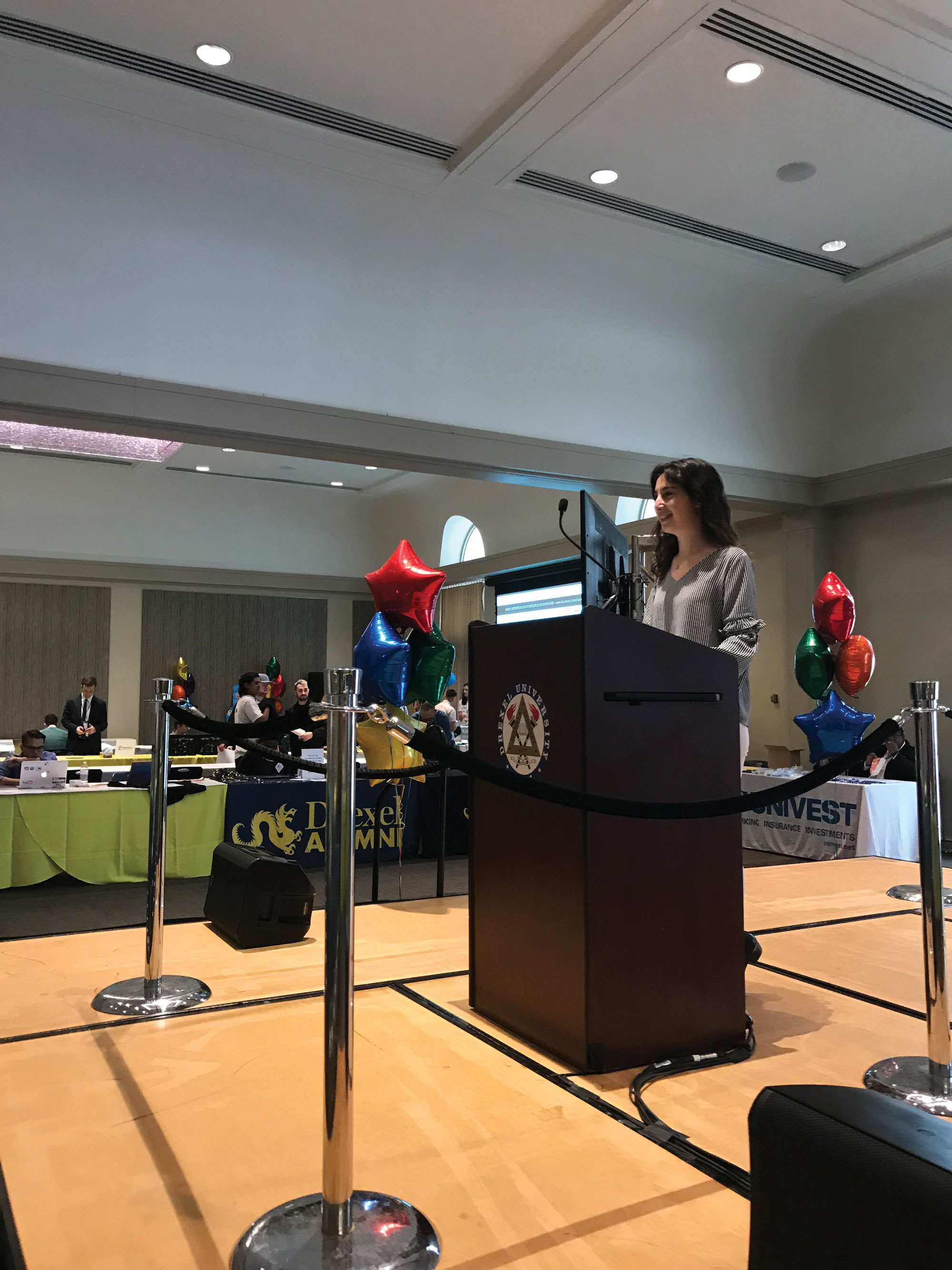 "It's like I always say, 'While one outfit looks good, another one looks great,'" the entrepreneurship and innovation student said. "[Fashion Buddy] is a judgment-free zone that gives people confidence about what they're wearing."
Her table included a white board with the question, "What makes you confident?"— encouraging passersby to write their responses on the poster. Smith was not only surprised by the interactivity among people — from feedback to genuine interest in her company — but also the stories that they divulged to her.
"There were a lot of men who could relate to not wanting to be judged by what they wear," Smith said. "Although the app is for everyone, my initial target audience were women like myself, who have trouble knowing what to wear to an event — corporate, professional or informal. But I found that men are also looking for that second opinion which is what Fashion Buddy is all about."
The first round of the student fast pitch competition took place afterward. In this contest, participants had only two minutes to present their unique concepts to a table of three judges, as well as a full crowd of entrepreneurs, partners, mentors, investors and fellow Drexel students. The winner would take home a $500 Amazon Gift Card.
One of the pitches included a presentation by Adit Gupta, a software engineer senior who co-founded VyB Technologies LLC.
"VyB is a platform that holds people accountable for the way they treat others," according to the start-up's LinkedIn page. "Just as a credit score represents one's financial accountability, one's VyB score represents one's social accountability. Your VyB score bridges the gap between the digital world and the real world."
Smith also participated in the fast pitch. According to her, it was challenging to prepare a pitch that catered to a general audience, who may or may not have business knowledge, and potential investors.
"When developing my pitch, I kept in mind that I wouldn't be catering to just one person," she said. "I made sure that they understood the value of my company, what it stands for and why people believe in it."
The evening of Nov. 7 concluded at 7:30 p.m. with raffle prizes and an opportunity for attendees to mingle and network.
Day two of Drexel's biggest entrepreneurship event held keynote speeches from Mike Edwards, Class of 1983 alumnus and former CEO and President of ebags.com, and Jon Nordmark, co-founder and CEO of iterate.ai and co-founder of ebags.com.  
The second day also featured the final round of the student fast pitch competition; entrepreneurship and product design junior and "Just Be" founder Paris Gramann was crowned the winner and took home the $500.
However, the Baiada Institute Incubator Competition — Startup Fest's biggest competition — led the list of presentation lineups for that evening. Of the 25 startup teams who submitted applications into the contest, only five competitors, plus one "wild card," were selected to compete on stage. Three winners were selected, who shared the $25,000 prize plus mentorships and other resources.
Outland Analytics won first place and was awarded a $12,500 check and one year of free residency space in the Baiada Institute for Entrepreneurship (located on the fourth floor of Pearlstein Learning center), SEO auditing services from Wanashaker, legal services from Morgan Lewis up to $2,500 and three hours of pro-bono accounting consulting services from GMS Surgent. The startup provides land monitoring systems to prevent illegal activity and environmental damage on public land and private property.
The second place winner, ADHDO, also won one year of free residency space in the Baiada Institute for Entrepreneurship and was awarded $7,500 in cash as well as similar consulting and legal services.
CloutQuiz, co-founded by entrepreneurship student Jeremiah De Leon, earned $5,000 as a result of their third-place win. Inspired by the hit mobile application "HQ Trivia," CloutQuiz allows users to create their own live quiz with prizes for the winner. De Leon says he and his three core members plan to utilize their winnings to further develop their app.
According to De Leon, winning third place motivated him to move forward with his ideas.
"It's about giving yourself the courage of letting people judge you and your ideas," he said. "When you win competitions like this, the validation of winning motivates you. But even to the people who didn't win anything, they got the opportunity to grow through the feedback [they received]."
While Smith didn't win the fast pitch competition, she still feels she benefited from the Drexel Startup Fest — which opened her eyes to other opportunities and motivated her to continue her entrepreneurial journey.
"There's that hustle and competitive nature of entrepreneurs, but at the end of the day it wasn't about winning as much as it was about growing," she said. "That's what's special about the [entrepreneurship] community in Drexel; we motivate each other and show sportsmanship for our milestones."
For the full list of  2018 Drexel Startup Fest winners, click here.