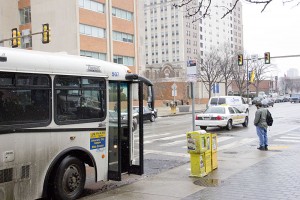 A Drexel University shuttlebus caught on fire on the night of Jan. 23, at the corner of Market and South Juniper streets. The occupants, two students and the driver, escaped unharmed. The bus was traveling the usual route at 10:30 p.m. when it caught on fire.
According to an eyewitness who recorded the fire on video, Peter Zaleski, it took firefighters up to 45 minutes to arrive at the scene. "No one was injured but it left molten plastic and broken glass all over the street along with the smoke filling the entire block in the smell of burning plastic rubber," he said to NBC Philadelphia, which also published the video of the incident.
The cause of the fire is being investigated by officials, and has yet been not released. The Triangle will release more information when available.