Mariana Chilton, associate professor in the Drexel School of Public Health and a food insecurity and hunger researcher, has advised Sesame Workshop, the creators of "Sesame Street," on its recent "Food for Thought: Eating Well on a Budget" program.
Food insecurity and hunger are major issues in the United States, according to Chilton, who said 25 percent of children ages five and younger currently live in households that are food insecure, a percentage that translates to nine million children nationwide. Food insecurity is defined as an inability to access and afford food on a regular basis.
Chilton became involved with the Sesame Workshop project through her role on the Sesame Workshop advisory board, which also includes other hunger researchers and advocates.
Chilton said she and other researchers and advocates traveled to Washington, D.C., to discuss the experiences of people with hunger, the magnitude of the hunger problem and what type of hunger awareness program Sesame Workshop might get involved in.
Sesame Workshop then came up with ideas for hunger-related videos, books and other outreach material, which were sent to Chilton and others for feedback.
"We kind of helped them to shape their messages appropriately," Chilton said.
Sesame Workshop's program includes a kit of hunger resources for parents and children featuring "Sesame Street" characters, according to Chilton. The kits feature recipe cards, videos, a children's book in which Big Bird and his cousin and grandmother visit a food pantry and grocery store, a book for parents about food insecurity and other materials. The kits are available in both English and Spanish.
Clips from videos included in the kits will be shown in televised "Sesame Street" episodes according to Chilton, who said that Sesame Workshop is also creating a feature-length movie on hunger among young children that will include the Sesame Street Muppets. The movie is scheduled to premiere on PBS in October.
Chilton also said that St. Christopher's Hospital in Philadelphia and the Center for Hunger-Free Communities in Drexel's School of Public Health hope to give out approximately 10,000 Sesame kits to families in need and providers in Philadelphia. The kits are also available for download from the Sesame Street Food for Thought website, according to Chilton.
Among the messages the Sesame program hopes to convey is that "it's not the children's fault, not the families' fault that they're hungry," Chilton said. "And that they're not alone, and they should not be afraid to ask for help."
Chilton said another important theme of the Sesame program is that even food insecure families want to help others. The program also focuses on the importance of families eating together.
The Sesame program and its use of the popular Sesame Street Muppets can "bring joy to a lot of families that don't get a lot of opportunities to experience joy," Chilton said. She added that the program helps emphasize that one should "enjoy the color, enjoy life as much as you can."
Chilton said that she is pleased overall with how the Sesame program came out, though she added that the food insecure families themselves would probably be the best judges of the effectiveness of the material.
"There are some beautiful moments in the program," she said.
The Sesame Workshop program will hopefully raise awareness about the experiences of poverty and "help people feel less isolated and alone," according to Chilton. She added that she hopes the program's focus on volunteerism and caring will be noticed, since this is "a very powerful message no matter how much money you have."
Chilton stated that she has great respect for "Sesame Street," which she said always attempts to tackle the most difficult problems in a given area in over 140 countries in which it is televised.
Chilton said the Sesame hunger program was also therapeutic for her on a personal level, and that it has helped her "experience some joy in the [hunger research] work," which can often be sad. Chilton said that feeling this joy makes it easier for her to help people she works with.
"I have a lot of respect for the power Sesame has. It has more power than legislatures and big business because [Sesame is] reaching the hearts of the young of America," Chilton said.
Sesame Workshop reached out to Chilton about joining the advisory board because of her past work organizing hunger programs like Witnesses to Hunger, which, according to Chilton's website, attempts to increase women's participation in hunger prevention.
Chilton has been performing research on food insecurity and hunger for the past 11 years at Drexel, where she is the director of the School of Public Health's Center for Hunger-Free Communities, which was previously called the GROW Project. The Center for Hunger-Free Communities includes the GROW Clinic at St. Christopher's Hospital in Philadelphia, which treats undernourished children, some of whom are also featured in the Sesame Street material.
Chilton is also a member of Children's Health Watch, a national organization that examines how public policies affect the health and well-being of young children.
She has studied both quantitative and qualitative aspects of hunger during her career, including volunteer work at food pantries in Philadelphia, which she said has helped her learn about the human aspects of not having enough food to eat.
"Ever since those early days at Drexel, I've been very interested in how food insecurity and hunger affects very small children under the age of three," Chilton added.
Chilton said she hopes her work moves the government and businesses to develop better policies and programs and invest more money into programs to "help break down the cycle of poverty."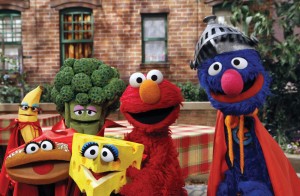 She said the most rewarding aspect of her work is "awakening a sense of compassion in myself and others."
"I get a lot of joy out of helping people to understand each other and helping them be more compassionate," Chilton added.
Chilton said Drexel graduate students help her with her research and programming. The students assist with tasks like helping to improve the situation of food insecure women and educating families and policymakers about early childhood nutrition.