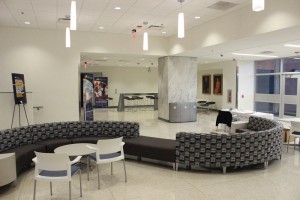 The Drexel University School of Public Health recently renovated the ground floor of Nesbitt Hall to include a lactation room for nursing mothers and a gender-neutral bathroom, now open for use by all Drexel students, faculty and staff.
A first for the University, the lactation room allows nursing members of the Drexel community to express breast milk in private while on campus between classes or at work, and the gender-neutral bathroom provides a space for those who do not feel comfortable using traditionally gendered restrooms.
"At the core of these renovations is the equality and safety of those at Drexel," Augusta Villanueva, associate professor and director of the department of community health at the School of Public Health, said.
The lactation room was championed by Jennifer Breaux, director of undergraduate public health at the college, who said she realized the need for such a space when the School of Public Health was at its former Center City location in the Bellet Building.
When plans to relocate the school to Nesbitt began over a year ago, Breaux worked with Perry W. McFarland, associate dean for finance and administration, to create a safe, secure and private space for lactating women. Taking advantage of the move and reconstruction of the ground floor, McFarland and Breaux created a plan in which the lactation room was built into the floor space.
"The lactation room was designed into Nesbitt. Unlike other spaces on campus, it was created and designed to house the specific purpose of a room for nursing mothers," Breaux said.
The ability to express milk at work is known to increase workplace satisfaction, leading to improved productivity and attendance, according to Breaux, whose research interests include child and maternal health. Similarly, because breastfeeding can increase infant health, the availability of a lactation room decreases the chances of a mother or father missing work to care for a sick child.
"If a professor has access to the lactation room and a place to express milk, then she's less likely to miss work and has more time to spend with her students," McFarland said.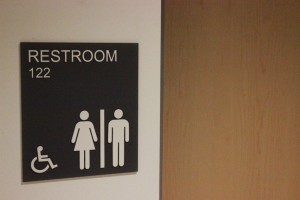 However, the lactation room is available to more than just Drexel employees. Students who are nursing are encouraged to make using the lactation room part of their schedule.
"Drexel is full of different students at different stages of life. It's more than just professors using the lactation room," McFarland said.
The lactation room also provides a way for the University to track the number of nursing mothers who need a space to express breast milk. McFarland said that this data is vital in determining the demand for additional spaces for nursing mothers. While some people can use their offices or other private spaces for lactation purposes, McFarland and  Breaux encourage nursing mothers to use the lactation room so that the school can lobby for more rooms.
"The lactation room gives mothers a space that can be consistent with their schedule and day-to-day work life," Breaux said. "If I notice someone is no longer coming to the room, I can reach out to them and ask why or if they're going to continue."
"This is a case example of what happens when two people are on a mission to make a change," Villanueva said of Breaux's and McFarland's efforts to bring a lactation room to Drexel.
McFarland reached out to Villanueva, whose research interests include LGBTQ issues, for guidance in creating the gender-neutral restroom.
A single toilet bathroom with a locking door, it's a familiar model, similar to restrooms in high school nurses' offices or those in some businesses and restaurants.
Villanueva said that gender-neutral restrooms decrease feelings of anxiety in people who do not feel comfortable using gendered restrooms. Non-gendered spaces, she said, are particularly important for those who do not conform to the gender binary.
"Inclusive bathrooms are critical for [transgendered] peoples. They play an important role in including them and making them feel safe. Everyone should feel safe no matter their orientation," Villanueva said. "It's important to remember that gender is a spectrum. We can't pigeonhole people and put them into tidy boxes."
Villanueva said that inclusion is intrinsic to the definition of public health. This inclusion extends to others who are physically unable to use traditional restrooms — Nesbitt's gender-neutral bathroom is outfitted for use by people with serious physical disabilities, also known as an accessible toilet.
Additionally, the privacy of the restroom provides a space for anyone who, for whatever reason, may not feel safe or comfortable using traditional restroom facilities, such as victims of sexual assault.
"At the end of the day, it is vital that we do not contribute to anything that fosters discrimination," Villanueva said. "Gender-neutral spaces are good for everyone. These types of options put no one at harm. They create a safe space for those who don't conform."
"We didn't create these spaces because they're required by law, but because we've anecdotally concluded that people need these facilities. It's about anticipating trends rather than responding to them," McFarland said.
McFarland said he hopes the School of Public Health's presence at the center of campus in Nesbitt will increase the use of these facilities. He said that it's been gratifying to see students use the renovated lobby space so far, which has been updated and refurnished with sofas, tables and chairs. The renovations, he said, are mostly a restoration of the things that were there 44 years ago when Nesbitt was built.
Drexel students are primarily familiar with Nesbitt through the two lecture halls on the ground floor, which were not included in the renovation project. While undergraduate students can take elective courses in public health at Nesbitt, many had been unaware of the school's new presence on campus. McFarland said he hopes that will change.
"There's currently an ongoing undergraduate public health revolution and we're working on bringing an undergraduate public health program to the university. Drexel had the [master of business administration] before it ever had the undergraduate business degree," McFarland said.
The completion of the gender-neutral restroom and lactation room marks the end of Nesbitt's renovations after the School of Public Health's move to the building in early 2014. The school had previously renovated floors two through seven of Nesbitt in a $13 million redesign and overhaul. After a brief hiatus, construction on the ground floor began in April and continued through July, roughly four months, McFarland said.
"These facilities provide tangible evidence of our dedication to representation and access. They are proof of what Drexel and the School of Public Health say they stand for," Breaux said.
The lactation room is operated on a schedule coordinated confidentially by Breaux. Drexel students, faculty and staff can gain access to it by contacting her at [email protected].