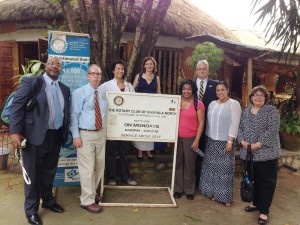 Several Drexel professors, sponsored by the University and Rotary International, went on a three-week trip to Uganda to improve maternal and child health. The team of professors is working with colleagues at Makerere University College of Health Sciences and Mulago Hospital on a project that will continue over the next two years.
The team visited Namalemba Health Centre II, Namungalwe Health Centre III, Kasangati Health Center IV and Komamboga Health Center III.
Rotary consists of three parts: Rotary clubs, Rotary International and The Rotary Foundation. The Rotary Club is a group of community members who aspire to serve their local and global communities. The group meets weekly to create the basis for Rotary Club's service projects.
"Together, Rotary clubs, Rotary International, and The Rotary Foundation work to make lasting improvements in our communities and around the world," Ronald Smith, Assistant Regional Rotary Foundation Coordinator, said.
During their time in Uganda, the team aided and educated mothers with women's health concerns such as gynecological issues, cervical cancer screening, birth control, pregnancy and childbirth, as well as children's health concerns. The team discovered that Ugandan healthcare providers are doing a lot with what few resources they have in places that lack medical records, medical equipment and good working conditions.
"Some clinics relied on well water and intermittent electrical power," Deborah Turner, an assistant professor in The College of Computing and Informatics who also participated in the trip, said. "One had a solar-powered generator that could charge a mobile phone, but not some medical equipment that our team brought."
"Computer use is limited in part due to intermittent power and network access. Patients are responsible for their own hand-written medical records. Most patients at our four-day-long Health Camps started a new medical record," she said. "However, community volunteers and library workers increase awareness about healthcare issues through word of mouth."
Local conditions created a setback for transportation as well. "The traffic and road conditions are a real concern. If a woman in labor needs to be transported to a full-service hospital, these issues can be problematic," Turner said.
In order to fix these concerns, the team found ways to improve healthcare through vocational training and by ensuring better access to healthcare information, including through the use of mobile phones and by relying on Uganda's libraries. "Everyone there has a mobile phone," Turner explained. "There's a possibility that we can spread healthcare information using them."
The team accomplished a great deal besides public health awareness. "One of our doctors brought two Ugandans into the world and another helped saved a child's life!"  Turner said.
They also worked with their counterparts at Makerere College of Health Sciences and Mulago Hospital in Kampala, Uganda. "My focus was on seeing how my college could help in the education and training of colleagues in Uganda.," Donna Sabella, Director of Global Studies for the College of Nursing, said. "The Rotary Club in Bluebell, Pa., and Kampala, Uganda, were the force behind creating this grant between the American and Ugandan healthcare teams that will be hopefully working together the next two years."
According to Sabella, "The focus is to improve people's healthcare services and infrastructure related to maternal and child health concerns and to help train and educate professionals."
Students who want to be involved with Rotary should contact Ronald Smith for more information. Students who want to be involved internationally can inquire at the Office of International Programs.