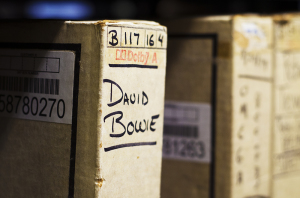 With the "David Bowie Is" exhibit open at the Museum of Contemporary Art, Chicago, all things Bowie have recently begun coming to light, including some rare David Bowie records stored in Drexel University's Audio Archives. In actuality, the few rare records stored in the collection have been there since 2005 but some interesting discoveries have been made about the records since.
Director of the Audio Archives Toby Seay explained that the entirety of the collection was inherited from Sigma Sound Studios when the studio changed hands in 2003. A large number of tapes were not taken possession of by the new owners, so a widespread ad campaign was put out to inform artists who had ever recorded at the studios in Philadelphia that some of their records were available to pick up. The tapes that were left over were labeled as abandoned.
"Someone had the foresight of thinking: 'it's commercially created music productions on tape; Drexel has a music industry program; maybe those two should go together,'"  Seay explained about how Drexel came to be in possession of the tapes. With a prominent music industry program, the tapes were brought to Drexel primarily for learning purposes. The collection, which provides a significant snapshot of Philadelphia's music scene from 1968 to 1996, allows for some observation of the recording process and its history.
The David Bowie tapes in the collection are unique in a few ways. One of the original tapes, labeled "Reel Four," contains unfinished cuts of songs that weren't used on Bowie's "Young Americans" album. Since gaining possession of reel four, Drexel has also come to collect reels one and two, which contain even earlier and rougher versions of the same songs. Though the originals of one and two are now in the hands of Bowie himself, Seay was contacted to make quality digital transfers of the albums to keep in Drexel's archives before passing on the originals.
The second interesting Bowie tape was discovered only a few years back. Labeled "DB," the tape stayed under the radar until Seay thought to check it out. "It was a tape that was just running in the studio while they were running background vocals," Seay said, outlining that the background artists and occasionally Bowie can be heard speaking. The usefulness of such a tape is unclear in a studio setting, but provides incredible documentation of recording in the 1970s. "It's a really good ethnographic look at people working in the studio," Seay continued, speaking to the additional teaching potential of the tapes.
The tapes can also be considered an anomaly because there are so few artists like Bowie in the rest of Drexel's collection. Philly's music scene from this era was primarily disco and jazz; artists like Grover Washington Jr., Patti LaBelle and much more, make up many of the inherited Sigma Sound records.
The Audio Archives, located in Drexel's Antoinette Westphal College of Media Arts and Design, does not currently have an incoming source of new material and does not collect new material unless it has some connection to Philly or Sigma Sound. The material already available, however, is used both as a learning tool and as a storyboard for Philadelphia's music scene. Seay's goal is to create a more public display of historic music production. While there is little physical space to display the records, he aims to progress with potential historical releases from the campus record label. Despite certain legal hindrances, he believes that institutionally held record collections are great, especially in places like Philadelphia that have no outward way of showing the city's musical history.
"Studios come and go," Seay explained, "and if these recorded collections don't go back to their corporate owners, universities are a great place to hold them." Seay hopes to develop a model for the display of such collections: "It's not just holding on to material to save it," he said, "but it's to help promote the cultural legacy for the community that created it, and I've found that that garners a lot of community support."
Until then, the Bowie tapes will remain in the Audio Archives for students who wish to listen and understand the creative and recording processes of such a prominent classic rock star.