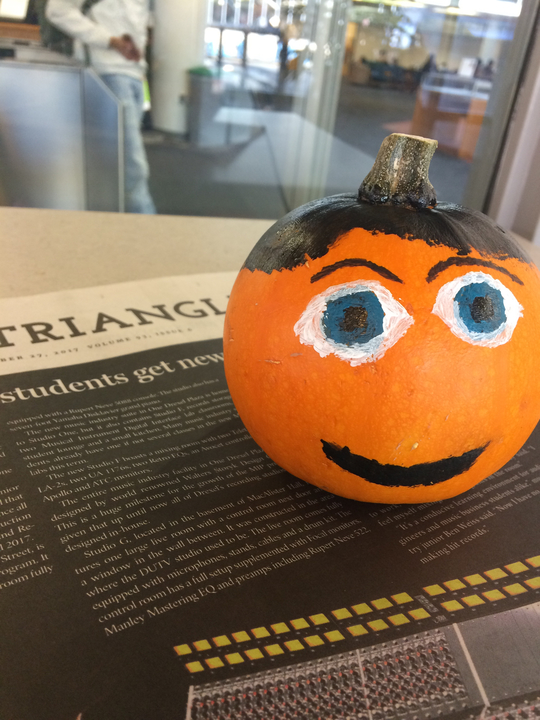 On Oct. 31 Drexel University students gathered on Lancaster Walk to celebrate Halloween by painting pumpkins, eating cookies and bouncing in a pumpkin-shaped bounce house.
Drexel's Campus Activity Board hosted this brand-new free event, which it calls Halloweenfest, for students to enjoy Halloween- and autumn-related activities together.
"This is the first time we're doing this exact event," CAB member Emma Doupe said. "We've had Paint a Pumpkin before, but we haven't had it to this extent with the amount of vendors and with the cookies and the bounce house," she continued.
The cookies at the event were provided by Insomnia Cookies, and CAB brought colorful icing and sprinkles to decorate the cookies before eating them.
Along with decorating  cookies, students got the opportunity to paint miniature pumpkins. Students crowded around the painting table in a large group, each designing their own pumpkin to take home with them. The designs ranged from the classic smiling jack-o-lantern to the head of Jack Skellington from "A Nightmare Before Christmas."
Coffee vendors such as Saxbys, and Dunkin Donuts had booths at the event where they gave free samples of their fall-flavored coffees, such as maple and pumpkin spice, for students to try.
One Drexel student, Damien Prieur, who heard about the event from his friend, explained that he really appreciates when CAB holds these kinds of events for students.
"It's always nice to get some free food and drink," Prieur said.
Doupe and the other CAB members got in on all the events as well, eating cookies and painting pumpkins of their own alongside the student attendees.
"I love it [CAB]. It creates so many friendships and I get to be on like the 'in' of so many cool events happening on campus," Doupe said.