Andrew Eisenhart, associate director of international admissions at Drexel, is the proud new owner of a Spruce Hill home as of May 24. His purchase marked the Drexel Employee Home Purchase Assistance Program's 20th closing.
Established in 2011, Drexel University's Home Purchase Assistance Program, headed by director Althea Wallace, helps Drexel employees purchase homes in University City. Available to full- and part-time Drexel University employees, the Home Purchase Assistance Program is designed to incentivize employees to live in University City. Drexel University provides a benefit in the form of a $15,000 forgivable loan. Additionally, the University provides a $5,000 forgivable loan for home renovation.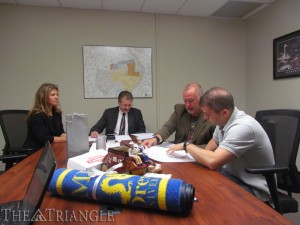 "President Fry enhanced the benefit from $3,500 to $15,000 to benefit eligible faculty and professional staff members," Wallace said.
The Home Purchase Assistance Program sets clear boundaries for prospective homeowners. Properties eligible for the $15,000 benefit must be within the defined boundaries of Chestnut to Mantua streets and 31st to 42nd streets.
"If they are purchasing a home that is not in the defined boundaries, we have created some relationships with some preferred partner vendors [so] that they can utilize their services," Wallace said.
The process of purchasing a home through the Home Purchase Assistance Program is fairly straightforward. Prospective homeowners, many of them first-timers to home purchasing, meet with Wallace.
"I sit down and have a conversation with them to figure out when they want to purchase a home, and I find out their financial status because they have to have credit. Their lender won't lend them money unless their credit is good," she said.
Following the conversation, prospective owners can either get a pre-approval by themselves with a lender or have an hour and a half lender's meeting with the Home Purchase Assistance Program's preferred lenders and receive pre-approval.
Prospective owners then choose a realtor, either on their own or with the Home Purchase Assistance Program's preferred realtors; find a home; settle on a contract; and sign University documents.
According to Wallace, the length of the process varies, but there are usually around 30 to 45 days between when the employee finds a home and the date of settlement.
"The homeowner has to live in the house for five years; the home has to be their primary residence," Wallace said. Each year, the University forgives the loan in 20 percent increments. After five years, there is no longer a commitment to the University, but Wallace hopes that Drexel employees maintain their residences.
According to Wallace, an asset of the Home Purchase Assistance Program is that it allows University employees to live in close proximity to where they work.
"If you have to commute into the city, you have to get up much earlier to get ahead of the traffic. When you are just a couple of miles from the campus, you can bike to work and you can walk to work," Wallace said.
Biking and walking to work are ways that could also benefit the environment. "A lot of people are trying to go green," Wallace added.
With the help of institutions of higher education such as Drexel, University City is establishing itself as a developing, emerging neighborhood.
"What Drexel is doing with its development is going to be great for homeowners. Eventually, the property value will increase," Wallace said.
Wallace added, "A lot of the homes have beautiful views of the city skyscrapers. They are also close to the parks and close to the museums."
"[Closing on the 20th house is] a great accomplishment for the program because I think, realistically, when we sold the first home in the spring of 2011, we were thinking eight per year. But now the program has taken off," Wallace said.
West Powelton is the most popular location — 17 of the 20 homes purchased through the program are located there.
On marketing the Home Purchase Assistance Program, Wallace said that there are two vendor fairs per year — one in the spring and one in the fall. Vendors include lenders; realtors; and people who provide home insurance, home inspection and security alarm systems.
Eisenhart, who recently purchased his home through the program, said he found out about the program and its benefits through word of mouth and is happy with his new home so far.
According to Wallace, the best marketing is done by the current homeowners. "We are getting ready to put testimonials from them on the website, and we are showing some of their homes, like the before and after photos so other employees could take a look at what type of homes are in the neighborhood."