There's a very good chance that if you're out in Philadelphia April 19 or 24 after 8 p.m., you'll notice a retro video game being played on the city skyline.
As part of Philly Tech Week 2013, the Cira Centre, located next to 30th Street Station, will turn into a gigantic display for one of the oldest, most recognizable and yet still enjoyable video games ever made: the hit classic "Pong." Branded as "The Grandest Game of 'Pong' on the Planet" by Technically Media Inc., the video game will be displayed on the north-facing facade of the 447-foot building.
For five years, professor Frank Lee, co-founder and director of the nationally ranked Drexel game design program, has worked toward his vision of using the building as a canvas for an interactive public art piece to rival last autumn's Open Air Philly voice-light display and the current Bay Lights project in San Francisco.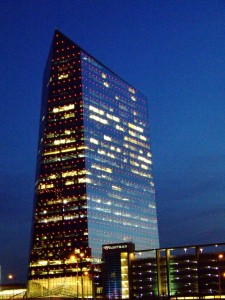 "This is not just a technology event; this is an art event," Lee said. "And I think this project stands tall among those world-class art installations. It is equal parts art installation as well as technology, but it is unique. With installation art, it's an installation, meaning that they install things in an existing space to create art. I like to call this project unique in the sense that it's hack art. The reason is that I'm not installing anything; I'm taking an existing structure to make art. You're hacking it to do something that it was not originally planned to do. So it's a world-class light art project that is also a hack art project."
Lee, who was also the faculty adviser for Drexel's mobile game design team in the international Microsoft Imagine Cup last year, explained why selecting a game like "Pong" was apt even though it was first released over 40 years ago.
" 'Pong' has a cultural meaning to people who are not just in games but outside of games," Lee said. "I keep saying that ['Pong'] is a cultural milestone, and the reason I say that is that people who have never played 'Pong' have heard of 'Pong.' It is part of our cultural fabric, and I mean that in an all-encompassing way and not just people in the game industry."
"Pong," which is widely considered the first commercially successful video game and a key catalyst for the gaming industry, is also personally important to Lee. His first video game console was the Atari 2600.
"This is a pure love letter that I'm sending to my childhood and my wonder when I first played 'Pong' and 'Space Invaders' (another early home video game)," Lee said. "To me it elicits the wonders of technology and the sheer possibilities of technology, and I hope to elicit the same feeling in today's kids by letting them play the world's biggest 'Pong.'"
Around 100 spots are open for players to control the game paddles on the Cira Centre. Participants will be selected by a random lottery that has been made available on Technical.ly Philly. Players will challenge each other using controllers that would be familiar to anyone who has played an old-school arcade cabinet. The controllers will use a 4G hotspot provided by AT&T to make the necessary wireless connection between the Cira Centre and the steps of the Philadelphia Museum of Art, where players will assemble.
"It's definitely a team effort. I've had group projects in the last year at Drexel, but as of yet I hadn't had it in a setting outside of school," Marc Barrowclift, a software engineering major who is part of the all-volunteer team that helped develop the game, said.
Initially there was a meeting every Tuesday and Thursday to bring the project together, but Barrowclift said that there have been countless hours put in during the last few weeks to prepare for the upcoming event. Although he didn't work on the "Pong" code, Barrowclift has been developing other games to be played on the building, as the control software can be reused for a variety of games.
"The scripts will allow the people making new games to be able to code them as they normally would on a computer, but the pixel changes would be translated to the [light-emitting diodes] on the building instead of to a local display," he explained.
"You are limited to 20 by 23 pixels, so there wasn't much we could do. But what I love about being limited to 20 by 23 pixels is that it highly constrains what you can do, and constraints have been the engines for creativity throughout history," Lee said, explaining that the constraints of gravity led humans to invent their own means of flight.
"The frustration of that constraint has been the driver for technological and scientific innovation, and I had in my mind the games like 'Pong' and 'Snake.' … I also have in mind some new games that I also designed for the building, but I'll be curious to see how young kids, high school kids and even college kids come up with something to do with a limited number of pixels," he said, adding that there were currently no concrete plans to open up the building to outside developers but that the software was designed to allow future development.
When asked if he believed if the project was art or a video game, Lee had a simple answer: "It's both."