Ten honors students enrolled in the fall course "Media, Campaigns and Elections" traveled to Washington, D.C., to participate in political events and meet with high-profile individuals. The trip was hosted by the Center for Interdisciplinary Inquiry and supported by the Pennoni Honors College.
In this travel-integrated-course, students were exposed to the relationship between politics and the media. Most importantly, they were able to see how vital the media are to political campaigns. They learned media acts as one of the main channels for politicians to encourage voters to cast their ballots in a certain way. The media can affect voter decisions with bias in many ways, including overemphasizing certain facts and omitting other facts.
This trip to the nation's capital is particularly relevant because the presidential election is only a few weeks away. The students were able to meet with significant individuals who clarified the relationship between media and politicians. They met with Nancy Nathan, executive producer of "The Chris Matthews Show," and two men from George Washington University who developed a multimedia platform known as "Face the Facts USA." Students were asked to familiarize themselves with the facts and information displayed. This website was highlighted because it uses facts that come from the Bureau of Labor Statistics and other peer-reviewed articles.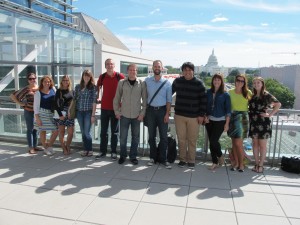 "They wanted to put facts back at the center of public discourse," Kevin Egan, acting director of the Center for Interdisciplinary Inquiry and instructor of the course, said.
"I didn't realize just how biased many of the media outlets in America are, namely television news circuits. I learned, in general, to pay more attention to the news and what is going on in our country, especially during this election season," Emily Morris, a senior psychology major, said.
Egan noted that it is nice to see some of the students who went on the trip consistently showing up to events hosted by the Drexel Votes Initiative.
"The most rewarding aspect is to see students taking a more active interest after the trip in places across campus leading up to the election," Egan said.
"You brought your own knowledge to the table, and you came with a group of people with different backgrounds and different points of view. It was more of a 'think tank.' That style of learning, the discussion-based method … is invaluable," Laura Calderone, a senior business major, said.
Students Ivy Koberlein, Steffanie Altman, Ann Marie Hager, Adrienne Girone, Matthew McBride, Tony Fu, Robert Keysey and Allyson Kircher also participated in the trip.