Jocelyn Kirsch, one of the most infamous former Drexel University students, thrust herself into the spotlight again this week with a June 17 arrest in Walnut Creek, Calif.
Kirsch brought intense local and national attention to Drexel in 2007 when she partnered with University of Pennsylvania student Edward Anderton in a yearlong scheme to steal over $119,000 by using the identities of their friends and neighbors. The pair used these forged personas to open eBay accounts, apply for new credit cards, and forge checks.
Though both were originally caught and sentenced, police in California are once again investigating Kirsch after she was arrested for taking items from a Nordstrom department store and a Banana Republic store. She was charged with possession of stolen property and second-degree burglary.
During the Bonnie and Clyde heyday, the two gained infamy for using their stolen funds to finance trips to Paris, Hawaii and the Caribbean, all the while posting dozens of photos of their travels on Facebook. Unlike most Drexel or UPenn students, the two rented an expensive apartment in the upscale Rittenhouse Square neighborhood while eating at some of Philadelphia's trendiest restaurants. Kirsch also received $2,000 hair extensions.
When Philadelphia Police caught up with the two, the authorities found their apartment filled with lockpicking tools, computer equipment, and a professional-grade machine used to make false identification cards.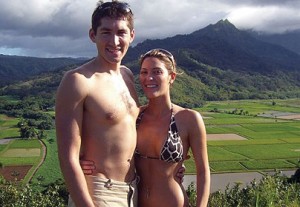 Their story — an Ivy League economics whiz with the brains and a final-term Drexel bombshell with the charm — immediately became a media sensation. The Philadelphia Daily News even gave the couple the nickname that stuck, calling them the 21st-century "Bonnie and Clyde." Unlike their namesakes, these two didn't rob banks but instead stole from their friends and neighbors, many of whom were understandably miffed by the attention they received.
"Bonnie and Clyde, that's only because they're young and good-looking," Detective Terry Sweeney of the Philadelphia Police Department told the United Kingdom's Guardian newspaper at the time. "These two were complete idiots. If this was two fat [expletive]s from South Philly, it would have been Turner and Hooch."
The story was also driven by how photogenic Kirsch was, with her love of expensive salon visits and her fake breasts, which she insisted were natural.
Adding to the scandal, Kirsch had a boyfriend who was none the wiser of her world travels with Anderton. Kirsch seemed not to care that her boyfriend was deployed to Afghanistan for a tour in the Army and had recently been injured by an improvised explosive device. Her boyfriend's Drexel friends even noticed that her name was appearing in the residence hall's guest log even when she wasn't visiting him — she was also seeing the swimmer who lived in the next room. Drexel students would later tell reporters that they had always noticed that things would go missing from their residence hall rooms when Kirsch came to visit.
Thankfully, for Drexel's reputation at the time of her crimes, Kirsch made it a point to tell others that she was a Penn student rather than reveal the truth about her Drexel education — something The Guardian considered "a big step down from Penn."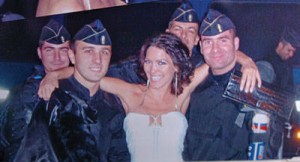 A 2007 Triangle investigation found that while Kirsch was at Drexel she convinced people that she was an adjunct professor and was given a free parking pass and use of computers at the Language and Communication Center.
"Kirsch, known around the language office for her revealing clothes and long, dark hair, walked to the front desk and asked for a pass last year while taking a placement test," the Triangle article stated. "When asked if she was a professor, she claimed to be an adjunct and was granted the pass. 'I was very convinced,' said one staff member who wished to remain anonymous."
Despite the web of lies, the law finally caught up with Bonnie and Clyde — and it wasn't forgiving. Kirsch was sentenced to five years in federal prison while Anderton received a four-year sentence. In November, Kirsch was released from a halfway house in Sacramento, Calif.