Beginning in fall of 2016, the Science Leadership Academy will be opening a new middle school in the Dana and David Dornsife Center for Neighborhood Partnerships, renting a portion of the Center for at least two years before relocating to the former University City High School site.
The Science Leadership Academy is the embodiment of a partnership between the School District of Philadelphia and the Franklin Institute, distinguished for its college-prep curriculum with a focus on science, technology, mathematics and entrepreneurship. With a campus in Center City and another in West Philadelphia at Beeber, the school has been recognized as one the Top Ten Amazing Schools in the U.S. by the Ladies Home Journal — an honor attributed to their project-based mode of learning emphasizing core values of inquiry, research, collaboration, presentation and reflection.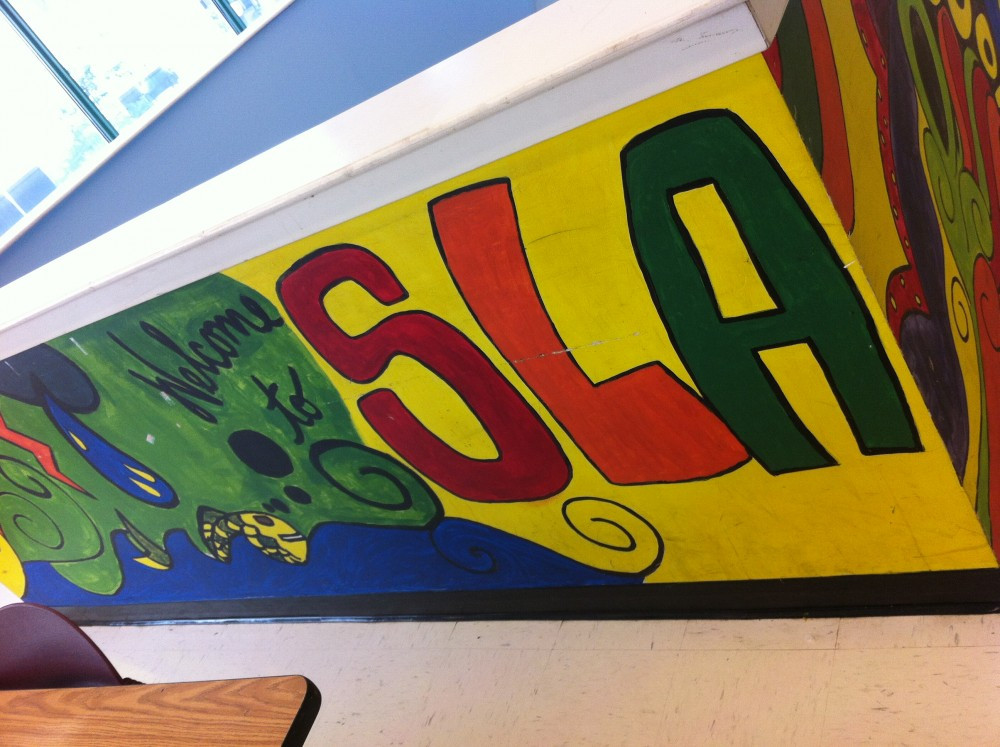 In 2012, the Philadelphia School Partnership awarded $215,000 from the Great Schools Fund to  SLA, after being selected by the PSP Board of Directors. The goal of the fund is to reform low-performing schools, expand high performing schools, and create brand new high-quality schools based on the recommendations of an investment team.
"These recommendations address parental demand for better academic programs in safe, familiar environments while presenting rigorous and engaging opportunities for students," according to Superintendent William R. Hite in a statement.
Upon the SLA receiving this grant from the PSP, the academy began moving forward with its plan for the establishment of a middle school, to act as a complement to its dual high schools. The academy's vision of a University City area middle school attracted the attention of Drexel's Office of University and Community Partnerships, the University's center for civic engagement, and the two institutions fostered a relationship.
Drexel's interest in the community outreach, and the improvement of public education in particular, was explained by the Vice Provost for University and Community Partnerships, Lucy Kerman.
"The cornerstone of Drexel's community revitalization effort is education and a commitment to improving public school options for families in the neighborhood," Kerman said.
"We look forward to working with our key partners on a more comprehensive approach to school improvement and the development of high-performing public schools," he continued.
Prior to becoming involved with SLA, Drexel associated itself with Samuel Powel Elementary, a K-4 public school in West Philadelphia, which could benefit from the establishment of a nearby middle school for their exiting students.
According to Timothy Boyle, a teacher at SLA who was chosen to become the future head of the middle school, SLA is eager to incorporate the curriculum of Powel into that of his school. "We're excited to bring the quality of a magnet school education to a neighborhood school setting," Boyle said.
"The new school will marry the successful educational approach of [Samuel] Powel Elementary with the innovative model used by Science Leadership Academy. Our plan is to develop a school that's specifically created to serve the needs of the future SLA-MS students," she continued.
Among these needs is a close proximity to students' homes, and the Dornsife Center offers an accessible location for young students in West Philadelphia neighborhoods. Beyond just location, Kerman believes Dornsife possesses other favorable qualities as the site of a secondary school. "We're delighted to host SLA-MS at the Dornsife Center in the coming years," Kerman said. "It is a perfect fit: we can provide beautiful space during the school day and explore community school programming after hours with expanded Dornsife Center offerings," he went on.
While SLA-MS will initially include only a small class of 90 students, their hopes are to eventually grow the school to include more than 500 fifth through eighth graders. Consequently, the less-than-spacious Dornsife Center will be replaced with larger, permanent facilities on the former site of University City High School, presently a Drexel-owned plot. However, both Drexel and SLA are determined not to allow their partnership to end there.
"The new Science Leadership Academy Middle School is part of an overall strategy to create more innovative schools in The School District of Philadelphia," Hite continued in his aforementioned statement. "This school scales Philadelphia's successful Science Leadership Academy model into the middle grades. We are excited to form a deep partnership with Drexel University around this academic model."
Kerman emphasized that Drexel is mindful of its impact on the city as well.
"From the University's perspective, we know that quality public schools are essential to keep advancing the progress of Philadelphia today," Kerman said. "We have a lot of young people moving into the city. We know they won't stay if there aren't strong educational options. It's in the best interest of all universities to support public education," he concluded.