Drexel joined over 75 universities April 19 in a "Collective Day of Action" by holding a panel discussion on immigration reform in MacAlister Hall.
The event, nationally coordinated by The Partnership for a New American Economy, was organized on campus by Drexel's Office of International Programs. The event aimed to emphasize the importance of immigration reform and its role in higher education.
Julie Mostov, vice provost for global initiatives at Drexel, introduced the panel and acted as a moderator throughout the event. She began by expressing her excitement about Drexel's participation, even though the event, which began at 10 a.m., had a "light" attendance. The 10 professionally dressed audience members laughed and agreed to choose a time more attractive to students "next time."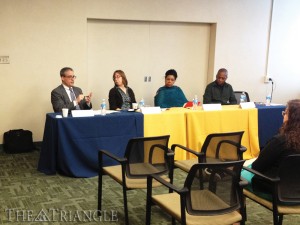 One of the panel members, attorney William A. Scott, is a national secretary on the executive committee of the American Immigration Lawyers Association and one of the country's leading immigration lawyers. He set the table by discussing current bill proposals and the changes that he believes are necessary. He explained the increased regulation on employment and legal changes being made that will require identification to receive a job.
"If we make it harder and harder for people to work, they won't want to come here if they won't be able to work without documentation," Scott said.
Scott continued to explain there are new visa categories being created to allow immigrants to work seasonal jobs in both technology and agriculture. He also emphasized the need to make obtaining documentation smoother for the existing 11 million illegal immigrants currently in the United States. He maintained that it is especially important to make it easier to allow immigrants who receive an American education to remain in the country after graduation.
Also on the panel was Drexel faculty member Rachel Reynolds, who researches immigration among young adults and families, having once worked for an immigration settlement agency herself. She explained how the new documentation system will protect not only individuals but also employers. She acknowledged both the economic and convenience benefits of hiring illegal immigrants and called for a massive transformation of the system so that employers only hire legal employees. Businesses are often against immigration reform, she said, because they "benefit from this type of exploited labor."
Reynolds explained that her "stem immigration issue" is about the globalization of math and science. She said she believes a global workforce must be prepared in which the U.S. has a stronger stake.
Reynolds claimed this can be done by accepting and presenting immigration in a positive light.
"Immigration is such a magnet for our national anxieties," Reynolds said. She related the discussion to the Boston bombing suspects, as it was revealed that morning that the brothers were from Chechnya. "People want to see this immigrant idea rather than an idea of mental health," she said."
Shumi Muinde, Drexel's director of international undergraduate admissions and recipient of the Pennsylvania Governor's Award, addressed the economic benefits of immigrants in America — they contribute over $15 billion each year. With over 750,000 international students currently in the nation, she explained the importance of marketing Drexel abroad. Muinde stressed the competitive nature of recruiting international students, pointing out the disadvantage Drexel has because of U.S. immigration laws. Lawfully, international students must return to their home country immediately after graduation. This makes nations without such restrictions more appealing for an international education.
Michael Ryan is a postdoctoral student with a doctorate in environmental engineering, a master's degree in business administration and a bachelor's degree in microbiology. An international student from Jamaica, he is also the founding president of the International Graduate Student Association.
Ryan talked about immigration from a student's perspective, emphasizing the lengthy governmental processes involved.
"There is a lot of red tape preventing international students from opportunity in America," he said. "After one year of co-op you have to go."
Ryan said that an international student is "lucky" to get a job after graduation and that it entails a lot of paperwork.
"It's kind of a catch-22, going to America. Yes, you want to make something of yourself, but what happens when you go back?"
Like many nations, Jamaica does not offer much opportunity in the field of environmental engineering. Ryan explained how immigration is crucial for the global dissemination of information and the international growth of certain fields.
Mostov ended the formal discussion by mentioning the social justice component of immigration. She said it is the job of universities to "promote the dignity of the person" by instilling the value in students. Universities need to contribute to eliminating the idea that people born outside the border are inferior.
"It's not something we want to teach," she said. "It seems that we need to take a better look at ourselves from the position of social justice. Universities need to think about what it means when we target people in our country as potential violators of law as opposed to potential contributors to our society."
The discussion was then opened to the audience, who actively participated by questioning the panel about the DREAM Act, the Asylum Law, and how current immigration policies make it harder for international students to participate in the co-op program.