Carl "Tobey" Oxholm III, Drexel senior vice president and dean of the Sacramento Center for Graduate Studies, was unanimously named president of Arcadia University in Glenside, Pa., by Arcadia's board of trustees May 12.
The announcement came two weeks after Oxholm had announced that he was planning to return to Philadelphia and take a six-month sabbatical before returning to administrative duties at Drexel's main campus. He has served as dean of the Sacramento campus since it first opened in January 2009. He will take office July 1 as the 20th president in Arcadia's history.
Aside from helping to bring Drexel to Sacramento, Oxholm led Drexel's merger with MCP Hahnemann University and helped start the Drexel Green movement and the Center for Civic Engagement, according to an Arcadia press release. He also served seven years as secretary to the board of trustees and a member of the faculty senate.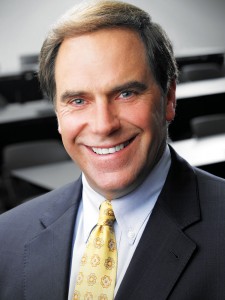 Margaret Wright Steele, chair of Arcadia's board of trustees, described how Oxholm stood out among the 90 initial candidates in the presidential search.
"Tobey is passionate about higher education and the liberal arts, and he is excited about the future of Arcadia," Steele said. "He is innovative, well-prepared to meet the challenges that higher education will face over the next decade, committed to transparency, integrity and shared governance, and successful at everything he has done," Steele said.
Arcadia is known as one of the top-ranked universities for study abroad programs in the nation. Oxholm said he personally knows the value of studying abroad and looks forward to leading a university with such a successful program for it.
"There is no question that globalism is the mega-trend for the 21st century, and Arcadia has been there, doing that, for 60 years," Oxholm said. "I was privileged to visit 17 countries as part of my collegiate experience; and my wife, both sons and one future daughter-in-law all studied abroad during college. In this day and age, there is no mission of greater importance to the future of our country than having its citizens appreciate the value of diversity and be excited, not threatened, by the new and the different. I am simply delighted to be able to help Arcadia develop future leaders who are at home in the world."
Among other expectations, Arcadia students hope to see Oxholm expand their university's connections both locally and globally, according to Madison Wierzel, a student involved in the presidential search committee.
"I hope to see Oxholm usher in a greater connection with Philadelphia as a part of the university's student culture," Wierzel said. "I do not feel as though we are making enough use of the great resources and history that is on our doorstep, and I have high hopes that Oxholm will be able to change that. I also hope he will continue to be open to new and less common study abroad locations in places like Asia, South America and the Middle East. As a university known for its study abroad opportunities, growth must continue to keep that distinguished standing."
Oxholm grew up in the Philadelphia area and has worked in the city for a substantial portion of his life. After earning his juris doctorate from Harvard Law School in 1979, he worked as an attorney in Philadelphia for 22 years, including five years as the city's chief deputy city solicitor. He has received various awards for his work from several prominent institutions, including the American Bar Association and Corporate Counsel magazine.