More than 300 people — including current students, alumni, faculty and industry experts — attended Drexel Startup Day 2014 in the Behrakis Grand Hall Nov. 5.
The event, which officially started at around 10:30 am, even saw its Twitter hashtag, "#DrexelStartup14," become one of Philadelphia's top trending tags of the day.
Hosted by the recently founded Charles D. Close School of Entrepreneurship, it is "a reimagining of Drexel's Entrepreneur Conference," according to Joseph Master, director of communications for the Close School.
The conference used to be presented by the Baiada Institute, under the LeBow School of Business.
While the conference was mainly a chance for new companies to compete for office space and mentorship in the Baiada Institute Startup Incubator, the inaugural Startup Day event attracted attendees with vastly differing levels of experience in entrepreneurship, with activities such as question and answer sessions, networking opportunities, and free consultations from law and investment firms.
Those in attendance ranged from CEOs and advisors with decades of experience to undergraduate students — representing all the colleges within Drexel — seeking to develop their ideas.
"All of us are starters, no matter what our discipline is," Donna De Carolis, founding dean of the Close School, said in her opening speech.
"We were born that way,"  she continued. "The important thing is to push [and] to keep trying, put yourself out there … this is what Drexel Startup Day is all about."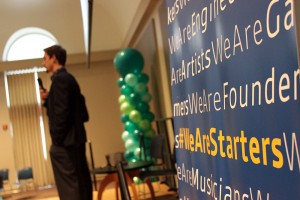 De Carolis herself has had experience in "pushing," having founded and led the Close School — the first freestanding school of entrepreneurship in the United States to offer degrees — in spite of the traditionally held notion that entrepreneurship is not a scholarly subject.
Persistence and self-reliance were also key themes in the speeches given by founders of three startups from the Baiada Institute. Maria Allison of Forsei Consulting, Adria Bagdonavicius of PurpleCloud Technologies and Baiada alumna Rachel Zeldin of "I'm Sorry to Hear", all of whom are also Drexel graduates, recounted their initiations into the startup sector and gave the audience advice from their experiences.
"No one's going to give them to you," Bagdonavicius said about the opportunities crucial to developing one's startup. "You have to ask for them yourself."
"[Allison, Bagdonavicius and Zeldin] saw the opportunity, took advantage of it, and started something," Chuck Sacco, entrepreneur in residence and director of external relations for the Close School and director of the Baiada Institute, said. Sacco was also the host of the Startup Day event.
"If you're struggling for ideas … just pay attention to the world around you," he said.
The keynote address, delivered by Saxbys Coffee franchise founder Nick Bayer, told of his early days as an entrepreneur as well as encouraged originality and the ability to recover from setbacks.
Although Startup Day took a different direction from the previous Entrepreneur Conference, the Baiada Institute Incubator competition remained a highlight — offering office space, free legal and marketing consultations and a total of $69,000 in prizes.
Six semifinalist companies that were chosen from 21 business plans submitted to the Baiada Institute presented their ideas to a panel of judges — Paul "Mel" Baiada, Nick Bayer, Holly Flanagan, Karen Griffith Gryga and Terry Williams — all of whom have had extensive experience in investment and business development.
Scholly, a web and mobile scholarship search application for university students, placed first and received $33,000, the biggest amount in the competition's history. The top prize was usually around $10,000.
Scholly's CEO, Christopher Gray, is also currently a senior entrepreneurship student at Drexel.
"Right now, we want to get Scholly to more schools," Gray said of his future plans for the company. "This funding's going to be used to launch our platform and to really scale that effort."
The two runners-up were Skeletix, a mobile application that finds and sells overstock live music tickets at cut rates, and Eventuosity, a cloud-based event planning software. The two companies received $23,000 and $13,000 respectively.
Skeletix is also a noteworthy company because its founders — William Lindsay and Lucy Stone — were music industry pre-law students, representing the Antoinette Westphal College of Media Arts and Design.
As musicians themselves, they noticed that venues could be maximized if unsold tickets were sold at lower prices, according to Lindsay.
"We see it as low-hanging fruit," he said. "We're shocked that no one has built something to make this possible yet, so we're just going to do it."
The other competition at the event was the 60-Second Pitch-Off, in which contestants who had signed up beforehand presented their startup idea to the judges within a 60 second time frame. The 29 contestants were students from almost all the colleges within Drexel and their ideas ranged from cookie cups for milk or liquor, to creating a program using SEPTA's open-source application programming interface to improve its communication with commuters.
The prize for the pitch-off was originally a $500 cash award for the top contestant, but De Carolis was so impressed by the participants' ideas that she decided to alter the rules slightly by giving five $500 awards instead. The five winners were: Kristaps Kancans, Max Maennig, Zachary and Jared Pashko, Michelle Silberman and Mia Smith.
"There were just too many incredible pitches," De Carolis said. "I was so blown away by the professionalism, ideas, creativity and passion."