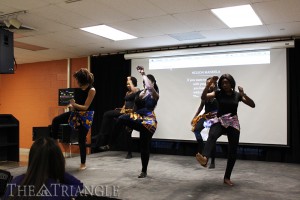 The Good Idea Fund sponsored an event honoring Nelson Mandela, the first black president of South Africa and one of the primary figures in the international movement against apartheid, Feb. 27 in the James E. Marks Intercultural Center.
Members of the Drexel community came out to celebrate Mandela's lifetime of accomplishments by sharing poetry, quotes and media clips that portrayed his humility and persistence in the face of oppression. Mandela dedicated his life to actively ensuring freedom for his fellow South Africans as he continued his fight against apartheid despite being sentenced to 27 years in prison.
"Even while he was imprisoned, there were so many people advocating not only for his release but also for their political party to not be banned, to circulate their knowledge, their ideas and their perspectives," assistant professor of English Andre Carrington said during his introduction to Mandela's life. "Mandela was only one part of the movement, but he was the most famous political prisoner in the world while he was jailed. Even when the government would try to make deals, he would refuse to be released if the conditions were going to be something other than total or free democracy."
After being sentenced to hard labor for conspiracy and sabotage against the government, Mandela continued to remain patient and said, "Hating clouds the mind. It gets in the way of strategy. Leaders cannot afford to hate."
His dignity and patience allowed him to lead a fractured country on the verge of civil war to democracy, the speakers at the event said. He was truly risking his life for what he believed in and never gave up his commitment to shift the ways blacks were viewed not only in his home country but also around the world.
Many said he had an undeniable gift to communicate and sympathize with people that most politicians lose when they gain power. By remaining impartial to the influence of politics, he was able to bring about political change in South Africa such as equal rights for all races, gay marriage and a new democratic constitution.
Mandela's passion for resolving racial divergence was made clear through those who performed during the event. Carrington, Assistant Director of University and Community Partnerships Kenniaah Rose Samuel-Evans, and the Drexel African Student Association dance teams were a few of the presenters that relayed the words of Mandela so that his legacy and the movement toward equality and peace can continue.
International area studies major Jessica Cordisco planned the event.