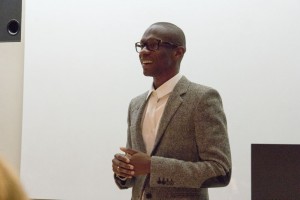 Troy Carter, a prominent music manager and entrepreneur, came to campus March 9 to give an intimate lecture and open dialogue in the URBN Annex Screening Room. Carter is most recognized for catapulting the careers of several recording artists, including Oscar winner John Legend, Grammy winner Lady Gaga and emerging pop star Meghan Trainer.
The 42-year-old father of five, who was appointed the Close School's dean's visiting professor of entrepreneurship in August, is also the founder of AF Square, an angel fund and technology consultancy that has invested in more than 60 companies, including Dropbox, Lyft, Uber, Warby Parker, Spotify and Pinterest.
The dean of the Close School of Entrepreneurship, Donna DeCarolis, graciously introduced Carter before he candidly addressed the attendees, which consisted of students, faculty members and James Poyser, a close friend to Carter and a member of The Roots.
"I cannot think of a more deserving individual who represents the character of what it is to be an entrepreneur in the true sense of the word. And he very well represents the Close School and Drexel University's approach to entrepreneurship in education. His resilient spirit and passion set a worthy example for students who wish to walk their own paths towards entrepreneurship," she said.
Born and raised in West Philadelphia right around the corner from Jazzy Jeff, a disc jockey and producer who worked alongside Will Smith during his days as a rapper, Carter expressed how ambitious and determined he was to make it in the music business.
After holding many odd end jobs in order to make ends meet and gain understanding of the industry, his first major foot in the door came when he met world-renown record executive P. Diddy of Bad Boy Entertainment. The two were first introduced when Carter began promoting concerts for The Notorious B.I.G.
"[Notorious B.I.G.] had this guy who was the head of his record label named [P. Diddy] who I asked one day to tell me what exactly it was he did. And, he started telling me about how he's the head of the record company and he started this label. And I said, 'You know what, I want to come work for you.' And he said, 'Your first job is to get me that girl from behind the bar.' I got him the girl from behind the bar and two weeks later I was an intern at Bad Boy Entertainment," Carter said.
Under P. Diddy's tutelage, Carter recounted what he gained most from the experience, saying, "Working for [P. Diddy], I learned the business at a very ground floor level. And, that was my first experience with entrepreneurship and really seeing how do you do things in a hand-to-hand combat way, when you don't have the big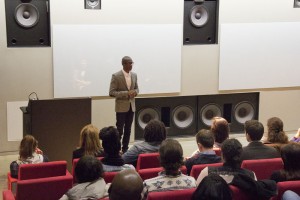 tools to succeed."
After successfully forming his own boutique management company in 1999 called Erving Wonder, which included Eve, Floetry and Beanie Sigel on its artist roster, he eventually sold it to the Sanctuary Group, based in the U.K. Carter, who continued working for the enterprise, began to lose interest when he went from interacting day-to-day with the talent to focusing on the business element of the company. So, they split ways.
Moving forward, he began to keep his ears to the streets for new and emerging artists that were a breath of fresh air in the industry to connect with and develop. He later received a phone call from his pal Vincent Herbert, a fellow record executive who wanted to introduce him to someone that later became the first artist he signed to his new company Atom Factory.
"He said, 'I have this artist I want to bring [to you.] You need to check her out. I'm flying her into L.A. tomorrow and I want to bring her by your office.' So, I'm sitting in my office — it's all glass, so you can see through to the reception area — and Vince comes walking in. Then, you see this girl coming from behind with these big black glasses and these fish net stockings, like no pants. And, it was Lady Gaga."
Although we all know Lady Gaga today as a megastar spitting out hit after hit, he said initially it wasn't easy introducing her to mainstream radio, as they believed her music felt too club and European. At the time, her style of music and what was dominating the charts conflicted.
Carter had to establish alternative ways for people to discover Lady Gaga and to reach fans. So, he turned to social media, which coincidentally, ended up causing an overall snowball effect leading to other business ventures.
"At that time, Facebook was just coming out at .edu. Twitter had just launched. YouTube had just launched. So, we started using these alternative marketing platforms to reach fans and go direct to consumer. Once it started working, we built these direct relationships with the audience. But, at the same time, we started getting the attention of Silicon Valley," he explained.
Continuing, he said, "We got a lot of calls from entrepreneurs saying, 'Hey, will you try our product?' One guy said look, 'I'm investing in this technology company, do you want to be an angel investor?' I'd never even heard of that terminology 'angel investor' at the time. [Basically] I put in money and spent a lot of time with the entrepreneurs. That one investment led to another investment, which led to another investment. I started rolling profits from Atom Factory to invest it in early stage technology companies."
He began looking at talent management and entrepreneurship in the tech realm cohesively due to their similarities.
"Our youngest entrepreneur we invested in was Nick, a 15-year-old out of London. Nick sold his company last year to Yahoo for, like, $30 million. Instead of just talking about business strategies with entrepreneurs, it was about how your life is going to change once you're the CEO, once you have a financial windfall, once you're on the cover of Forbes magazine. So, some of the same things we guided artist through, we've been able to guide entrepreneurs through."
After concluding his forthright chat, he willingly opened up the floor for questions. There was an outpouring of audience members seeking answers, advice and Carter's take on current events in the music industry. Questions ranged from "What are your thoughts on Taylor Swift refusing to upload her music to streaming sites like Spotify?" to "What do you do to relax and get away from it all?"
DeCarolis wrapped up the lecture by adding, "We see lots of speakers. The great speakers and the great leaders are the ones that teach us lessons not just about business but about personal lives and values. I think we have a great example here in Mr. Carter."
Fast Five Facts
What has contributed most to your current success?
My hustle.
What was your first car?
It was called the "Laudi." It was a used Audi with a bad muffler.
Drake or Kanye?
Kanye.
Most recently read book?
"The Power of Habit" by Charles Duhigg
What was your first job?
Cutting grass.