Senior chemistry major Fatima Rahman was found dead in the Schuylkill River around 9:45 a.m. March 19.
Rahman had been reported missing since Jan. 2, her information and description reaching news sources such as NBC, Metro and the Delaware County Daily Times. Her body was identified by the medical examiner through her dental records and there was no evidence of trauma, according to the Philadelphia Police blog.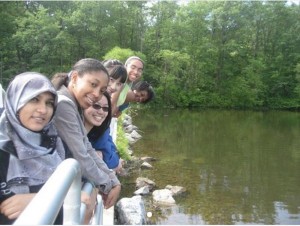 "She was a nice girl, really friendly and smart. She finished the first year with me but I didn't see her since the winter quarter in my second year at Drexel," Hieu Nguyen, a junior chemistry major, wrote in an email.
According to the public affairs office of the Southwest Detectives Division, which is in charge of Rahman's case, "The cause and manner of death are pending the results of the autopsy." The only information the office has released are the circumstances around her disappearance and the few details about her body.
Rahman's funeral was held March 22 at the Masjid al-Jami'a, the same mosque that she regularly attended. The University has yet to notify the student body about the death because Rahman had been on a leave of absence since the winter term of 2013 and the protocol regarding student deaths only includes currently enrolled students.
"I heard about her death also via Facebook and chemistry majors. We are really sad about her death. Honestly, it hurt me a lot because Fatima was one of my best [friends] during freshman year. Drexel should have reached out to us about her death, but they didn't. I don't know if she was still a Drexel student when she died, but Drexel should make something about this," Nguyen wrote.
Her family and loved ones organized searches throughout the two months that she was missing. She was described as last seen at the 4300 block of Chestnut Street as a 21-year-old, five-foot-one-inch, 120-pound girl of Bangladeshi descent that suffered from schizophrenia. Due to her schizophrenia, the family reported that she would become increasingly paranoid and would avoid contact with people.
The dosage of Rahman's medication for her illness had been increased before her disappearance, yet she had left the medication in her residence and disappeared without her cell phone and jacket. She was last seen wearing a blue head scarf, red sweater and blue jeans.
"Recently, about two months ago, I heard about her disappearance via a Facebook post. I shared this post immediately and tried to look for any information about her whenever I got a chance," Nguyen wrote.
There was also a Facebook page made Jan. 14 called "Help Find Fatima Rahman," where users posted updates on sightings of Rahman and organized search parties. The earliest sighting was said to be around The Gallery at Market East; one person reportedly witnessed someone who looked like Rahman crying near the area. The latest sighting posted on the page was March 1, near 30th Street Station.
On Feb. 8, a month after Rahman went missing, State Rep. Margo Davidson, D-164, helped hand out 500 fliers with Rahman's description to the people of Upper Darby, Pa. Davidson, according to the Delaware County Daily Times, has been writing a legislation to create a program that is similar to the Silver Alert law in other states. The Silver Alert law is the equivalent of an Amber Alert for elderly people who are reported missing while driving or on foot. Davidson wants to create an Amber Alert-like response for people with certain types of mental conditions.
Farzana Rahman, Rahman's sister and an environmental science major at Drexel, said: "I feel like she was always the best sister. We never fought. I would get annoyed with her because I would fight with her and she would never fight back." Farzana took a leave of absence from Drexel after Rahman's disappearance, saying that she wanted to be with her family.
According to what her sister told the Delaware County Daily Times, Rahman had gone missing once before, six months prior. Rahman took her cell phone and went to Germantown, Pa., where she contacted the local police and confessed that she didn't know where she was and asked the police to call her parents.
After being notified about her death, Rahman's family released a statement on the Facebook page organizing a search for her. "We are so overwhelmed by the amount of love and support that we have received since Fatima's disappearance and the news of her death. We are completely and utterly grateful to every person who has helped in her search, raised their hands to pray for her safe return or sent us kind thoughts. And we consider ourselves fortunate —despite the insurmountable loss — that we were able to find Fatima after so long, pray her Janazah, and properly bury her," the family wrote.
"We have been so hopeful these past few months; actively working to keep ourselves from feeling defeated. This is not the end we were hoping for. We wish that her body did not have to be fished out of a river. We wish that we could touch her, one last time, or say our goodbyes. But, despite all of that, we are so fortunate to have been able to know such a remarkable young woman," the post continued.
Rahman had been involved in several organizations around campus, including the Mock Trial Association and the Muslim Student Association. Rahman was also a part of the Drexel Badminton Club. On the day of her funeral, the MSA released a statement on their Facebook page: "All who were close to her recall her being a quiet yet charismatic individual — a very caring person capable of making anyone's day that much more meaningful. We pray that Allah bestows her among the best of Women, with her Namesake, a place in the highest of Jannah, Jannatul Firdaus! Ameen!"
Mashaal Syed, Rahman's friend from high school and a biomedical engineering major at Drexel, began a campaign to raise money for renovations to the mosque that Rahman regularly attended with her family. The goal is to reach $10,000 by July 5. Information about the campaign can be found at fundly.com/in-memory-and-honor-of-fatima-rahman.
For those students who have been affected by this loss, the Student Counseling Center can be reached at 215-895-1415 during business hours or 215-416-3337 outside of business hours.