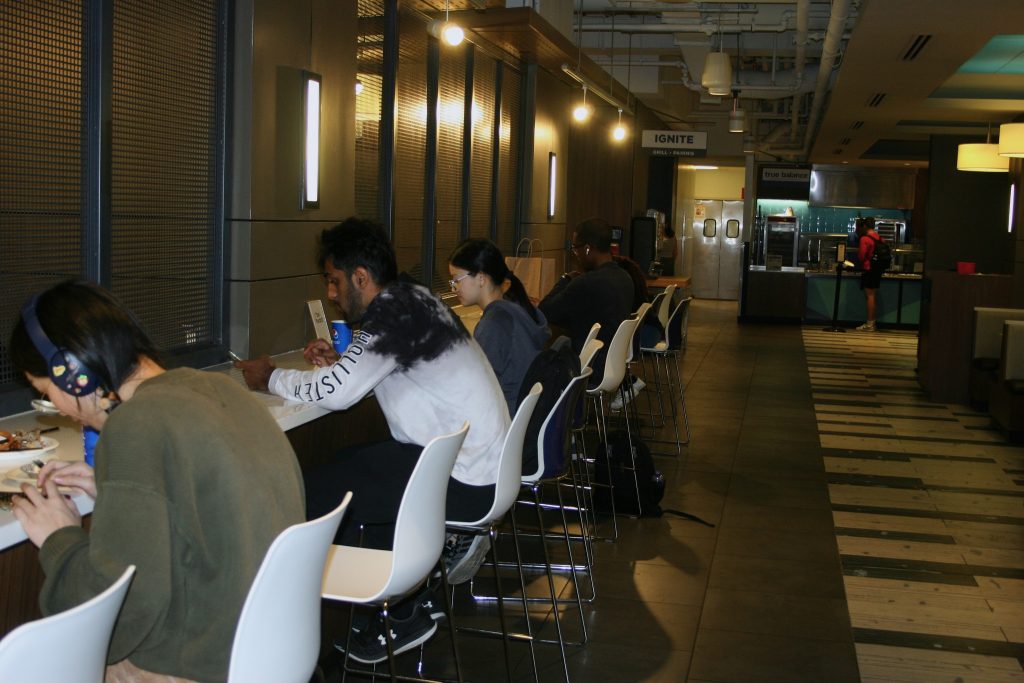 With societal pressure of achieving the perfect diet, issues such as malnutrition, imbalanced diets, food insecurity and eating disorders impact the mental health of Drexel University's students.
Started in 2007, the Healthy Minds Study is an ongoing study of student mental health across universities throughout the United States. The study results state that 41 percent of students reported symptoms of depression, 36 percent reported feelings of anxiety and 14 percent reported suicidal ideation. These findings suggest that student mental health is worth investing more resources into on college campuses around the country.
Nutrition is one aspect of mental health that universities can focus on to improve the mental well-being of students. In an article written by Dr. Laura Lachance and Dr. Drew Ramsey in 2015, the psychiatrists state that, "food choice is strongly implicated in mental health risk."
Specifically, a review published in a journal titled Frontiers in Nutrition looks at the connection between nutrition and mental health and describes the antioxidant system as being a serious implication in psychiatric disorders and "depends on the presence of nutrients in food." Further findings by this review "indicate a reduction in the incidence of depression and suicide with a healthy eating pattern."
In a survey on 2,200 adults conducted by the American Psychiatric Association and the American Society for Nutrition, only two-thirds of adults felt knowledgeable about this relationship between diet and mental health, but 81 percent of adults indicated that they would be willing to modify their diet in a way that positively impacts their mental health. Given that these factors are true for adults around the country, it is important to assess how the nutritional content of the Drexel food programs align with this need for healthy diets to support student mental health.
Second-year psychology major Gabrielle Baar, a co-op research assistant at Drexel's Center for Weight, Eating and Lifestyle Science, shared her thoughts on the nutritional content available for various dietary preferences in the Drexel dining halls.
"[Drexel] just [wants to] get food out. So I don't think they necessarily focus on all of the different options, but I think they do okay. They can definitely improve," commented Baar.
When asked what the largest barrier to eating healthy on campus is, Lynelle Martin, a third-year biomedical engineering major at Drexel said, "I think the largest barrier would be the lack of variety of healthy foods and the lack of reason for students to care that much about their diets."
Martin elaborated by mentioning that healthy food options are offered as sides, rather than the main course.
A deeper question that must be explored is how to ensure students care about their diet. Baar emphasized the need for Drexel to educate students about their nutritional, emotional and mental well-being. When describing the tendency of the dining halls to test different foods and receive student opinions, she brought up an important point about nutritional value.
"[The food testing] wasn't about like, 'Oh, this is nutritious for you.' It's like, 'Is it good?' They have days where it's like, it's pizza day, or it's ice cream day, you know?" said Baar. "But they don't say, 'Okay make sure you guys are eating your veggies' or 'Make sure you're getting a balanced diet.' And to my knowledge, I don't think they do that."
Baar and Martin agreed that implementing nutrition education university-wide would be a significant step in the right direction. Some students may want to eat healthier meals but lack an understanding of what is and is not good for them.
"There were also never any posters that had the nutritional breakdown you need a day or any type of guidance for students," according to Martin. "It was more self-motivated if you wanted good nutrition and a healthy diet. There have been some nutrition promotion events where foods like pasta and salad are served in a common space, but most students don't care too much about the nutrition aspect."
One way to navigate this issue is to increase healthy meal events that offer students free, healthy food along with educational services on how to make healthier choices.
Food service company Aramark and the Drexel Campus Dining team describe Campus Dish, a resource that they offer to help manage nutrition, health and wellness, and any food allergies or specific diets. Both entities also describe their commitment to providing consistent nutritional education, interactive health and wellness activities.
Aramark in particular, described their efforts to include nutrition focused events around national dates such as "National Vegetarian Month, American Heart Health Month, National Nutrition Month among others."
But increasing nutritional education is only one part of a multidimensional solution needed. In addition to emphasizing the importance of nutrition and its positive effects on learning and attention, a second year clinical psychology PhD student at the WELL Center with expertise in weight loss, nutrition and eating disorders suggested nutrition counseling.
According to the Armstrong Center for Medical health, nutrition counseling is when a "Registered Dietitian/Nutritionist (RD/RDN) works with an individual to assess his or her usual dietary intake and identify areas where change is needed."
Depending on the history of the person undergoing the counseling, services offered can range from nutrition education, problem solving, support, and follow-up care.
Penn State University provides such nutritional counseling to employees, students and community members both in-person and virtually. Services range from overall personal health improvement, managing eating disorders and healthy diet plans among other support specifications, and are very notably, free of charge.
This method was also successfully implemented at Lehigh University and allowed students to have productive conversations about their "diet composition," something the PhD student from the WELL center mentioned was previously dictated by "a parent, grandparent or sibling" who was providing food.
While Drexel offers these services to all members of the greater Philadelphia community, as well as to Drexel students, faculty and staff, a way to make them more prominent could be to offer them free of charge, much like Penn State does. In this manner, the services may become more accessible to students, making them more willing to utilize them.
Even if students are knowledgeable about the nutritional value of different foods, they are not always given a choice when deciding what food to eat, especially with difficulties affording high quality produce.
In a survey conducted by US News and & World Report, 71 percent of students changed their eating habits due to a lack of funds and 27 percent of students compensated for the reduced funds for food by eating less than they should or cutting the size of their meals.
Additionally, Wisconsin HOPE lab affiliate Anthony Jack from Harvard University found undergraduate students "turning to off-campus food pantries and sometimes fainting from hunger."
Financial hardship can exacerbate the feelings of depression and anxiety many students already face. Martin revealed that she knows many students who have struggled with anxiety, which aligns with the most recent Health Minds Study results for the 2022-23 school year: 93 percent of students experienced some level of stress regarding their financial situation. The compounded stressors of school, financial hardship and nutritional limitations are likely to increase levels of anxiety among students.
Food insecurity is a common issue on college campuses. According to a review done by The Hope Center for College and Community Justice at Temple University, a new federal report by the National Center for Education Statistics at the U.S. Department of Education shows that nearly one in four undergraduate students and more than one in ten graduate students are experiencing food insecurity. This totals to nearly four million food insecure students.
Jen Tifone, director of finance and administration for Enrollment Management & Student Success, mentioned that around 30 percent of college students nationally will experience food insecurity while in college.
One option for students to get free food at Drexel is Mario's Market, the university's food pantry.
Tifone shared that Mario's Market "opened in December 2020 as a pickup service, and we opened our doors for in-person shopping in February 2021."
Mario's Market provides students with healthy, culturally appropriate and tasty food options, regardless of dietary restrictions. The food purchased by Drexel has grown to include non-perishable canned goods to refrigerated food.
"At any given time, there is enough food for people to access about a week's worth of food in one visit" according to a piece by Giving Drexel. It was estimated that nearly 70-100 people visited the market every week in a spring term when the market was open. Increasing engagement and involvement with the Market could be a good avenue for students who are experiencing food insecurity and are unaware of the resource. The hours for Mario's Market are posted on their door on the 2nd floor of the Rush Building at 30 North 33rd Street.
"If students are looking for other resources and support outside of Mario's Market, they should reach out to Feed a Dragon at [email protected]," said Tifone.
Drexel's website for Student Life highlights the Meal Swipe Donation Program and public resources to combat food insecurity, such as the Supplemental Nutrition Assistance Program.
The consequences of a lack of nutritious food are not always necessarily physical. Severe struggles with nutrition can result in eating disorders. According to the National Institute of Mental Health, eating disorders are serious and sometimes fatal illnesses that are commonly misconstrued as "lifestyle choice[s]."
In reality, eating disorders involve severe disturbance in eating behaviors and are linked to thoughts and emotions. Generally beginning between ages 18 to 21, The Child Mind Institute describes the newfound societal pressure and independence that dictate "when, what, and how much [students] eat for the first time."
Gaining a better insight into the specific issue that eating disorders pose to the surrounding community of Drexel, the WELL center PhD student described her research. When specifically referring to the surrounding Philadelphia area, she admitted that individuals aged 18 to 30 are hesitant to participate in her disordered eating and weight loss studies, largely due to a "lack of time and motivation."
Getting more young people involved with such interventions, as she described, would be a huge step to studying the population to develop targeted interventions that work for their age group.
Disordered eating is a common issue college students face across the country, and with the stress that comes with a unique educational structure like Drexel, it is important to raise awareness of these studies and programs aimed at helping students with disordered eating.
In light of the student mental health crisis that is striking college campuses around the country, it is important to consider a holistic approach to diet and mental health, ensuring that comprehensive support systems exist to address the complex issues that nutrition and student mental health pose.
This article is part of a grant awarded to The Triangle from the Solutions Journalism Network investigating student mental health at Drexel University.