Mayor of Philadelphia, Michael A. Nutter arrived July 29 at Gerri C. Lebow Hall to speak on leadership. More than 200 students, alumni and local professionals crowded in to hear Nutter share what he has learned as mayor of the fifth-largest city in America.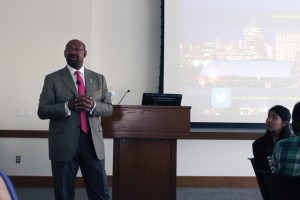 Nutter's talk emphasized the power of implementing goal setting, connection and collaboration. He outlined his campaign for mayor eight years ago in summer 2007 and told the crowd how he came to win as the underdog candidate.
"What I said eight years ago and what I say today is that we had to be a safer city, a smarter city and a more sustainable city; and a government that runs with integrity and transparency. That's what I said eight years ago as a candidate who had no prospect of possibly winning mayor's office when I ran," Nutter began, describing his chances of winning as 'difficult but not impossible.'
"On the day I announced, as the first person to announce that I was running for mayor in the city, the press wrote: he's probably fifth in a five-way race," Nutter said as he laughed with the crowd. He continued, "I said, 'I'm the only announced candidate. I have to at least be first today.'"
He walked the audience through the environment of Philadelphia in the 2000s. The city had rising crime, violence and homicide rates, a 52 percent graduation rate in its high schools, few jobs being created, and the mayor's office had been dealing with the aftermath of one of the largest corruption scandals of recent times for the last four years. The FBI put a listening device in the mayor's office and around 20 people had been indicted and convicted for a variety of things going on within the city government.
During his campaign, Nutter spoke about fixing these four issues to build the foundations of a stronger Philadelphia. He recounted that those who saw this vision began to fall in line behind him.
"Everyday people said that vision that you have laid out for this city is something that I'd like to support," Nutter said.
"Leadership is about telling people what you wanna do, why you want to do it and tapping into a base of support that says 'I see where you're trying to go, I want to support that,'" he continued.
The mayor said that his collaboration with other strong leaders helped him to achieve his goals while in office. His recruitment of Charles Ramsey as Philadelphia's Police Commissioner brought about a 38 percent reduction in homicides. Working with school officials and communities brought the graduation rate in Philadelphia public schools to 82 percent.
"And Philadelphia has experienced population growth," the mayor said, detailing further that more businesses and people have been moving to Philadelphia in recent years.
To tackle the integrity issue the mayor created a chief integrity officer and recruited two accomplished U.S. attorney's officials to catch corruption early.
"That's where we started. and for me that's what leadership is all about. Do what you say you're going to do, finish what you start, stand tall in the face of opposition. That's called leadership," Nutter concluded, as the crowd applauded.
After his talk, audience members were invited to ask questions, some of which detailed the Pope's upcoming visit, what he would be doing next and what he hoped for the next mayor of Philadelphia.
"When he said that [Philadelphia] is my hometown and that he hopes the next mayor will do well — that kind of touched my heart," Weiwan Zhao, a business and engineering major who attended after being intrigued by one of Nutter's prior speeches at a global business conference, said.
Isabelle Di Nallo, a marketing major who had previously met Nutter at a Hillary Clinton campaign, was encouraged by the part of his speech that detailed resilience. "It was very encouraging to hear his story," she said. "I thought it was inspiring how everybody kept telling him he was going to come in fifth and he ran anyway."
As the event came to a close, Nutter greeted and shook hands with some of the students who attended.