Sabrina's Café, a local restaurant that specializes in brunch, announced June 27 that it will open its third location on the first floor of Drexel University's Ross Commons.
Talk of a third branch of Sabrina's began when owners Robert and Raquel DeAbreu toyed with the idea of locations in Fishtown and Haddonfield, N.J. Upon visiting a property on Lancaster Avenue between 34th and 36th streets in the fall of 2010, the DeAbreu's were told that Drexel was looking to fill a space on its campus.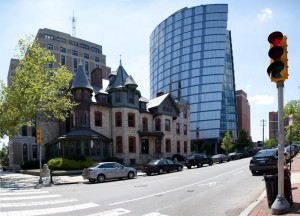 According to Senior Associate Vice President of Drexel Business Services Rita LaRue, Drexel was "approached by representatives from Sabrina's during the fall 2010 term, and several locations were suggested."
Once Ross Commons was chosen as Sabrina's new site, the restaurant's operations and reputation were reviewed by the Division of Student Life and Administrative Services, who also looked into the appropriateness of Sabrina's Café for Drexel's campus and compared goals for retail and community development. After a few months of negotiations, the final lease agreement is set to commence July 1.
The opening of Northside Dining Terrace in January 2010 slowed the once steady business of The Grille at Ross Commons, located on the southwest corner of 34th Street and Powelton Avenue. Once the Dining Terrace was opened, The Grille was no longer necessary as a dining option on Drexel's campus, and the eatery officially closed in June 2010.
Take 3, a freshman favorite for quick dining options, will be relocated from Ross Commons to the Market at the Northside Dining Terrace, settling alongside Southern Tsunami Sushi and Subway.
"Sabrina's location near the residence halls and at the northwest edge of the campus proper brings a unique opportunity to add dining variety to campus, provide new opportunity for engagement and strengthen community ties," LaRue said.
The menu at Sabrina's newest location will be exactly the same as the menu as its sister establishments, offering breakfast, lunch and dinner, as well as brunch. Though BYO will not be an option at this particular locale, students will be able to purchase their meals using Dragon Dollars.
In preparation for The Grille's replacement and Sabrina's new locale, minor changes have already been made to the first floor and basement of Ross Commons to accommodate for food preparations. DeAbreu stated that the restaurant will be "sticking with Drexel's architecture, design and color." Small modifications to the space will continue over the next two months. Upon opening, the restaurant's hours of operation will run from 8 a.m. to 9 p.m., with later hours on the weekend.
DeAbreu mentioned that, should the student demand dictate the restaurant open earlier or stay open later, they are open and flexible to the idea.
"I think that Drexel's student body and faculty want a place like Sabrina's on campus. You can sit down and get waited on … it's exactly what we're doing at the other locations, and I think that's the key," DeAbreu said. "It's not only a Drexel restaurant; we want to have the city's residents to come, too, and create that neighborhood feel."
The restaurant is scheduled to open in early September 2011.