Drexel's LeBow College of Business selected winners May 16 in its ArchiTECH classroom innovation competition, naming finance professors Daniel Dorn and Ed Neeling and a junior business administration student David Hunt the first-prize recipients out of 10 teams.
The competition was designed to gather ideas for how the college can best use the resources of the Gerri C. LeBow building, which is on track to open in the fall. Teams were required to include two full-time faculty members and one student, and propose innovations for at least two business classes that take advantage of the technology and classroom layouts of the new building. The winning submission integrated videoconferencing into the two-course series of applied portfolio management classes, Finance 341 and 342.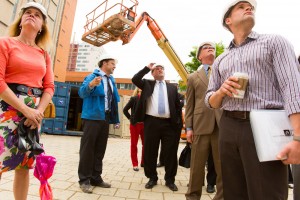 "Dr. Neeling and I created the two courses over the past five years, and one key component from the get-go was to get the students exposed to senior investment advisers and managers. And we've been fortunate to get people to come visit and attend the presentations and give feedback," Dorn said.
Videoconferencing will allow the students who manage the Dragon Fund, a $1 million equity portfolio and piece of Drexel's endowment, to receive advice and feedback from investment professionals who would never be able to make it to the classroom.
"There is a range of options that we want to give people from the outside that want to participate," Dorn said. "They can still come to campus and meet face to face. The ideal version [of the proposal] is to conference-in people and have them participate live in these presentations. And it will be interactive. The students will present; they will field questions from the audience and go back and forth. But we also want the option of just taping these and make (sic) them available through the website, either privately to a preselected audience [or] also to have things that went particularly well on the public website for the Dragon Fund."
He continued, "There is an analyst with Franklin Templeton [Investments], a mutual fund company in Florida, who contacted the dean's office and said, 'I'm an [alumnus]; I'd like to give back. How can I help?' and he's a guy in Florida, so he's not going to be able to come up on a quarterly basis to these things. And he also has about 15-16 years of experience in fund management, so we'd be able to have him give a presentation from his office in Florida. That's another application of the technology."
Students in the class are split up into teams and pitch stock ideas to the other members of the class, who then vote on the recommendations.
"Basically we would like to re-create an atmosphere of real stock pitches," Dorn said. "Students give their best ideas; they get scrutinized by people and have to defend themselves, and the best way this really works is if it's live."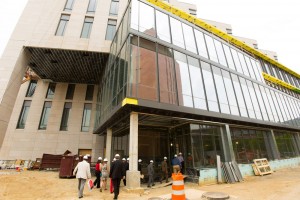 Two other teams were also recognized, with second place going to the team of marketing professor Daniel Korschun, economics professor Stephen Joyce and undergraduate business administration student Ryan Bertoldi. Third place was awarded to marketing professors Trina Larsen Andras and Larry Duke along with marketing doctoral student Brooke Reavey.
Korschun, Joyce and Bertoldi submitted a proposal to use examples from film, TV and other media to showcase and explain business concepts. Andras, Duke and Reavey proposed using the behavioral lab in the new LeBow building to teach students how to oversee focus groups and to provide opportunities for students to practice their negotiating skills.