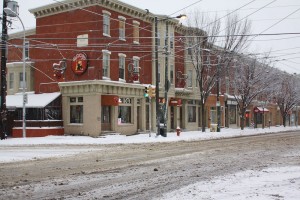 Jabari Jones, a third-year student majoring in legal studies at the LeBow College of Business, has shown a keen interest toward supporting community businesses, especially in the West Philadelphia area.
Jones wishes to provide these small businesses with assistance such as upgrading them and getting them into the area expansion mindset, in addition to taking advantage of this digital age and using social media marketing.
"Students all across the University have shown interest, and are willing to lend assistance to the neighborhood small businesses," Jones said. They could conduct workshops and make business owners much more aware about the social media marketing as well as provide the required financial planning and access to grants, according to him.
Jones came up with this plan from the research that he conducted during his co-op with West Philadelphia Services Institution, a nonprofit organization. Jones said, "I did commercial corridor survey of over 700 businesses that ran from 34th to 64th streets on Lancaster Avenue, and from 40th to 61st streets on Market Street."
The main conclusion that Jones came up with was that Drexel University should put forward an active step in the economic development of these small businesses. The University of Pennsylvania has taken those steps and is supporting those small community-based businesses to stay in business by capturing a share that the students spend, which he believes is essential for running of any business successfully.
Subsequently, Jones began a proposal that entailed creating a Drexel's student-run and student-staffed office dedicated to supporting small business growth. But before finishing it, he vetted it with the community.
Sitting down with Stevens, members of the Business Association of West Parkside, and James Wright, Lancaster Avenue's Commercial Corridor Manager for the People's Emergency Center, Jones asked them for feedback. "I also talked to business owners and attended community meetings," Jones continued, "and everyone loved the idea of a student-led and continuous program."
Jones took his complete proposal of developing a student-run office, emphasizing on its "community education impact" to Drexel University's president John A. Fry and Lucy Kerman, vice provost for University and Community Partnerships.
Though not any kind of actual decision has been made as of now,  Kerman said, "We're not anticipating a separate student-run office, but rather look to locate this effort in the Lindy Center for Civic Engagement, which supports community service and student leaders like Jabari."
In the meantime, Jones, who serves as a board member on LA21, continues to work with the community. LA21 is currently in discusion with Drexel and the commerce department Councilwoman Blackwell's Office on the beautification of Lancaster Ave, Stevens said. Furthermore, he added, "We want to install more streetlights for increased safety."