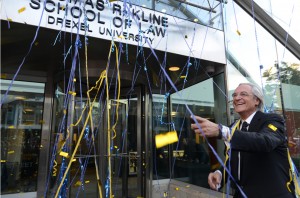 President John A. Fry announced Sept. 17 that the Drexel University School of Law would be rechristened the Thomas R. Kline School of Law, in honor of a local Philadelphia litigator Thomas Kline, who has donated $50 million toward the expansion and development of the school. This large amount of money, along with the conveyance of the former Beneficial Saving Fund Society building, located on 12th and Chestnut streets, marks the largest gift Drexel has ever received.
"I don't look at this in terms of the amount of money or the accolade. What I view this as is an opportunity to elevate to a very high level a law school within a university which is growing yearly in stature and reputation nationally," Kline said.
Kline's most famous cases include his representation of Victim No. 5 in the Jerry Sandusky trials, victims in the Pier 34 collapse and of a Philadelphia boy whose foot was  ripped off by a SEPTA escalator.
Due to Kline's expertise and intriguing repertoire in law, he was sought out by Fry about serving on the Law School Board. Discussions about donating to the law school arose within the last year, after Earle Mack, the original naming sponsor of the law school, stepped aside to make way for other benefactors who could financially support the budding law school.
"It led to a period of, something like six months, which culminated in my gift to the law school," Kline disclosed.
The litigator now hopes to heighten the education of Drexel law students with an addition of a new freestanding branch of the law school in the 24,000 square foot historical Beneficial Bank Building to be opened in 2016, dubbed The Kline Institute of Trial Advocacy.
The new trial advocacy institute will attract students to Drexel's law school and help the new School of Law become a nationally renowned education facility. The donation funds will also be put toward hiring a new wave of staff.
"Having a great facility and an expanded program will dramatically move an already highly regarded program to the level of unparalleled excellence," Kline said, explaining the importance.
The location of this building at the corner of 12th and Chestnut streets and its special focus will put Drexel students mere blocks from some of Philadelphia's most prestigious law firms and will allow students to explicitly study a principle at the heart of the judicial system.
Drexel's presence in Center City will also draw more people and businesses to this part of town, which is located in the core of the legislative district of Philadelphia.
"Within arm's reach of 12th and Chestnut streets are City Hall, the Criminal Justice Center, the new family court building and the federal court," Kline continued.
The building itself has been vacant since 2001 and will require a great deal of renovation, which will utilize part of the $50 million.
Kline bought the building as a birthday gift for himself wishing to preserve its historical beauty but without definite intentions for its future. During the past year as he was talking with Fry, however, he decided on its fate.
"At the end of the day, I was holding the building at the time that our talks developed and so it became for me … to become an institute of trial advocacy, which is my principal interest in the practice of law," Kline said.
"The challenge will be finding an architect who can respect this classic old building, but put a set of modern educational roots inside that building," Roger Dennis, founding dean of the School of Law, explained, stating that Drexel was still deciding on an architect to renovate the building.
Although Kline never attended Drexel, he spent much time as a young lawyer in Philadelphia with The Beasley Firm — his late role model being James Beasley himself, who Kline watched found a law school for Temple University in the late '90s. Kline stated this was an act of philanthropy he wanted to emulate.
"Having worked in Jim's law office for 15 years, I view myself as having attended the real Beasley School of Law," Kline joked.
Kline came from a humble upbringing and wants to be able to give back to students that were once just like him.
"A lot of the kids that are going to come to Drexel's law school are kids that are pretty similar to Tom was when he started. Modest means. Small town Pennsylvania. Trying to make something out of their lives and do good for people," Paul Davies explained, as a journalist of publications like Philly.com and Philadelphia magazine and friend of Kline's who has followed the lawyer's career for years.
Kline received his undergraduate education from Albright College and his law degree from Duquesne University. Although Drexel is not Kline's alma mater, he feels strongly that Drexel's law school is the perfect choice to emulate his principles and do his name and legacy proud.
"I wanted to have a law school which would benefit from me, which would be an integral part of the city that I came to and I've grown to love, and Drexel is the perfect fit for that purpose," Kline stated.
"All I ask in return is a large group of accomplished trial lawyers, a good number of judges, a few United States senators and one president of the United States," Kline jokingly said to the crowd at the announcement on Thursday.
"We're really trying to implement being one of the most committed schools to experiential education for our students and having a faculty that has a scholarly impact that's really superb. If we can pull both those things off simultaneously, it will be one heck of a good law school," Dennis said.
Kline hopes that with this gift he has given the law school the opportunity to emulate the philosophies and principles that have guided his personal practice.