Students brought a little color into their lives May 5 when Urban Playground and the Drexel Indian Undergraduate Association co-hosted a celebration of Holi, an Indian holiday also known as the Festival of Colors, in Drexel Park. Holi is a cultural celebration of the coming of spring, and even though it is celebrated in India at a different time of year, Drexel's Holi was scheduled to correspond with springtime in the United States.
Student technicians began setting up a sound system at 11:30 a.m. Around noon, students wearing white T-shirts began to arrive, ready for the festivities. The celebration consisted of a large group of people throwing colored powder at each other. The powder was made of dyed cornstarch that stuck to skin and clothing when mixed with water. After being covered in color, the students danced to Punjabi music to continue the celebration. Traditional Indian candies and sweets were also distributed.
In the Indian culture, the idea of creating a display of colors on the body is representative of the blooming of flowers and other plants during spring.
According to Akshay Sharan, a freshman representative of DISHA, there is also a religious significance to the celebration.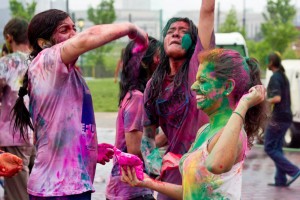 "It represents victory of good over evil in the Hindu religion," he said.
Even though Holi is an Indian holiday, the crowd was made up of a diverse group of students. Indian students saw the celebration as a great way to connect with each other, and they were glad to continue a tradition they had in India.
"After four years, this is an awesome feeling," Riddhiman Yadava, a junior biomedical engineering major who celebrated the festival for the first time since coming to the United States, said.
He added, "When we used to play in India, the whole city played."
Ari Melman, leader of Urban Playground and a senior business major at Drexel, knew he wanted to bring the festival to Drexel when he heard about it during his trip to India over winter break.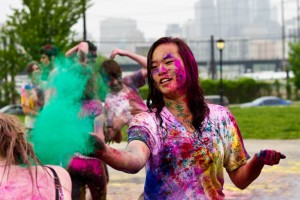 "Holi is way too awesome an event to be confined to one country. … It involves getting as messy as possible," Melman said.
He spread the word of the event through Facebook and was soon expecting 200 students to attend based on the number of RSVP responses.
Urban Playground has organized events in the past such as a cupcake fight, a citywide pillow fight and a no-pants subway ride, all with the purpose of getting people involved with their community in a fun way.