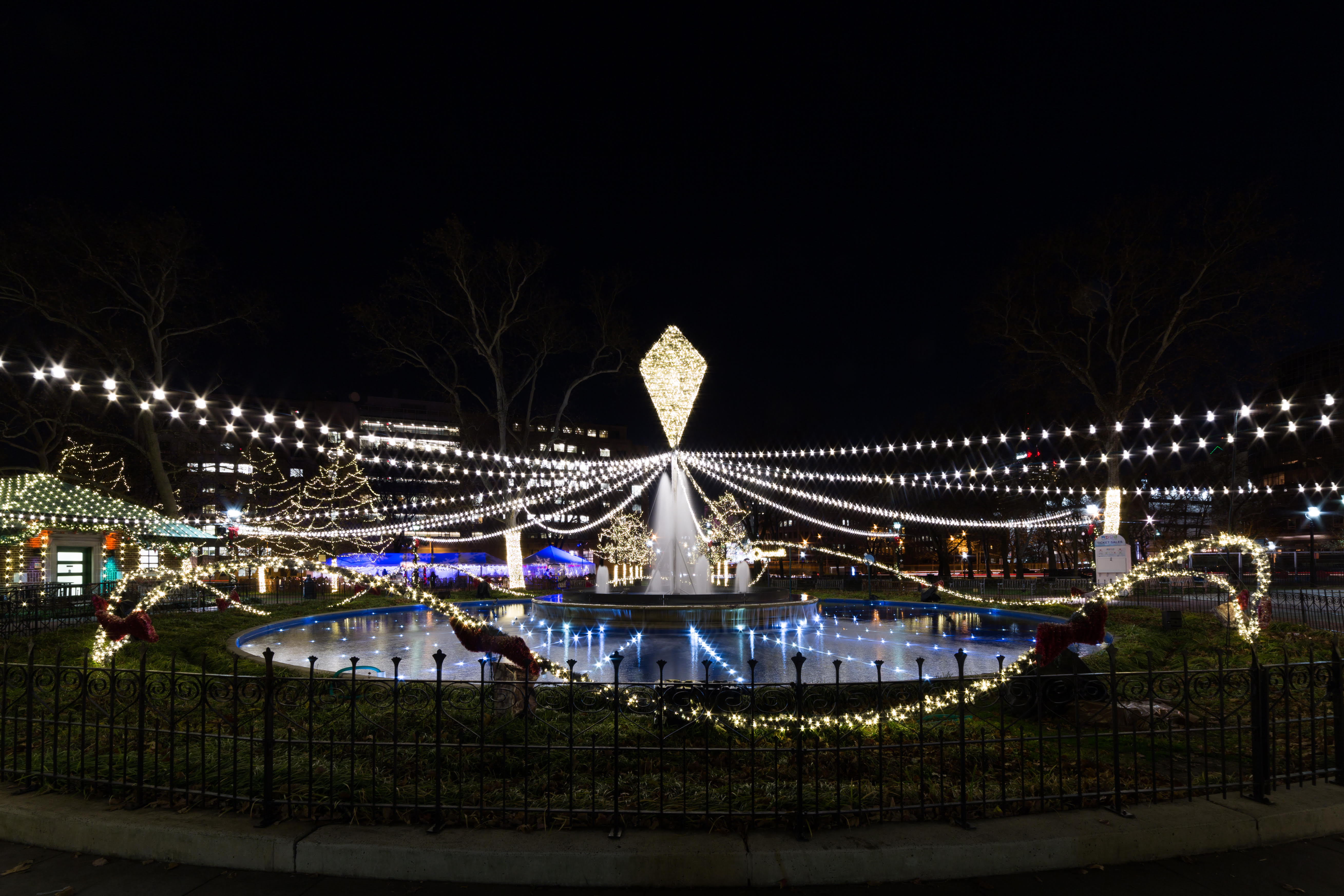 Franklin Square Park kicked off its highly anticipated annual Holiday Festival on Nov. 9.
Located at the intersection of 6th and Race Streets, the Holiday Festival will bring ample holiday cheer to Old City and Chinatown. Thousands of visitors will be able to enjoy the attractions and events on a daily basis through December 31.
The most popular attraction visitors can enjoy is the Electrical Spectacle Holiday Light Show, where a lucky spectator is chosen each night to ignite more than 50,000 lights throughout the park. The CEO of Historic Philadelphia, Amy Needle, was present for the grand opening of the festival.
"The light show itself brought more than 100,000 visitors to the park last year alone, so we expect to have an increase in the turnout this year as well," she explained.
According to Visit Philadelphia, the festival as a whole draws in over 1,000,000 visitors annually. Each year, the number of visitors increases significantly as new events are added.
Another visitor-favorite activity is the Lightning Bolt Holiday Express train, which gives kids and their parents a fun-filled ride around the Franklin Square Park. Holt McCalleney of Cherry Hill, New Jersey, was just about to get on the train for the third time with his daughter.
"We've been coming here every year for the train ride," he said. "It is my daughter's favorite."
Tickets are $4 for children and $5 for adults to receive a perfect view of the holiday decorations.
A new event which is being highly promoted throughout the festival is a reading of "How the Grinch Stole Christmas" by the cast from "A Philly Pops Christmas." This will be taking place on Dec. 7 for those who are fans of the Grinch.
Those who are 21 and over can enjoy drinks at the Winter Beer Garden around warm and toasty fire pits. Open every evening from 4 p.m. until 9 p.m., the garden offers various alcoholic beverages with $1 from each drink donated to help aid hurricane-stricken Puerto Rico.
Most of the highly-anticipated events at the festival take place on the Fridays leading up to Christmas. Starting Nov. 10, each Friday will feature special events such as "Frozen" Night, where visitors can meet the princesses of the beloved Disney movie. Nov. 24 saw Santa's arrival to the festival. There will also be a "Star Wars" Night, ice sculpture day, and a New Year's Countdown, which will also be the last night of the Festival.
"I have high hopes for the Franklin Square Park Holiday Festival this year," Needle said. "At the end of the day, our main goal is to get Philadelphia in the holiday spirit."