Plans to renovate the W.W. Hagerty Library were announced March 21 on the library's website. The library, which was named after Drexel President William Walsh Hagerty, was built in 1983.
The renovations will focus on adding 300 seats and utilizing space more efficiently. Flexibility of the space will be increased to improve traffic flow and decrease noise distractions. The library currently consists of three floors, with the third floor reserved for law students until 6 p.m.
Senior business student Lei Tao said, "During finals week it is almost impossible to get a spot, and it can get very noisy due to the amount of people in such a small proximity."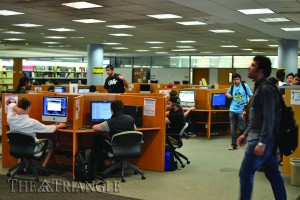 Danuta A. Nitecki, dean of libraries, said, "What makes Drexel University unique is the first day of the quarter the library is packed. Students are very serious about their studies."
Having students constantly in and out of the library creates a need for a larger library. After some months of collaborative planning between the library staff, campus planners and administrators, and the architectural firm KlingStubbins, there are proposed ideas of how to address the needs of the library.
"At this point, we are in the process of reviewing drawings with a group of architects and coming up with ways to maximize space," Nitecki said.
Due to the existing amount of construction on Drexel's campus, some students are questioning whether the inconvenience of more construction is worth it.
"Drexel has enough construction going on at the moment. There definitely is a need to make the library bigger, but that is a project that can wait," Nittina Thampi, a junior business student, said.
Nitecki urged students to take a look at the models on the library website and to provide feedback. As of now, nothing has been put into action, so the more input that is received from students and faculty, the more beneficial the library will be for all users. In creating the plans, consideration was taken from undergraduate and graduate students, faculty, administrators, and library staff.
Another concept that Drexel is working to implement is the Personal Librarian Program, which was inspired by Nitecki's prior employment at Yale University. The program is designed so that a librarian who specializes in a specific subject will be responsible for a small group of students and assist them with research and other needs in that area.
At this time there is no estimated cost of the renovations. Discussions will begin soon in regard to how the renovations will impact current library operations.
Questions and feedback regarding the renovations can be directed to [email protected].