Greek Week 2014 took place April 4-13 to celebrate Greek life by friendly sporting, talent and academic competitions between sororities and fraternities. Phi Mu took home first place for the Panhellenic Council, Pi Kappa Alpha for the Interfraternity Council, and Delta Epsilon Psi and Kappa Phi Gamma for the Multicultural Greek Council.
The previous Greek Weeks were three and a half weeklong events during midterms. The 2014 Greek Week Committee shortened the event to 10 days between weeks one and three of the spring academic term and changed the competitions in response to the feedback from last year. The average chapter participation for all competitive events this year was close to 90 percent, compared to 60 percent participation for events in the past. Furthermore, having a Greek Week earlier in the spring allowed the council to hold an event every day.
In addition to time span and event changes, the Greek Week Committee worked to eliminate chapter apathy. "In the past year, Greek Week had its challenges. … On the Interfraternity Council's end was chapter apathy. This was partially due to the timing of the week, but also due to the way events were run and the types of events that were run. Last year specifically, swim relays were cut out," Raub Dakwale, the 2014 Interfraternity Council chair and political science major, said.
Greek Week began with a faculty luncheon opening ceremony and an arm wrestling event. In addition to physical, mental and artistic contests, Greek life members participated in a joint blood drive with the American Red Cross, a philanthropy drop to benefit troops with the help of Drexel ROTC, created care packages for a Christmas in July event, and worked with Alumni Relations at Drexel for the Nick Pipino Memorial 5,000 meter run.
IFC dodge ball, swim relays and trivia competitions were a few of the newly added events this year.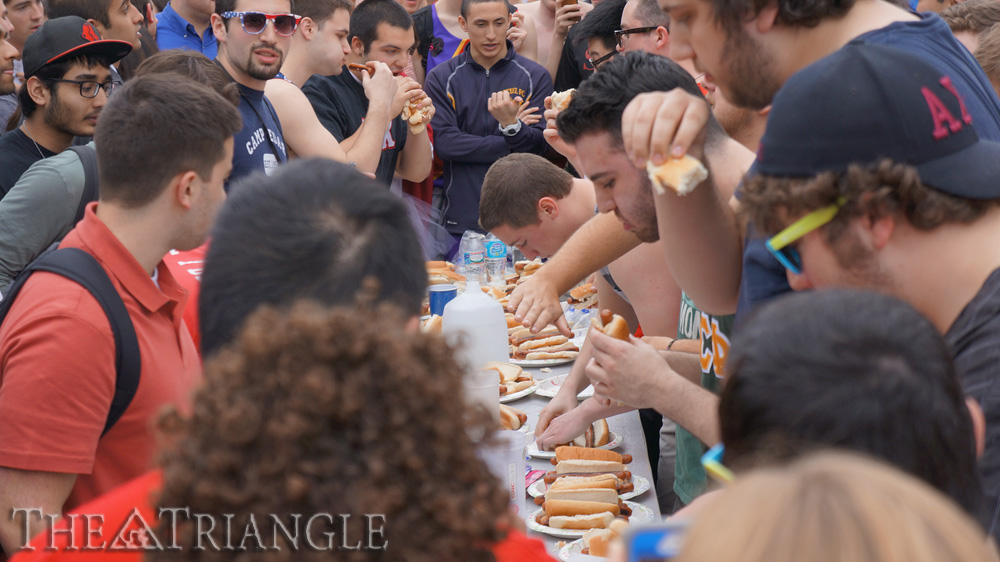 "[IFC dodge ball] was a completely new event that I added to the IFC Greek Week schedule and it was an incredibly fun event to watch. Watching 12 chapters compete in a single elimination bracket at something so accommodating to various skill sets as dodge ball was definitely awesome," Dakwale said.
The other events consisted of tile designing and painting, volleyball, basketball, flag football, tug of war, swim relays, and academic decathlon.
Both the final tug of war competition and the talent show drew in a vast amount of people. "The former is the last event of Greek Week, and for both events a lot of spectators show up and the atmosphere is crazy — even alumni show up to watch tug of war and talent show!" Milu Mathew, the Greek Week chair from the Panhellenic Council and a chemical engineering major, said.
"Next year will definitely come with less kinks and better locations," Mathew said.
"[The Office of] Fraternity and Sorority Life at Drexel is committed to making Greek Week wholesome and competitive yet fun for everyone. We'll be having a feedback session to decide what to change for next year, and students can count on Greek Week becoming really, really great in years to come," she said. "Greek Week was awesome this year thanks to our advisors Katie Zamulinsky and Audrey Walker at the fraternity and sorority life office. We'd also like to thank Recreational Athletics, Alumni Relations, the Red Cross, Drexel ROTC and the entire Greek community as a whole."
After Greek Week, allegations were made that Pi Kappa Alpha won by a few points that were added by a Greek Week chair after they were disqualified for bringing in their tile late and that Sigma Phi Epsilon would be appealing their second place win.
However, Dakwale defended that leniency with preliminary deadlines and accommodations to individual chapter's needs were conducted throughout Greek Week with verification from FSL; IFC President Matt Morimoto, a brother of Sigma Phi Epsilon and civil and architectural engineering major; the IFC VP of Judicial Affairs, Raph Samost, a materials science and engineering major; and numerous members of Drexel Athletics management.
"The allowance with Pike's tile was by no means the first incident nor the last," Dakwale said.
Dakwale provided a list of various allowances on his behalf for many competitions such as allowing multiple chapters to submit their tile design concepts to FSL days after the deadline passed. Pi Kappa Phi was allowed to submit their team rosters for bracketed events past deadline, Sigma Alpha Mu was allowed to send their team rosters for swim relays after they forgot to add it, three chapters who had issues submitting their Statement of Ethics on time were pardoned, Lambda Chi was allowed to weigh-in their lightweight arm wrestler the day of arm wrestling, even though they forgot to inform Dakwale about needing accommodation until the planned arm wrestling weigh-in time, and numerous chapters including Sigma Phi Epsilon were allowed to change their team rosters past the deadline.
Dakwale explained the incident with Pike as a result of miscommunication. "I'm on co-op at the moment and was not present for the tile judging itself; it happens during a lunch break so Drexel faculty and staff can swing through and judge. Earlier in that day, an email had been sent out stating that the deadline to bring your painted tile to the Recreation Center for judging was 11:30 a.m. It turns out that the deadline was 11:15 a.m. I sent out a correction email. The Pike responsible for taking the tile to the Recreation Center was in class and didn't see the email. He arrived sometime between 11:20-11:25 a.m.," Dakewale said.
"Because I was at co-op, another member of the Greek Week Committee made a ruling in my place without consulting me. The thing is, I'm accountable to IFC, not the other member. It is important to note that when they showed up, judging had not yet started. Had I been there, I would have accommodated them just as I had in the numerous instances," he continued.
"As far as any allegations of bias go, I ran a fair Greek Week. … My priority was to keep chapters competing against each other in a fair and safe matter. I was successful to that extent. I ruled against Pike's arm wrestling strategy on the very first night and treated them just like any other fraternity throughout the entire week. To be perfectly honest, my fraternity would've been the most infuriated with me if I'd rigged Greek Week. We're men of integrity. Even SigEp's Greek Week chair, Jake Petroski, thinks I ran a fair Greek Week. He and I have had multiple conversations on our philosophies on Greek Week and believe that this Greek Week was run well," Dakwale said.
Dakwale also explained why he resigned last Sunday after Greek Week, along with the other two Greek Week Council chairs, Mathew and Jugal Lodaya, the Multicultrual Greek Council chair and a computer science major.
"The Panhellenic Council and Multicultural Greek Council chairs' terms both end at the conclusion of Greek Week; for some reason IFC by-laws have mine going on until the end of the spring. Resigning after Greek Week was over was a simple way to solve all my problems. Most of the IFC officers knew it was coming too. … It wasn't really a well-kept secret," Dakwale said.
"It's unfortunate that members of the Drexel Greek Life community are so upset with losing that they're willing to blame others. That being said, I've got nothing to hide. I did an excellent job as a neutral Greek Week chair, only stepping in to keep rulings consistent and when there was a safety, FSL or Drexel Athletics rule being violated," Dakwale said.