Greek-Americans at Drexel University are dedicated to promoting Hellenism on campus, contributed by the founding of the Hellenic Student Association of Drexel University and the appointment of late University President Constantine Papadakis in 1995.
The Hellenic Student Association was founded in 1996 with the help of Papadakis. According to Konstantine Ouranitsas, the current president of the HSA, the organization works to bring Drexel students of Greek descent together for events such as a vasilopita dinner for New Year's, volleyball tournaments and networking programs.
According to the HSA's Facebook page, members "offer guidance and information to every Greek student that wishes to enroll at Drexel University coming from a different state or country."
The HSA currently has 86 student-members, Ouranitsas said.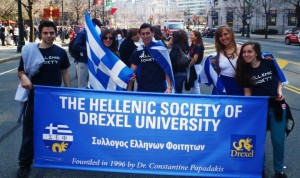 Maria Hnaraki, the director of Greek studies at Drexel and the official faculty adviser of the HSA, said that the number of HSA members has increased since her arrival at Drexel in the fall of 2006.
Ouranitsas agreed with Hnaraki. "Even just between this year and last year, we grew by almost 20 people, if not more," he said.
However, the number of HSA members does not directly reflect the number of Greek-American undergraduate and graduate students attending Drexel. Ouranitsas and Hnaraki both agree that there are many Greek-American students who are not part of the HSA because they are unaware of the organization or are not interested. Ouranitsas is using Facebook to reel in Greek-American students who have not yet joined the HSA.
"More people are becoming aware of the group," Ouranitsas said. "Also, if students come [abroad] from Greece, we try to tap into that. We have a good amount of those, especially freshmen this year. We have two or three people from Greece who are freshmen."
There are currently 121 members on the HSA's Facebook page. This number is significantly higher than the number of members on the roster because Greek Americans from the Philadelphia area join the group due to their association with Ouranitsas and other prominent members of the HSA, he said.
Additionally, Drexel faculty members who are involved in the HSA and have a Facebook account are members on the page. Ouranitsas said 30 faculty members of Greek descent teach at Drexel, including Hnaraki and George Tsetsekos, who served as the dean of the LeBow College of Business for 10 years before resigning this year.
To bring the Greek Americans of Philadelphia closer, Ouranitsas said he co-founded the Hellenic Student Association of Philadelphia in 2012. He is currently president of the 190-member organization, he said.
"Essentially what [Ouranitsas] wanted to do was have all students [in Philadelphia] that are from Greece or of Greek-American heritage to come together and promote Greek culture and Hellenism," Hnaraki said.
Hnaraki said Papadakis also contributed to the increase of Greek-Americans at Drexel during his 14 years as president.
"[Papadakis] was very good at fundraising, to start with, and he had a very good relationship with the Greek community, not only in Philadelphia, but in … the tri-state area," Hnaraki said.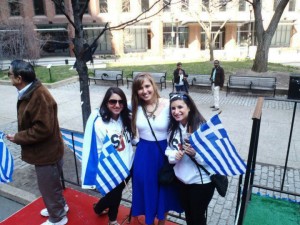 According to the PanHellenic Scholarship Foundation website, Papadakis was a strong supporter of the PanHellenic Scholarship, which provides scholarships of up to $10,000 based on financial need and academic merit to Greek-American college students throughout the United States.
"He [tried] to recruit students, so he would invite, for example, certain high schools from New York City who have a large Greek population … mainly because he wanted the students to interact with the faculty … and other Greek students on campus and this way recruit them," Hnaraki said. "He was making Drexel very attractive for Greek students."
Another way Drexel is attracting Greek-Americans is through the Hellenic Alumni Association, led by John Stratoudakis, a Drexel graduate of 2003. According to Stratoudakis, the association works to bring together Greek-American Drexel alumni and current Greek-American students in the Philadelphia area. It currently has 85 members.
"This is an alumni 'affinity' club, meaning we welcome and encourage people who are interested in Greek culture, whether ancient or modern, to join us," Stratoudakis wrote in an email.
Also attracting Greek-Americans to Drexel is the Vidalakis Family Cretan Scholars Program, which grants $6,000 to students who are eligible for the scholarship and wish to study abroad in Crete. To become eligible for the scholarship, students are required to have a GPA of 2.5 or higher and must have completed one co-op. It is also encouraged that students complete Greek studies and language courses.
The scholarship is not solely for Greek-American students, but it contributes to Drexel's appeal to Greek-Americans, Hnaraki said. However, the majority of Drexel students who travel to Crete are not Greek.
Hnaraki noticed the same pattern with her Greek studies classes. She currently teaches Greek Folklore, Intermediate Modern Greek I and Greek Literature. Of the 19 students in Hnaraki's Greek Folklore class, seven are Greek-American. In Intermediate Modern Greek I, five of seven students are Greek-Americans. In Greek Literature, six of 14 students are Greek-Americans.
Ouranitsas added, "There's a lot of influences that are Greek at Drexel, so I think that brings a lot more people here from Greece."